Airwing Reservations with Alternative Airlines
Make an Airwing Booking and Find Some Amazing Deals
---
About Airwing
Airwing is a Norwegian airline based at Oslo Airport, Gardermoen. It operates a fleet of Beechcraft Super King Airs, which are utilized for scheduled air taxi and ambulance services. Airwing commenced operations in 2004 and initially focused on air ambulance and air taxi operations. A route from Notodden to Stavanger was launched in 2011. The following year a route from Notodden to Bergen was added to the schedule, after which a route from Stavanger to Florø was inaugurated.In 2017, Airwing opened a regular route from Notodden to Bergen.
---
Airwing Fleet
Their fleet consists of five Beechcraft Super King Air.
---
Airwing Destinations
Bergen Airport, Flesland
Florø Airport
Notodden Airport
Stavanger Airport
---
Airwing Check-in Information
Airport Check-in
Airwing passengers must arrive at the gate at least 20 minutes before flight departure time.
---
Airwing Baggage Allowance
Carry-on Baggage
Airwing will only allow onboard small packages (eg briefcases) that can be placed between the passenger seats. A maximum total weight of 2 kg is allowed.
Checked Baggage
Airwing allows a maximum total weight of 20kg of baggage per passenger. No single item of baggage should weigh more than 10kg. Luggage that is not a suitcase, bag or backpack is described as oversized luggage. For carriage of special baggage, please contact Alternative Airlines.
---
Airwing Hub Airport
Oslo Airport, Gardermoen
Oslo Airport, is the main international airport serving Oslo, the capital of Norway. It is the hub airport for Scandinavian Airlines, Norse Atlantic Airways and Widerøe. Each year the airport handles over 20 million passengers. Some of the airlines that fly from the airport include Norwegian Air Shuttle, Thomas Cook Airlines, Widerøe, Flyr and Wizzair.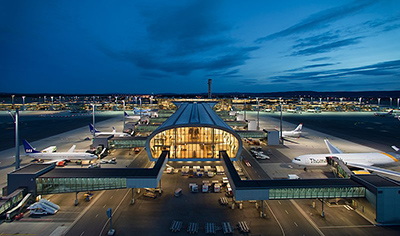 Photo credit: Avinor Oslo lufthavn/ Espen Solli
---
Buy flights in Norwegian Krone
Buy flights using Norwegian krone with Alternative Airlines. Alternative Airlines offers over 70 different currencies overall and allows you to pay for your flights using Norway's national currency — Norwegian krone.
---