In September 2019, Thomas Cook Airlines and its subsidiaries ceased operations.
Alternative Airlines to Thomas Cook Airlines
Please click on the logos below to find out more about the airlines that fly similar routes to Thomas Cook Airlines:
---
About Thomas Cook Airlines
Thomas Cook Airlines was a British airline whose main bases were at Manchester and London Gatwick Airport.
Thomas Cook Airlines was part of the airline division of Thomas Cook Group, with Thomas Cook Airlines Belgium, Thomas Cook Airlines Scandinavia and German based Condor.
It was formed by the rebranding of JMC Air in 2003. Following the merger of the MyTravel Group with Thomas Cook in 2008, Thomas Cook Airlines UK Ltd was merged with MyTravel Airways.
The airline held a United Kingdom Civil Aviation Authority Type A Operating Licence, permitting it to carry passengers, cargo and mail on aircraft with 20 or more seats.
---
Destinations
The airline flew to many destinations including Hurghada, Luxor, Marsa Alam, Sharm el-Sheikh, Banjul, Cape Town, Antigua, Barbados, Cuba, Holguin, Dominican Republic, Jamaica, Mexico, Boston, United States and many other places.
St John's,
Antigua and Barbuda
Innsbruck,
Austria
Christ Church,
Barbados
Burgas,
Bulgaria
Varna,
Bulgaria
Sal,
Cape Verde
Dubrovnik,
Croatia
Split,
Croatia
Cayo Coco,
Cuba
Holguín,
Cuba
Santa Clara,
Cuba
Varadero,
Cuba
Larnaca,
Cyprus
Paphos,
Cyprus
Punta Cana,
Dominican Republic
Hurghada,
Egypt
Marsa Alam,
Egypt
Grenoble,
France
Banjul,
Gambia
Cephalonia,
Greece
Corfu,
Greece
Heraklion,
Greece
Kalamata,
Greece
Kavala,
Greece
Kos,
Greece
Mykonos,
Greece
Mytilene,
Greece
Preveza,
Greece
Rhodes,
Greece
Santorini,
Greece
Skiathos,
Greece
Thessaloniki,
Greece
Zakynthos,
Greece
Goa,
India
Comiso,
Italy
Naples,
Italy
Montego Bay,
Jamaica
Malta
Mauritius>
Cancún,
Mexico
Marrakesh,
Morocco
Faro,
Portugal
Funchal,
Portugal
Cape Town,
South Africa
Alicante,
Spain
Almería,
Spain
Arrecife,
Spain
Fuerteventura,
Spain
Girona,
Spain
Gran Canaria,
Spain
Ibiza,
Spain
Lleida,
Spain
Menorca,
Spain
Palma de Mallorca,
Spain
Reus,
Spain
Tenerife,
Spain
Colombo,
Sri Lanka
Vieux Fort,
St Lucia
Geneva,
Switzerland
Scarborough,
Trinidad and Tobago
Enfidha,
Tunisia
Monastir,
Tunisia
Antalya,
Turkey
Bodrum,
Turkey
Dalaman,
Turkey
İzmir,
Turkey
Belfast,
United Kingdom
Birmingham,
United Kingdom
Bristol,
United Kingdom
Cardiff,
United Kingdom
East Midlands,
United Kingdom
Glasgow,
United Kingdom
London(Gatwick),
United Kingdom
London(Stansted),
United Kingdom
Manchester,
United Kingdom
Newcastle upon Tyne,
United Kingdom
Las Vegas,
United States
Los Angeles,
United States
Miami,
United States
New York City,
United States
Orlando,
United States
San Francisco,
United States
Seattle,
United States
---
Thomas Cook Airlines Baggage
Carry-on Baggage
Passengers travelling in economy were permitted 1 x 8kg bag as complimentary cabin baggage. Passengers in Premium Class, however, are permitted 10kgs. Any item of hand luggage must fit within the dimensions of 55 x 40 x 20cm.
In addition to the above allowance, passengers are allowed a personal item, measuring a maximum of 40 x 30 x 10cm. This is items such as a laptop, a coat, an umbrella, or reading material for the flight.
Checked Baggage
Checked baggage for this airline depends on what package you have booked. Typically, the checked baggage allowance will be 15kg, 20kg or 23kg. However, be sure to check your personal allowance on your booking itinerary or e-ticket.
---
Thomas Cook Airlines Check-In Information
Online Check-In
Passengers could check-in online for their flights from 24 hours before departure. This service will close 2 hours before your flight is scheduled to leave.
Airport Check-In
Passengers who have not checked in online must do so at the airport. The check-in counters open at least 2 hours before your flight departure (3 hours for flights to the USA and Canada).
---
The Fleet
This airline's fleet consisted of the following aircraft: Airbus A320-233, Airbus A321-200 and Airbus A330-200.
---
Route Map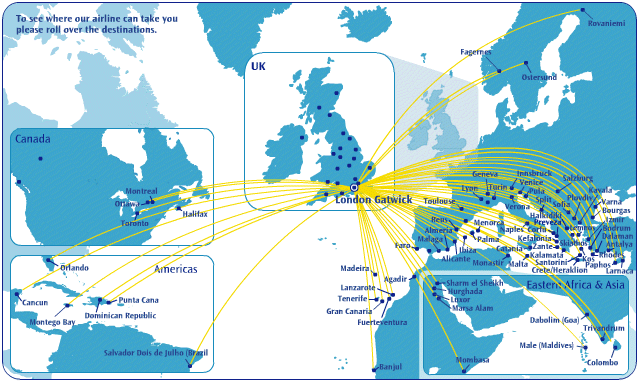 ---
In-Flight Food and Drinks
On short-haul flights, Drinks and snacks could be purchased on board from the Café Cloud menu. In-flight meals, champagne and a selection of gifts could be pre-ordered at the time of booking a flight. In-flight entertainment was available on most services. A copy of the Thomas Cook Airlines magazine Travel could be found in all seat pockets, alongside the cafe cloud menu and Emporium brochure, which details all the drinks & snacks and tax/duty-free products Thomas Cook Airlines stock on board.
---
Hub Airport
London Gatwick Airport
London Gatwick Airport is London's second largest international airport in the UK. It has one runaway, handling approximately 40 million passengers every year. Airlines which fly to and from this airport include Adria Airways, Aegean Airlines, Aer Lingus, Aurigny, Afriqiyah Airlines, Air Europa, Air Transat, British Airways, Cathay Pacific, Croatia Airlines and many others.