Tropic Ocean Air Tickets and Reservations with Alternative Airlines
Book Your Tropic Ocean Air Flight Tickets and Find Some Amazing Deals
---
About Tropic Ocean Airways
Tropic Ocean Airways is a seaplane charter and scheduled service airline based in Fort Lauderdale, Florida.
The airline operates three Cessna airframes on floats and offers both scheduled and charter seaplane services throughout the Bahamas, and sometimes Florida. You can find out more about seaplanes here.
---
Check-In
Check-In at the Airport
Scheduled flights: With Tropic Ocean Airways, leave behind the hassles of security lines and sprinting through the airport! Park at the private terminal and easily board the plane. You also get to bypass security! Simply arrive 45 minutes before scheduled departure.
Private Charter fights: Simply arrive 30 minutes before arranged departure. Or arrive earlier and relax in the private lounge area.
---
Class Fares
Scheduled flights
On-board, expect a standard class fare service, with comfortable seating, clean and modern aircraft, and incredible views - remember your camera! The airline offers many benefits, including bypassing security, and quick check-in for all guests.
Private Charters
The service provided to private charter guests is 5-star luxury. Enjoy by-passed security and no-hassle check-in, as well as access to a private lounge exclusively for charter clients. The lounge is comfortable and bright, the perfect location to relax and recharge devices before heading off. The team will be on-hand to help the whole journey time.
---
Destinations
Scheduled Services
Departure Airport
Arrival Airport
Fort Lauderdale, Hollywood International Airport
Andros Town International Airport

Great Harbour Cay Airport

South Bimini Airport
Miami Seaplane Base
North Bimini Airport
Charter Service Regions
The Bahamas
Cuba
Florida
Northeastern United States; seasonal (summer) scheduled flights operated - for an alternative airline, find out more about New England Airlines
---
Route Map
Scheduled Services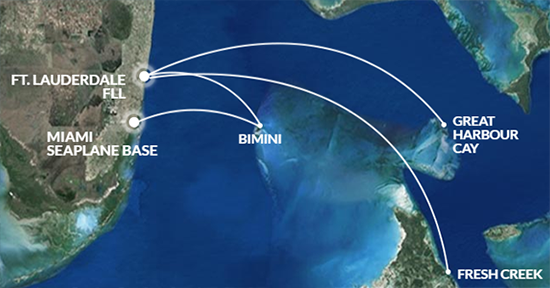 ---
Fleet
| Aircraft | Number in Fleet | Passengers |
| --- | --- | --- |
| Cessna 206 Amphibian | 1 | 5 |
| Cessna Caravan EX Wheeled | 2 | 9 |
| Cessna Caravan EX Amphibian | 6 | 9 |
---
Hub Airports
Fort Lauderdale International Airport
Fort Lauderdale–Hollywood International Airport is in Broward County, Florida. The airport is located three miles (5 km) southwest of downtown Fort Lauderdale and a hub for the following airlines: JetBlue, Silver Airways, Spirit Airlines, IBC Airways, and Tropic Ocean Airways.
New York Skyports Inc. Seaplane Base (seasonal)
New York Skyports Inc. Seaplane Base is a seaplane base on the lower East River in New York City. The airport acts as a hub for Tailwind Air Service Tropic and Ocean Airways.
---
Alternative Airlines
Head to Florida with the following airlines: