Search and Buy TransAsia Airways Flights with Alternative Airlines
Make a Booking and Find Some Amazing Deals
---
TransAsia Airways ended flying operations in 2016.
We suggest to use the Search Form above to search flights or click the Alternative Airlines listed below that fly similar routes as TransAsia Airways.
---
Alternative Airlines
---
TransAsia Airways was an airline based in Taipei, Taiwan and is focused on domestic flights.
The airline has its hub airport at Taipei Taoyuan International Airport and has V Air as a subsidiary budget airline.
TransAsia Airways flies to many destinations including Osaka, Tokyom Okinawa, Sapporo, Jeju, Macau, Palau, Siem Reap, Taipei, Kaohsiung, Taichung, Kinmen, Hualien, Makung, Shanghai, Changsha, Xuzhou, Wuhan, Tianjin, Hefei and many others. TransAsia Airways has codeshare agreements with Shenzhen Airlines and XiamenAir.
TransAsia Airways was established in 1951 and in 2014 ordered ATR72-600s including options for a further three and launched Taoyuan - Quanzhou and Taoyuan - Guiyang.
TransAsia Airways' fleet consists of Airbus A330-200, A321-100 and A321-200 and A330-300 and ATR 72-600. Business class is offered on the Airbus A330-300 in a 2-2-2 configuration with a 160-degree recline. Economy class is available on all aircraft, in a 2-4-2 configuration on the Airbus A330-300 and 3-3 configuration on the Airbus A320-200 and Airbus A321-100 and a 2-2 configuration on the ATR series.
TransAsia has 19 aircraft in service – six Airbus A320s, five A321s and eight ATR 72s. It also has four Airbus A330s, one A321 and one A320 in storage.
TransAsia Airways has announced that it will cease operations permanently and entered into liquidation.
The company has continuously lost money, and its shares have been sliding since the crashes in 2014 and 2015 raised questions about the safety of its planes.
---
TransAsia Airways operates a frequent flyer program called Legend Flight Club to reward regular passengers with the airline.
---
Route Map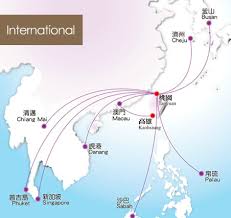 Popular Routes
Taipei

Fuzhou
Tianjin

Taipei
Yangon

Taipei
Taipei

Manado
Hefei

Taipei
Manila

Taipei
---
Airline's Fleet
TransAsia Airways operated a fleet of Airbus A320-200, A321-100, A330-300, A321-200 and ATR72-600 aircraft.
---
Hub Airport
Taoyuan International Airport
Taiwan's largest airport started its operations in 1979 under the name of Chiang Kai-shek International Airport but had its name changed in 2006 to Taoyuan International Airport. The airport is currently one of the busiest airports in the world with 35 million passengers using the airport every year.
Taoyuan International Airport also acts as a hub for China Airlines, EVA Air, Tigerair Taiwan, TransAsia Airways and V Air. The airport has two runaways.
---