Book flights to Jackson Hole for Summer 2022
At Alternative Airlines we make it really easy to get from virtually anywhere in the world, including remote airports. We ticket over 600 different airlines including all major US airlines, allowing you to easily book your ticket to Jackson Hole. We are proud to offer interlining options meaning you can fly with different airlines on one itinerary helping you get to your destination with ease. To find out more about the flights available to you heading to Jackson Hole in Summer 2022 use the flight search tool at the top of the page.
About Jackson Hole
Jackson Hole is a valley nestled between two mountain ranges in Wyoming. The Gros Venture and Teton mountains part, creating the Jackson Hole valley. The area is fabulous for nature observers and excitement seekers alike. During the winter months head to the ski resort of Jackson Hole to ski, board, skate and more till your heart's content. Come during the warmer months and mountain bike or hike across the mountain ranges and take in the fresh air and natural beauty. The Jackson Hole valley is approximately 55 miles long with a width between the mountain ranges of 6 miles at its narrowest and 13 at its widest.
Jackson Hole - Winter
Be sure to visit Jackson Hole during the winter and head to one of the many ski resorts in the area. The most famous is the Jackson Hole mountain where it caters to skiers and boarders of all levels, offering Green, Blue, Double Blue (Red), Black and Double Black. The resort has 141 runs and 13 lifts making it perfect for the avid winter sports enthusiast. The Rendezvous mountain reaches a peak of 10,450 ft which you are able to get a lift to and ski down from.
Jackson Hole - Summer
We also recommend you visit during the summer months. Just because the snow has gone doesn't mean the mountains close. Jackson Hole stays open year-round and keeps some of its lifts operational throughout. It is the perfect opportunity to see a different side of the mountain with miles of trails to explore taking in the fauna and flora. If you are a thrill-seeker then make sure to grab a mountain bike and head across the mountain and trails.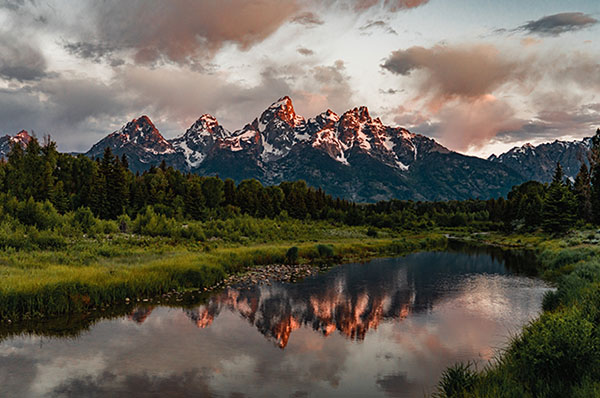 ---
How to fly to Jackson Hole
Flying Domestically
It is really easy to get to Jackson Hole from the continental United States, with all major airlines serving the local airport. Key major cities including New York, Seattle, Los Angeles, San Francisco, Denver and more are all served directly from the airport. However, please note that some of these services are seasonal only. Use the flight search tool at the top of the page to find out what options are available to you.
Flying Internationally
The closest airport to Jackson Hole is Jackson Hole Airport. There are a range of domestic US services offered from the airport, however, no international routes are served. If you are travelling from an international destination you will be required to transit through a hub city onto Jackson Hole. You may be able to travel with American Airlines, Delta or United Airlines from an international destination and transfer through one of their hubs onto the city.
---
Airports close to Jackson Hole
Jackson Hole Airport
The nearest airport to the town of Jackson is Jackson Hole Airport. The airport is just north of the town and sits in the Jackson Hole valley, surrounded by 3 major ski resorts in the area. The airport doesn't have any public transport connections, meaning that both arriving and departing passengers will need to make use of private transfers. There are numerous car hire, taxi and ride-hailing services available for this, or check with your accommodation provider as they may offer this too.
Distance to Jackson: 10 miles (15 minutes by car approx)
✈ Airlines: Alaska Airlines, Allegiant Air, American Airlines, American Eagle, Delta, Delta Connection, Frontier Airlines, Sun Country Airlines, United Airlines and United Express
✈ Destinations: Boston, Charlotte, Chicago-O'Hare, Dallas/Fort Worth, Denver, Houston-Intercontinental, Los Angeles, Minneapolis/St. Paul, New York-JFK, New York-LaGuardia, New York-Newark, Phoenix-Sky Harbour, Phoenix/Mesa, Reno/Tahoe, Salt Lake City, San Diego, San Francisco and Seattle/Tacoma
NOTICE: Jackson Hole Airport will be closed between 11th April 2022 - 27th June 27th 2022
Please note that some of these services are seasonal only, use our flight search tool at the top of the page to begin planning your summer 2022 trip to Jackson Hole!
---
FAQs
Is Jackson Hole open year-round?
Of course, the area and resort are both year-round, offering totally different experiences depending on when you visit. You should definitely come in winter and make use of the world-class ski and snowboarding facilities. But we also recommend coming in the warmer summer months where you can bike ride, hike and explore even more of the mountain range and valley.
How do I get to Jackson Hole from the airport?
There are no public transport options from Jackson Hole Airport, so you will have to arrange a private transfer. Numerous car hire companies operate at the airport as well as local taxi services making this easy. Check with your accommodation provider or the ski resort to see if they offer transfer or shuttle services.