Small Planet Airlines Tickets and Reservations
Book Your Small Planet Airlines Flight Tickets and Find Some Amazing Deals
---
Small Planet Airlines Update
Unfortunately Small Planet Airlines have ceased operations.
Please can we suggest looking at these alternative airlines that fly similar routes to Small Planet Airlines, by clicking on their logos:
---
About Small Planet Airlines
Small Planet Airlines was a Lithuanian airline with its airport hub at Vilnius International Airport (VNO). Small Planet Airlines was founded in 2007, under the name FlyLAL Charters. The airline flew charter services from Estonia for its first few years of operations. In early 2010, it gained authority to fly scheduled services to a number of different countries within Europe. In mid-2010, FlyLAL Charters rebranded as Small Planet Airlines. Shortly after the rebranding, Small Planet Airlines saw a significant rise in passenger traffic, proving that rebranding the airline was the right choice — the airline saw passenger traffic grow from 400,000 people per year to 700,000 people per year in a two year period.
Small Planet Airlines had a fleet that consisted of entirely Airbus aircraft, the main aircraft that Small Planet Airlines uses to operate its flights is the Airbus A320-200. Small Planet Airlines operates flights to a number of countries within Europe, including Spain, Bulgaria and Greece, as well as flights to Egypt.
In June 2012, Small Planet Airlines finalised an agreement to acquire more planes to add to its existing and new international routes. It was also looking at various types of turboprop aircraft for new domestic routes but this plan was eventually dropped. The A340s joined the fleet in October 2012, enabling the airline to strengthen its Manchester route with nonstop flights as well as launch a second Lahore-UK destination, Birmingham, in September 2013. UK operations also ended with Birmingham being dropped after just three months' service and Manchester ending in January 2014.
The airline began to experience financial difficulties in October 2018, and finally ceased flying operations in November 2018.
---
Small Planet Airlines Baggage
The following baggage rules applied before Small Planet Airlines ceased flying:
Carry-on Baggage
Passengers flying on Small Planet Airlines are allowed to bring one item of carry-on baggage. The baggage must weigh no heavier than 5kg and must not exceed the dimensions of 56 cm x 45 cm x 25 cm. Passengers are also allowed to bring additional items onto the flight separate from their carry-on bag, including purses, books and hand-held cameras.
Checked Baggage
Passengers flying on Small Planet Airlines are entitled to one item of checked baggage. Baggage can't exceed the total dimensions of 158 cm and one piece of baggage can't weigh more than 32kg.
Excess Baggage
Small Planet Airlines give passengers the option to buy additional baggage if required.
---
Small Planet Airlines Check-In Information
The following check-in guidelines applied before Small Planet Airlines ceased flying:
Online Check-In
Small Planets Airlines open online check-in 72 hours before the flight departures and closes four hours before the flight departures. Please ensure your print your boarding pass after you have checked-in online. Online check-in is available for most flights from Vilnius on Small Planet Airlines, excluding flights S5-3506 from Bodrum, 253312 from Funchal, S5-3362 from Faro, S5-3392 from Almeria, S5-3378 from Zakynthos and flights S5-3317 and S5-3318 between Vilnius and Cape Verde.
Airport Check-In
Small Planet Airlines recommend that you arrive at the airport at least 2 hours before your departure time if you plan to check-in at the airport. Small Planet Airlines check-in closes 40 minutes before your flight departs and you arrive at your boarding gate at least 30 minutes before your flight departs. If you arrive at your boarding gate any later than this, Small Planet Airlines has the right to not allow you on the flight at check-in.
---
Small Planet Airlines Destinations
Small Planet Airlines mainly flew from Lithuania to locations within Bulgaria, Egypt, Greece, Spain, Tunisia and Turkey.
---

Small Planet Airlines Hub Airport
Vilnius Airport
Vilnius Airport is located south of the city Vilnius, the capital of Lithuania. It is one of the most rapidly growing airports in Europe, with only one runway and 2 terminals but nearly 4 million passengers each year. It commenced operations in 1932 is now the largest commercial airport in terms of passenger traffic. It used to be the hub for Air Lituanica, before it ceased operations in 2015.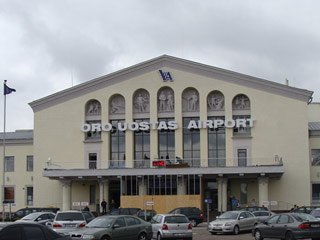 Photo Accreditiation: Phillip Capper
---
Small Planet Airlines Fleet
The Small Planet Airlines fleet consisted of the following aircraft:
7 x A320-200
---
Small Planet Airlines News
21st June 2018
Alternative Airlines now offer Small Planet Airlines flights
As of today, Alternative Airlines can offer customers the option to fly on Small Planet Airlines. We're very excited to announce the arrival of Small Planet Airlines, which is an airline that flies a number of fantastic services to and from Vilnius and beyond.
13th June 2018
Small Planet Airlines take in delivery of additional Airbus A320-200
Small Planet Airlines has added another Airbus A320-200 aircraft to its growing fleet of Airbus family. The Lithuanian airline is expected to receive the jet this summer. Small Planet Airlines appear to favour the A320-200, the airline's fleet currently consists of entirely Airbus A320-200s. The new addition this summer will be the eighth of its kind in Small Planet's fleet.