Montenegro Airline Tickets and Reservations with Alternative Airlines
Book Your Flight Tickets and Find Some Amazing Deals
Unfortunately, Montenegro Airlines ceased operations in December 2020. But, don't worry, you can still search for flights on other airlines that fly similar routes to airlines. Or, check out any of the airlines below.
---
About
Montenegro Airlines was the flag carrier of Montenegro, headquartered in Podgorica. The airline operated scheduled and charter services throughout Europe from its hub at Podgorica Airport (TGD) with a second base maintained at Tivat Airport (TIV). Montenegro Airlines operated scheduled flights to destinations across central, south, west and eastern Europe. Flying to 21 destinations in 9 countries including Denmark, France, Germany, Italy, Russia, Austria, Slovenia, Serbia, Switzerland and the United Kingdom.
The airline was founded on October 1994 and launched its first flight in 1997 with a service between Podgorica and Bari, Italy. Shortly after, it expanded its route network to offer flights to several destinations throughout Europe. When it stopped flying, the airline was the only Montenegrin airline offering regularly scheduled services. In December 2020, the airline stopped flying permanently due to financial losses as a result of the coronavirus 19 pandemic.
Montenegro Airlines had codeshare agreements with Air France, Air Serbia, Alitalia, Austrian Airlines, Etihad Airways and S7 Airlines.
---
Destinations
International Destinations
| COUNTRY | CITY | AIRPORT |
| --- | --- | --- |
| Austria | Vienna | Vienna International Airport (VIE) |
| Denmark | Copenhagen | Copenhagen Airport (CPH) Seasonal |
| France | Lyon | Lyon-Saint-Exupery Airport (LYS) Seasonal |
| France | Paris | Charles de Gaulle Airport (CDG) |
| Germany | Dusseldorf | Dusseldorf Airport (TLS) |
| Germany | Hannover | Frankfurt Airport (FRA) |
| Germany | Frankfurt | Berlin Tegel Airport (TXL) |
| Germany | Leipzig/Halle | Leipzig/Halle Airport (LEJ) |
| Germany | Munich | Munich Airport (MUC) |
| Italy | Rome | Leonardo da Vinci–Fiumicino Airport (FCO) |
| Russia | Moscow | Moscow Domodedovo Airport (DME) |
| Russia | Saint Petersburg | Pulkovo Airport (LED) |
| Serbia | Belgrade | Belgrade Nikola Tesla Airport (BEG) |
| Slovenia | Ljubljana | Ljubljana Joze Pucnik Airport (LJU) |
| Switzerland | Zurich | Zurich Airport (ZRH) |
| United Kingdom | London | London Gatwick International Airport (LGW) |
| | | |
Domestic Destinations
| CITY | AIRPORT | IATA |
| --- | --- | --- |
| Podgorica | Podgorica Airport (HUB) | TGD |
| Tivat | Tivat Airport (HUB) | TIV |
---
Route Map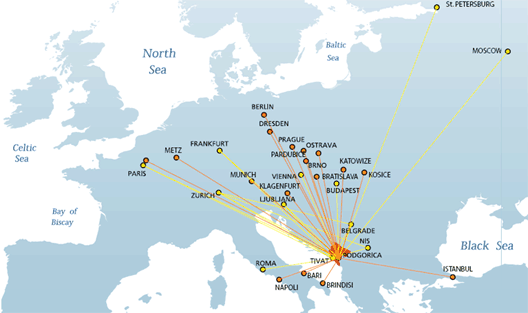 ---
Baggage Allowance
Carry-On Baggage
Passengers were entitled to one piece of free carry-on baggage on all flights, with a maximum weight of 10 kg. Baggage should not have exceeded the overall dimension of 115 cm (55 + 40 + 20 cm). This applied to passengers in both Economy Class and Business Class.
Checked Baggage
Passengers in Economy Class were entitled to one item of free checked baggage with a maximum weight of 23 kg and have an overall dimension of 158 cm.
Passengers in Business Class were entitled to two items of free checked baggage. This baggage must not have exceeded 32 kg overall and have an overall dimension of 158 cm.
Frequent Flyer Silver and Gold members who were travelling in Business Class were permitted to bring two checked bags, each weighing 34 kg and an overall dimension of 208 cm.
---
Economy Class
Economy Class was one of two cabin classes that Montenegro Airlines offers on its flights. The airline's friendly cabin crew were on hand to help with anything passengers might need.
Economy Class Facilities
Onboard, passengers could enjoy a light meal with hot and cold beverages.
Passengers could stay entertained onboard with Montenegro Airlines in-flight magazines.
Economy Class Seating
Passengers could enjoy comfortable and spacious seating with a good amount of legroom.
---
Business Class
Business Class was Montenegro Airlines most premium cabin class, with its highest standard of service and amenities. The Business Class cabin had an exclusive cabin crew that was dedicated to serving and helping Business Class passengers.
Business Class Facilities
Passengers could enjoy a luxury Business Class meal crafted by professional chefs with a selection of hot and cold beverages to choose from.
Business Class Seating
Passengers in Business Class could enjoy spacious seating, with seats designed to give maximum comfort.
---
In-flight Entertainment
There was no in-flight entertainment onboard the airline.
---
WiFi Connectivity
The airline had no WiFi connectivity onboard.
---
Food and Drink
The airline offered a wide selection of in-flight meals for passengers to choose from and have their tastebuds tantalised by well-crafted meals. Beverages (whether cold or hot) were available for passengers to orer.
---
Check-In Information
Online Check-in
Online check-in wasn't available for the airline and passengers must instead check-in for their flight at the airport on the day of departure.
Airport Check-in
The airline recommended passengers to check-in 2 hours before the flight's departure.
---
Frequent Flyer Program
Vision Team
Montenegro Airlines rewarded those who flew frequently and were members of the Vision Team.
The amount a passenger paid for their Montenegro Airlines ticket determined the number of 'air miles' they earned (passengers must first have applied for membership in the Vision Team).
Vision Team members could exchange air miles for flights to any Montenegro Airlines destination, as well as use them to upgrade seats, cabin class or, during special promotions, use them to purchase flights at reduced prices for themselves or family members.
---
Airline Alliance
The airlines didn't partake in an airline alliance but had codeshare agreements with Air France, Air Serbia, Alitalia, Austrian Airlines, Etihad Airways and S7 Airlines.
---
Fleet
At the time that it stopped flying, the airline operated a fleet of narrow-body aircraft. Within its fleet, the airline had five planes with 1 on order.
3 x Embraer 195 with one more on order
2 x Fokker 100
---
Hub Airport
Podgorica Airport
Podgorica Airport (TGD) is an international airport serving Podgorica and was the hub of Montenegro Airlines. It's one of two international airports in Montenegro, the other being Tivat Airport. Podgorica Airport (TGD) facilitates flights from airlines flying all across Europe. It has one runway, one terminal building and serves more than one million passengers each year.
While Montenegro Airlines is the only airline that uses Podgorica Airport (TGD) as a hub, other airlines that operate to/from the airport include Air Serbia, Alitalia, Austrian Airlines, LOT Polish and Turkish Airlines.