Montenegro Airlines proudly celebrated the 10th anniversary of their first commercial flight in May 2007.
Montenegro Airlines Flights to Tivat
NOW FLYING FROM GATWICK TO TIVAT
Based in the capital, Podgorica, Montenegro Airlines is the national carrier of this newly independent country that separated from Serbia in summer 2006. The airline operates 12 flights per week on the 45-minute hop between Tivat and Belgrade plus the new service to London-Gatwick. From the main base at Podgorica they fly to Belgrade, Vienna, Frankfurt Ljubljana, Rome and Zurich. Montenegro Airlines new Flights from Gatwick A great little airline representing a historic country, we are hoping that we can encourage them to realise their ambition to fly to London – soon! We'd be interested in hearing from regular travellers between London and Montenegro as to your thoughts.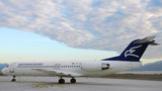 Montenegro Airlines now flies from London Gatwick to Tivat on Wednesday, Friday and Sundays.
Montenegro Airlines operate five Rolls Royce engine Fokker 100 aircraft and one Embraer 195, all aircraft are in white livery with the company logo on the tail. Montenegro Airlines offers both an economy and business class service.
UPDATE 27.10.2010 MONTENGRO AIRLINES NEW ROUTES AND NEW AIRCRAFT
Montenegro Airlines has announced plans to serve the European cities of Milan and Brussels from Podgorica along with the arrival of its fourth Embraer E195 jet.
From mid June 2009, Montenegro Airlines from Podgorica and BH Airlines from Sarajevo will add connections between Montenegro and FYRMacedonia.
---
BH Airlines will fly between Skopje and Podgorica whilst Montenegro Airlines will operate between Tivat and Skopje. Each route will be served twice weekly by the appropriate airline.
People booking flights to Podgorica with Montenegro Airlines may be interested to hear that the country is expected to start European membership talks soon. Flights to PodgoricaAccording to Zsolt Nemeth, the minister of foreign affairs for Hungary, which is currently in charge of the European Union, expansion of membership should be high on the agenda. He claimed that the EU is planning on kick-starting accession negotiations with Montenegro in the coming year. "Today, Montenegro convinced me again that it will fulfil the criteria and can start negotiations soon," Nemeth said. He added that he appreciates Montenegro's "enormous efforts" in preparing for admission to the EU. Recently, Montenegro's minister for transport and maritime affairs Andija Lompar noted that Montenegro's rail network was in need of modernisation. Use Alternative Airlines to book your cheap flights to PodgoricaMontenegro Airlines announces routes to new airports in Europe Individuals travelling around Europe and considering Montenegro Airlines flights to Podgorica may have more options to choose from as the carrier introduces two new routes. MontenegroFrom April, passengers will be able to fly direct to the Montenegrin capital from Brussels and Milan, Balkans.com reports, with flights from the Belgian city commencing three times per week from April 15th, while Milan operations begin on April 8th. The airline stated that the new options would not only appeal to business travellers, but it would also enable more tourists to experience what the country has to offer. "Montenegro is seeking a rapprochement with the European Community and leisure passengers will be particularly impressed by its spectacular coastline," the carrier said. The flights will be carried out with the airline's Fokker 100 and Embraer E195 jet aircraft and bring the number of destinations served by Montenegro Airlines to 18. Recently, it was stated by psychologist and author Dr David Lewis that travelling to experience new cultures is a great way to expand a person's mind and give them new insights. Use Alternative Airlines to book your cheap flights to Podgorica