LJ Air Reservations with Alternative Airlines
Make an LJ Air Booking and Find Some Amazing Deals
---
About LJ Air
LJ Air, also known as Longjiang Airlines Co. Ltd, is a scheduled domestic airline based in Harbin, China. Based at Harbin Taiping International Airport, the airline was founded in 2014 and commenced operations in 2017. As of August 2018, LJ Air) has a fleet size of 3 and flies to 6 destinations. LJ Air operates both passenger and cargo services
---
LJ Air Check-In Information
Online Check-In
LJ Air is yet to offer online check-in for their flights.
Airport Check-In
Airport Check-in is available for all LJ Air passengers, who must check in to register their attendance for flights. To do so, visit the LJ Air check-in desk. Ensure you arrive at the airport with plenty of time to ensure you can complete check-in and security checks.
---
LJ Air Destinations
Harbin
Hefei
Zhuhai
Luoyang
---
LJ Air Fleet
The LJ Air fleet includes Airbus A320 and Airbus A321 aircraft.
---
Alternative Airlines to LJ Air
Please click on the logos below to find out more about airlines that fly similar routes to LJ Air:
---
LJ Air Hub Airport
Harbin Taiping International Airport
LJ Air (Longjiang Airlines) is based at Harbin Taiping International Airport, which is an international airport based in Harbin, Heilongjiang province, China. It was built in 1979 as Yanjiagang Airport but was expanded in 1994 to make it into the important international hub in northeastern China that it is today. In 2017, the airport handled 18.8 million passengers. There are currently 2 terminals, one for international destinations and one for domestic destinations. The airport is the hub for China Southern, Shenzhen Airlines and Sichuan Airlines, but also operates services for airlines such as Fuzhou Airlines, Shandong Airlines and Loong Air.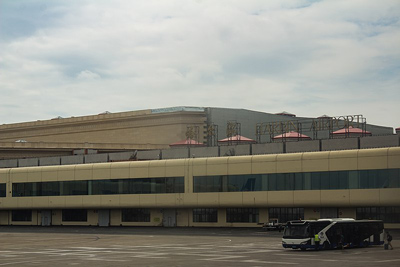 Photo credit: Jason Zhang
---