LAN Ecuador Reservations with Alternative Airlines
Make a LAN Ecuador Airlines reservation and find some amazing deals with Alternative Airlines
---
About LAN Ecuador
LAN Ecuador was a subsidiary of LAN Airlines and has now rebranded as LATAM Airlines Ecuador. The airline operated scheduled passenger services using leased LAN aircraft.
---
Destinations
Destinations included Spain, Argentina, Chile, Ecuador and Peru.
---
Route Map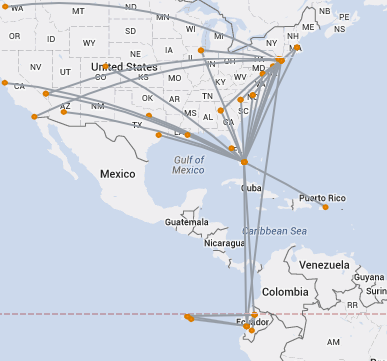 eworl
Popular Routes
Quito

Guayaquil
Miami

Quito
Miami

Newark
Quito

Cuenca
Quito

Baltra
San Francisco

Miami
---
LAN Ecuador Baggage Allowances
Carry-on (Hand) Luggage
Carry-on baggage is free of charge on LAN Ecuador flights, as long as it complies with the following criteria:
Economy Class
Maximum weight for carry on baggage in Economy Class is 8kg (17 lb)
Premium Economy and Business Class
Maximum weight for carry on baggage for Premium Economy and Business Class is 8kg (17 lb)
Maximum hand luggage dimensions for all of the above classes are 55cm x 35cm x 25cm (21 in x 13 in x 9 in)
If carry-on luggage exceeds the size and/or weight permitted, this will be sent as checked baggage and count towards this allowance.
Checked Baggage
Economy Class Checked Baggage
For domestic travel in Ecuador, Promo and Light fares will have to pay an extra charge for checked baggage. Plus fares have one 23kg (50 lb) piece of baggage, and Top fares include two 23kg (50 lb) pieces of baggage.
For flights within South America, between South America and the Caribbean, between North American countries, Oceanic countries and European countries or flights between Tahiti and Easter Island, Economy Class passengers can take one 23kg (50 lb) baggage item.
For flights between South America and North America, Oceania or Easter Island and other flights between South America and Europe, Economy Class passengers can take two 23kg (50 lb) baggage items
Premium Economy Class Check Baggage
For all routes, Premium Economy and Business Class passengers can take up to three 23kg (50 lb) baggage items
---
Alternative Airlines to Lan Ecuador