Khabarovsk Airlines Reservations with Alternative Airlines
Make a Khabarovsk Airlines Booking and Find Some Amazing Deals
---
About Khabarovsk Airlines
Khabarovsk Airlines, known also as KhabAvia in Russian, is a state owned Russian airline. It was founded in 2004 by the Khabarovsk Krai government and currently run flight services to destinations in Khabarovsk. The operate passenger services, charter flights and cargo transportation services.
The company is headquartered in Nikolayevsk-on-Amur, and operates from its bases in Khabarovsk Novy Airport and Nikolayevsk-on-Amur Airport
---
Khabarovsk Airlines Baggage
Carry-on Baggage
Passengers are permitted one small personal item in addition to the checked baggage allowance. This can be items such as a handbag, briefcase, umbrella, reading material for a flight, camera, laptop or a coat.
Checked Baggage
Passengers are permitted the following checked baggage, which is dependent on the type of aircraft travelling in:
Passengers travelling on the AN-24 or AN-26B-100 are permitted up to 20kg of luggage.
Passengers travelling on the L-410 or AN-28 or Mi-8 are permitted up to 10kg of luggage.
---
Khabarovsk Airlines Check-In Information
Online Check-In
Khabarovsk Airlines do not currently offer online check-in for their flights.
Airport Check-In
Passengers must check in at the airport for their flights. The check-in times will be stated on the ticket, but make sure that you arrive at the airport within enough time to ensure you have enough time to check-in, check luggage and pass through security. Please note that the check-in desk will close 40minutes prior to departure, unless otherwise stated.
---
Alternative Airlines to Khabarovsk Airlines
Please click on the logos below to find out more about airlines that fly similar routes to Khabarovsk Airlines:
---
Khabarovsk Airlines Hub Airport
Khabarovsk Novy Airport
Khabarovsk Novy Airport is an International airport based in Khabarovsk, Russia. It was first constructed in 1938 the old terminal from was demolished and reconstructed in 2016 which is planned to be finished in 2019.
The airline is also the airport hub for Aurora, S7 Airlines, Vostok Aviation Company and of course Khabarovsk Airlines.
It also operates flights for Asiana Airlines, Nordwind Airlines, Pegas Fly, Philippine Airlines and Uzbekistan Airways for example.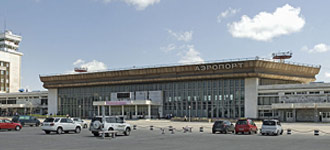 Photo Accreditiation: Дмитрий Фиронов
---
Khabarovsk Airlines Destinations
Ayan
Bogorodskoye
Chumikan
Kherpuchi
Khabarovsk
Komsomolsk-on-Amur
Nelkan
Nikolayevsk-on-Amur
Okhotsk
Sovetskaya Gavan
---
Khabarovsk Airlines Route Map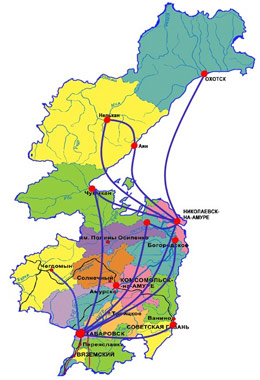 ---
Khabarovsk Airlines Fleet
Antonov An-24RV
Antonov An-26-100
Antonov An-26B
Let L-410 UVP-E20
---