Kamchatka Aviation Reservations with Alternative Airlines
Make a Kamchatka Aviation Booking and Find Some Amazing Deals
---
About
Kamchatka Aviation, also known as Petropavlovsk-Kamchatsky Air Enterprise, is a Russian airline offering scheduled passengers and charter services domestically within Russia. The airline operates to several destinations in the Kamchatka Krai district.
The airline began flying in 1948. It was originally launched as a subsidiary of Aeroflot, operating flights within the Kamchatka Krai region on behalf of the national carrier. Today, it operates many of the same routes but as an independent airline.
---
Fleet
Kamchatka Aviation operates a mixed fleet, with aircraft from manufacturers such as Antonov, Let and Yakovlev.
---
Destinations
Kamchatka Aviation flies to the following destinations:
Nikolskoye
Ozernaya
Palana
Sobolevo
Tigil
Tilchiki
Ust-Khayryuzovo
---
Baggage
Carry-on Baggage
Passengers on Kamchatka Aviation are entitled to one item of free carry-on baggage. This baggage can't weigh more than 5kg and must be no larger than the dimensions of 45 cm (17.7") x 35 cm (13.7") x 15 cm (5.9"). Baggage must be stored under the seat of the passenger or held in their lap.
Checked Baggage
Passengers on Kamchatka Aviation flights are entitled to one item of free checked baggage. This baggage can't exceed the overall dimensions of 203 cm (79.9") (w x h x l). The allowed weight of your checked baggage will depend on which route and aircraft you're flying on. For Yakovlev aircraft, passengers are entitled to a free checked baggage allowance of 20kg. For Let Kunovice aircraft, passengers are entitled to a checked baggage allowance of 10kg.
---
Check-In
Online Check-In
Online check-in is currently not available on Kamchatka Aviation flights.
Airport Check-In
Passengers must check-in to their Kamchatka Aviation flight by visiting a Kamchatka Aviation member of staff at the airport check-in desk. As Kamchatka Aviation doesn't offer online check-in, checking in at the airport is the only way to check-in for your Kamchatka Aviation flight.
---
Hub Airport
Petropavlovsk-Kamchatsky Airport
Petropavlovsk-Kamchatsky Airport is an airport located in Petropavlovsk-Kamchatsky, Russia and is the hub airport for Kamchatka Aviation. The airport serves a number of Russian airlines that operate domestic scheduled services to and from Petropavlovsk-Kamchatsky. The airport also has a few seasonal international routes that are operated by Yakutia Airlines.
Other airlines that fly to and from Petropavlovsk-Kamchatsky Airport include Aurora, Pegas Fly and Ural Airlines.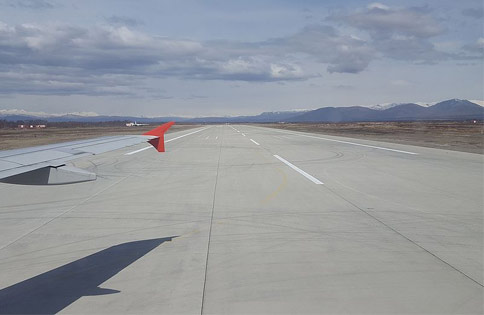 Photo credit: Der.metzger2009
---
Alternative Airlines to Kamchatka Aviation
Please click on the logos below to find out more about airlines that fly similar routes to Iraqi Airlines:
---
Book Kamchatka Aviation Flights in English
Eliminate any language issues when you book Kamchatka Aviation flights in English with Alternative Airlines. We offer a quick, safe and easy way to book Kamchatka Aviation flights with a seamless booking process that's completely in English! And if you have any questions or queries, our dedicated customer service team is available to help!