Airlines will always try to sit children with their parents (subject to check-in)
Some airlines will allow travel for unaccompanied minors. Please email us to check.
The fare is based on the child's age on the date of travel.
More detailed information can be found here Traveling with children
Most airlines will let infants travel with their parent(s) for free. However some airlines will charge up to 10% of the adult ticket price. Click on 'Price Breakdown' to find out more.
If you are pregnant, but due before the flight departure date, please contact us once your baby is born and has a name. We can then add him/her to your ticket.
Infants will not be given a seat. The airlines expect parents to travel with them on their lap.
Airlines regard infants as being under 24 months old.
The fare is based on the child's age on the date of travel.
More detailed information can be found here Traveling with children
John Wayne Airport
Cancellation Protection
Protects
Trusted Choice
65,000 happy customers
Rated 4.5 Stars. Based on 3,581 service ratings over the past year
Dedicated customer service team on hand to help
Secure payments
Cancellation Protection
Protects
Trusted Choice
65,000 happy customers
Rated 4.5 Stars. Based on 3,581 service ratings over the past year
Dedicated customer service team on hand to help
Secure payments
About John Wayne Airport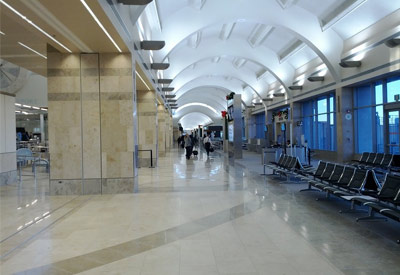 John Wayne Airport is a commercial airport in Orange County, California and the only airport in Orange County. It is one of the busier airports in the greater Los Angeles area, handling mostly domestic flights within the US, with a few additional flying internationally within North America.
There are no scheduled airlines currently based at John Wayne Airport, although, Southwest Airlines uses it as a focus city. The only airline that is currently based at John Wayne Airport is JetSuite, which is a US Business/Private Charter airline.
The first airstrip built on the airport dates back to 1923 back when the airport was a flying school. The County of Orange acquired the land in 1939 and by 1942, the area was turned into an Army Air Base, which was used during World War II. After the war, the airport was used for different uses in aviation.
The airport was completely rebuilt in 1964, with an extra runway (two in total). By the end of the 1960s the airport had another terminal built, named the Eddie Martin Terminal.
In 1979, the airport was renamed the John Wayne Airport, after previously being known as the Orange County Airport. In the 1990s, the Eddie Martin Terminal was demolished and replaced with a new passenger terminal — the Thomas F. Riley Terminal, which is the terminal that exists today.
What is the airport code for John Wayne Airport?
The airport code for John Wayne Airport is SNA.
Airport Location
John Wayne Airport is located in Orange County, near the cities of Irvine, Newport Beach and Costa Mesa. Depending on traffic, the airport is around a 10–30-minute drive away from the main parts of Orange County, a 30–85-minute drive away from Disneyland Resort and a 45–140-minute drive away from downtown LA.
Facilities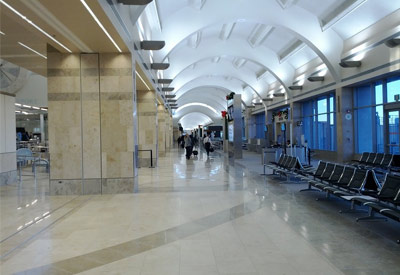 The airport has an award-winning concessions program, featuring more than 300 commercial venues to meet all passenger's shopping, dining and service needs.
Facilities Include:
WIFI
Currency exchange & ATMs
Electrical power outlets
Lockers
Baby rooms
Special services
Smoking lounges
Car hire
Showers
Emergency and medical services
Dining
Shopping
Lounges Include:
American Airlines Admirals Club
Location: Terminal A.
Free snacks
Free bar
WIFI
Flight monitors
Newspapers & magazines
USO Lounge
Location: Terminal B.
Free snacks
WIFI
TV Screens
Newspapers & Magazines
United Airlines United Club
Location: Terminal B.
Free dining
Free beer & wine

Free snacks

Flight monitors
WIFI
Newspapers & magazines
TV Screens
Runways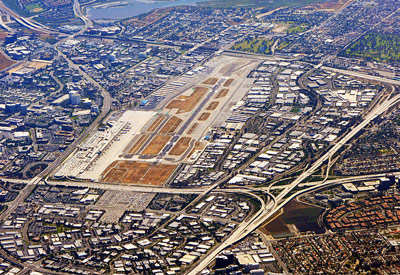 Credit: John Wayne Airport photo D Ramey Logan.jpg from Wikimedia Commons by D Ramey Logan, CC-BY 4.0"
John Wayne Airport has two runways — a major runway and a minor runway. The major runway 2L/20R is 1,738 m x 46 m, which makes it one of the shortest major runways at any major airport in the US. The minor runway 2R/20L is 880 m x 23 m. Due to its relatively small runways, John Wayne Airport cannot facilitate any aircraft larger than the Boeing 757. This means that only narrowbody planes (or smaller) can fly to/from the airport.
Terminals
John Wayne Airport technically only has one main passenger terminal building named the Thomas F. Riley Terminal. However, this terminal is split into three separate terminal areas, titled A–C.
Terminal A
Terminal A was built in 1990 and, along with Terminal B, replaced the Eddie Martin Terminal, which was closed when the Thomas F. Riley terminal was built. Terminal A has the ticket counters for American Airlines, Delta Air Lines and WestJet. Terminal A also features the American Airlines Admirals Club lounge.
Terminal B
Terminal B opened at the same time as Terminal B when the two terminals replaced the previous Eddie Martin Terminal. Terminal B has the ticket counters for Alaska Airlines and United Airlines, as well as United Airlines United Club lounge.
Terminal C
Terminal C opened in 2011 and has a variety of shops and restaurants that are exclusive to the terminal. Terminal C also has the ticket counters for Frontier and Southwest but doesn't have any airport/airline lounges.
Airlines that fly to John Wayne Airport
Only JetSuite uses John Wayne Airport as its hub. However, Southwest does use it as a focus city.
Take a look at the table below to see a full list of airlines that fly to/from John Wayne Airport.
Top Destinations
Top Domestic Routes
May 2018–April 2019
| Rank | Destination | Passengers | Airlines |
| --- | --- | --- | --- |
| 1 | Phoenix–Sky Harbor, Arizona | 492,00 | American Airlines, Southwest Airlines |
| 2 | Seattle/Tacoma, Washington | 479,000 | Alaska Airlines, Delta Air Lines |
| 3 | San Jose, California | 470,000 | Alaska Airlines, Southwest Airlines |
| 4 | Denver, Colorado | 463,000 | Frontier, Southwest Airlines, United Airlines |
| 5 | Dallas/Fort Worth, Texas | 399,000 | American Airlines |
How to get to John Wayne Airport
By driving
John Wayne Airport can be driven to from the San Diego (I-405) Freeway, the Costa Mesa (SR-55) Freeway and the Corona Del Mar Free Way/San Joaquin Hills Transportation Corridor Toll Road (SR-73).
Rental cars are available at the airport. Rental car companies are based at on the arrival level, which is located on the lower level of the airport between Terminals A and B. Rental cars must be returned to the lower level of Parking A2 and B2, which can be accessed from the Ground Transportation Center.
By taxi
As a rough guide, a taxi from Disneyland to John Wayne Airport will cost roughly $40 USD. It might be difficult to flag a taxi down unless you're travelling from the Hollywood and Downtown LA area. Therefore, it's advised that you pre-book a taxi before, which, the person(s) in charge of your accommodation should be happy to help with.
There are also many taxi apps available in the city, with Lyft, Uber and Wingz permitted to drive to John Wayne Airport.
By train
John Wayne Airport doesn't have its own train station. The nearest train stations are in Irvine, Santa Ana and Tustin, which are all around 10 miles away from the airport.
iShuttle provides a shuttle bus from Tustin Metrolink Station to the airport on Route A. But, with other stations, you'd need to find an alternative way of getting to the airport.
By bus
There is an express bus that travels between Disneyland and John Wayne airport.
Other than that, Orange Country Transportation Authority, shortened to OCTA, drive to John Wayne Airport on Route 76.
The iShuttle Route A also drives to the airport.