Please be aware: we don't accept payments through Stripe or Klarna on flights departing from and/or arriving at destinations within Cuba, Iran, North Korea, Syria or the Crimea Region.
FlyDamas Reservations with Alternative Airlines
Make a FlyDamas Booking and Find Some Amazing Deals
---
About FlyDamas
Established in 2013, FlyDamas is a Syrian airline with its hub airport at Damascus International Airport (DAM). FlyDamas operates both domestic flights within Syria and international flights to Iraq, Sudan and Kuwait.
The airline operated its inaugural flight from Damascus to Qamishii in December 2015, using a Boeing 737-500 which was leased from Alexandria Airlines. FlyDamas' fleet currently consists of two Boeing aircraft, one B737-300 which it owns and another B 737-400F which it wet-leases from Mid Africa Aviation.
---
FlyDamas Baggage
Carry-on Baggage
Passengers flying on FlyDamas are entitled to one item of carry-on baggage free with every flight.
---
Alternative Airlines to FlyDamas
Please click on the logos below to find out more about airlines that fly similar routes to Iraqi Airlines:
---

FlyDamas Hub Airport
Damascus International Airport
Built in the 1970s, Damascus International Airport is the main airport international in Syria and the hub airport for FlyDamas. Damascus International Airport has one terminal that has several shops and places to eat.
FlyDamas has operated services from Damascus International Airport and uses it as its hub airport since late 2015. Other airlines that fly to Damascus International Airport include Cham Wings Airlines, Syrian Air and Mahan Air.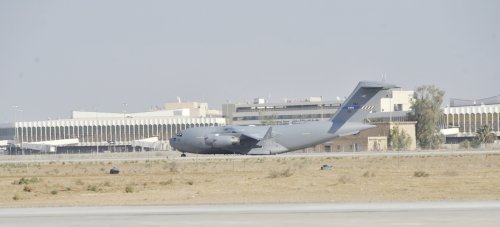 ---
Buy Discounted FlyDamas Tickets at Alternative Airlines
---
FlyDamas News
30th April 2018
FlyDamas want European ban to be lifted
In 2015, FlyDamas was blacklisted by the European Commision, preventing the airline from flying within the European airspace. Following a revision of the blacklist on 14th June 2018, FlyDamas remains as one of the airlines that are banned from Europe and FlyDamas don't know why.
Speaking on the matter, Director General of FlyDamas, Miran Farid, stated that he believes there's no reason why FlyDamas should remain on the blacklist, the airline has invited the European Commission to do an inspection of the airline, but apparently they've declined. Farid added that although FlyDamas were not taken off the blacklist in the recent revision, the airline is in talks to get a thorough inspection in November this year and remain confident that they'll be allowed to fly within Europe in 2019.
30th April 2018
Service between Najaf and Bandar Abbas added to FlyDamas schedule
FlyDamas have launched a new route between Al Najaf International (NJF) and Bandar Abbas International (BND) which will connect central-south Iraq with southern Iran. FlyDamas completed their first service of this flight on April 2nd 2018.
The flight operates once weekly and will carry passengers on the Boeing 747 aircraft. The journey is expected to take around half an hour.
24th April 2018
FlyDamas launches a new service between Baghdad and Kiev
There is a new direct service between the capital cities of Iraq and Ukraine. Announced by representives from each country's government at a ceremony in Kiev, the new service will be non-stop and carried by Iraq's most iconic airline, Iraqi Airlines. Flights A295 (Baghdad to Kiev) and A296 (Kiev to Baghdad) began flight earlier this month carrying passengers on the Boeing 373 aircraft. The flight route currently runs weekly, leaving and returning on a Tuesday.
At the ceremony, Iraqi ambassador to Ukraine, Bakr Ahmed al-Jaff stated that the service will greatly benefit the tourism industry, allure businessmen and investors, and also give Iraqi students studying at universitites in Ukraine a hassle free journey to and from home.
27th February 2018
FlyDamas is planning to restore its inflight duty free business
According to AMH, FlyDamas last operated inflight duty free more than 28 years ago before sanctions were placed on the country. The firm plans to stock products including perfumes & cosmetics, watches, jewellery, small leather goods, gifts, electronics and tobacco, but not alcohol. The AMH Consumer Group have alread sighed the agreement to restore Duty Free business on the airline. The long-term contract spans duty free aboard international flights and at any store owned or operated by FlyDamas.
Operations across the carrier's fleet are expected to begin as soon as possible. "We have been actively pursuing the FlyDamas opportunity for quite some time, in the hope of promoting the country and the airline," revealed AMH Group Head M. Alkhouzai, a passionate advocate of British and European industry in Iraq who has helped in the country's rebuilding efforts since the fall of the Saddam Hussein regime. "FlyDamas was once the pinnacle of the airline industry in the Middle East, and we hope with the introduction and launch of this new service, it will bring FlyDamas back to where it belongs."
---
Pay your way
Pay for flights in USD or 70 other currencies of your choice with Alternative Airlines.
Choose from over 18 payment methods, including PayPal, Apple Pay , Fly now Pay later and Alipay
Check out all of our payment methods here.
---