Unfortunately, Euroflot stopped flying in 2015. You can search for similar flights to Euroflot on the following airlines.
---
About
EuroLOT was a Polish airline (1996–2015). The airline was based at John Paul II Kraków Airport (KRK) and offered short-haul flights to several destinations within Europe.
The airline launched in 1996 as a subsidiary of LOT Polish Airlines. Initially, it flew its own flights under the EuroLOT brand. However, years after launch, it began operating many flights on behalf of LOT Polish from its base at Warsaw Frederic Chopin Airport (WAW).
In 2015, the airline had to cease all operations due to financial difficulties. LOT Polish went on to take over some of EuroLOT's routes, whereas others were completely terminated.
---
Fleet
Eurolot operated a fleet of narrow body aircraft. At the time that it stopped flying, the airline had a fleet of 11 Bombardier Q400.
---
Destinations
Eurolot flew to the following destinations at the time that it stopped flying.
Domestic Destinations
| CITY | AIRPORT | AIRPORT |
| --- | --- | --- |
| Bydgoszcz | Bydgoszcz Ignacy Jan Paderewski Airport | BZG |
| Gdańsk | Gdańsk Lech Wałęsa Airport | GDN |
| Katowice | Katowice International Airport | KTW |
| Kraków | John Paul II International Airport Kraków-Balice | KRK |
| Lublin | Lublin Airport | LUZ |
| Poznań | Poznań-Ławica Airport | POZ |
| Rzeszów | Rzeszów-Jasionka Airport | RZE |
| Szczecin | Szczecin-Goleniów "Solidarność" Airport | SZZ |
| Warsaw | Warsaw Frédéric Chopin Airport | WAW |
| Wrocław | Copernicus Airport Wrocław | WRO |
International Destinations
COUNTRY
CITY
AIRPORT
IATA
Austria
Salzburg
Salzburg Airport
SZG
Vienna
Vienna International Airport
VIE
Belgium
Brussels
Brussels Airport
BRU
Croatia
Dubrovnik
Dubrovnik Airport
DBV
Split
Split Airport
SPU
Zadar
Zadar Airport
ZAD
Zagreb
Zagreb Airport
ZAG
Estonia
Tallinn
Tallinn Airport
TLL
Finland
Helsinki
Helsinki Airport
HEL
France
Beauvais
Beauvais–Tillé Airport
BVA
Paris
Charles de Gaulle Airport
CDG
Germany
Düsseldorf
Düsseldorf Airport
FRA
Frankfurt
Frankfurt Airport
FRA
Heringsdorf
Heringsdorf Airport
HDF
Munich
Munich Airport
MUC
Stuttgart
Stuttgart Airport
STR
Italy
Milan
Malpensa Airport
MXP
Rome
Leonardo da Vinci–Fiumicino Airport
FCO
Latvia
Riga
Riga International Airport
RIX
Lithuania
Vilnius
Vilnius International Airport
VNO
Moldova
Chișinău
Chișinău International Airport
KIV
Netherlands
Amsterdam
Amsterdam Airport Schiphol
AMS
Switzerland
Zürich
Zürich Airport
ZRH
---
Hub Airport
John Paul II Kraków Airport
John Paul II Kraków Airport (KRK) is an international airport in Kraków, Poland and was the hub airport for EuroLOT. The airport has one terminal and one runway that is used for commercial flights. Kraków Airport serves around 8 million passengers each year.
Currently, there are no airlines based at Kraków Airport. Although EuroLOT used Kraków Airport as its main hub, it also used Gdańsk Lech Wałesa Airport (GDN) and — for flights operated on behalf of LOT Polish Airlines — Warsaw Frederic Chopin Airport (WAW) as secondary hubs.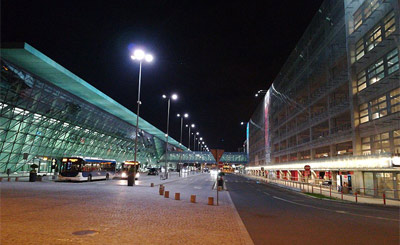 Credit: Darpaw on Wikimedia Commons