Facilities
Facilities Include:
Denver International Airport offers more than 170 shops, restaurants and services, including newsstands, bookstores, gift shops, a travel agency, and fast-food outlets. Tax and duty-free shops are located in concourses A and B for international passengers. There is a post office on level 6. Free Wi-Fi is available throughout the airport.
Each concourse provides Automated Teller Machines and change machines, telephone banks and flight information display monitors.
An interfaith chapel is open 24 hours and located on level 6 and there are nursing rooms within all concourses. There is also a pet relief area inside the terminal on Level 2, and at A, B, an C gates.
Guess what? Famed for being environmentally conscious and providing a unique experience, Denver International Airport features in our blog: The Best Airports for Shopping!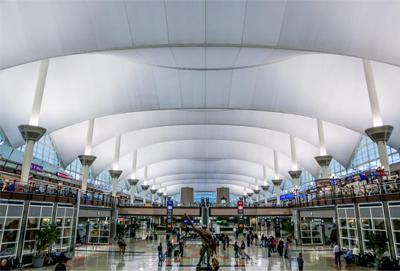 Image credit: Denver International Airport
Lounges Include:
American Airlines Admirals Club: Enjoy snacks and alcoholic/non-alcoholic drinks, WiFi, workstations, television, and a comfortable lounge. To enter, passengers will need to present an Admirals Club membership, or there is the option to pay at the door if space is available, as long as you're flying with American Airlines.
Delta Sky Club: Enjoy snacks and alcoholic/non-alcoholic drinks, WiFi, television, newspapers, magazines and a comfortable lounge. To enter, you must be a member of the Delta Sky Club.
United Club: Entrance includes drinks and snacks, WiFi, telephone, television, faxing and conference facilities, and comfortable seating. Use your United Club membership or pay at the door with your United ticket.
USO Lounge: Enjoy snacks and drinks, WiFi, comfortable seating, a kids play area with video games and football table, children's play area, television, cell phones, a library, and a sleeping area with recliners. The USO Lounge welcomes all active members of the U.S. military and their families at no cost. For more information, check out our guide to US Military Flights.