Search and Buy Daallo Airlines Flights with Alternative Airlines
Make a Daallo Airlines Booking and Find Some Amazing Deals
---
About
Daallo Airlines is a Somali-owned airline based at Dubai Airport Free Zone in Al Garhoud, Dubai, United Arab Emirates. Daallo Airlines has over 25 years experience in flying with passengers and operating cargo and charter flights in Africa, Middle East and Europe. Daallo airlines has a high demand for passengers in East Africa and the Middle East.
With its main hub at Djibouti–Ambouli International Airport, the airline operates scheduled services in the Horn of Africa and the Middle East.
---
Destinations
As of June 2022, Daallo Airlines flies to nine destinations in the region. These are all short-haul destinations are Bossasso, Djibouti, Dubai, Galkayo, Garowe, Hargeisa, Jeddah, Mahadishu and Nairobi.
---
Baggage
Carry-on Baggage
Daallo Airlines allows you to bring on-board, one piece of cabin baggage, one personal item such as a small backpack or a small handbag. You must ensure that youre carry-on baggage fits into overhead bins or under the seat in front of you.
There are no maximum weight limits to your carry-on baggage, however it shouldnt exceed a total of 114 cm in combined height, length and width.
Checked Baggage
Daallo Airlines allow 20kgs in Economy Class for one or more checked bag (pieces).
Total weight must not to exceed 20kgs or as per extra baggage allowance allocated for specific market
Local Rules: Each individual (piece) of baggage must not exceed 32kgs (70 lbs). For Business Class passengers are allowed to bring a maximum of 30 kgs.
---
Check-in Information
Online Check-in
For a quick and easy process passengers should Check-in online. Daallo Airlines online check-in opens 24 hours and closes 2 hours before the departure time. You can do this by visiting the Daallo website page.
Airport Check-in
Passengers should aim to arrive 3 hours before departure time to ensure an easy process. The airport check-in depends on the destination you are travelling to, so ensure to read your boarding pass for check-in times.
---
Route Map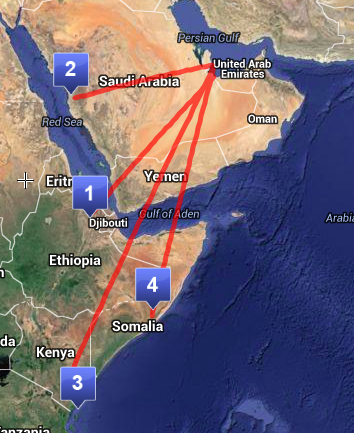 ---
Airline Fleet
Daallo Airlines has a fleet of Boeing 737 to operate its regional network.
---
Hub Airport
Djibouti–Ambouli International Airport
Djibouti–Ambouli International Airport is a joint civilian/military-use airport situated in the town of Ambouli, Djibouti. It serves the national capital, Djibouti City. The airport is located approximately 6 kilometres from the city centre. It occupies an area of 10 square kilometers. Beside the airport proper, this includes a V.I.P terminal for prime ministers and presidents. Another airline which operates out of the airport is Air Djibouti.
The airport is situated around 6 kilometres away from the city centre, making it an easy journey for you to get to.
---
WIFI
At the moment, Daallo Airlines doesn't offer Wifi on board. However, Daallo airlines are looking to expand its facilities and introduce Wifi and internet connection in the future.
---
Food
Daallo Airlines offers snacks and beverages onboard to purchase on flights over 60 minutes. Drinks are available on all flights: teas, coffees, cold drinks and alcoholic beverages. So sit back and enjoy a sip on your favourite drink.
You can also check the itinerary to see what snacks and drinks are available to them on flight.
---
Special Requirements and Assistance
Travelling whilst pregnant
You can travel whilst you're pregnant, however if you are 28+ weeks pregnant you must present a medical certificate for the flight. The certificate must include the due date and state that you are able to fly without any risk.
If you need any special requirements whilst travelling with Daallo airlines please contact the customer service team where they will be able to offer you help.
Wheelchair assistance
If you need access to a wheelchair contact Alternative Airlines. We will get in contact with the airline and let them know you have requested a wheelchair for you're airport journey.
---
Alternative Airlines
---
FAQ's
Who owns Daallo Airlines?
Daallo Airlines was founded in 1991 by Mohamed Haji Abdillahi Abusita and Mohammed Ibrahim Yassin Olad. Daallo Airlines is owned by its parent company, African Airways Alliance (AAA) and is based at the Dubai Airport Free Zone in Al Garhoud, Dubai, United Arab Emirates.
What its like flying with Daallo Airlines?
Daallo Airlines aims to ensure that passengers receive a safe and affordable flight experience. They offer comfortable seating and enough legroom for passengers to sit back and relax.
Daallo Airlines has committed to being an evergreen airline by giving back to the environment, keeping to a low fleet size and reducing emissions.