Search and Buy Daallo Airlines Flights with Alternative Airlines
Make a Daallo Airlines Booking and Find Some Amazing Deals
---
About
Daallo Airlines is a Somali-owned airline based at Dubai Airport Free Zone in Al Garhoud, Dubai, United Arab Emirates.
Destinations include: Addis Ababa, Djibouti, Dubai, Hargeisa, Jeddah, London, Mogadishu, Somalia, Aden, Nairobi and Paris.
With its main hub at Djibouti–Ambouli International Airport, the airline operates scheduled services in the Horn of Africa and the Middle East.
---
Destinations
As of June 2020, Daallo Airlines flies to nine destinations in the region. These are all short-haul destinations are Bossasso, Djibouti, Dubai, Galkayo, Garowe, Hargeisa, Jeddah, Mahadishu and Nairobi.
---
Baggage
Daallo Airlines allow 20kgs in Economy Class for one or more checked bag (pieces).
Total weight must not to exceed 20kgs or as per extra baggage allowance allocated for specific market
Local Rules: Each individual (piece) of baggage must not exceed 32kgs (70 lbs). For Business Class passengers are allowed to bring a maximum of 30 kgs.
---
DAALLO Airlines is operating in the region for more than 25 years with excellent safety record. DAALLO Airlines takes security and safety of its passengers very seriously and would like to assure that its aircraft (owned and leased) are EASA (European Union) registered and are being operated by highly qualified and experienced European pilots. DAALLO Airlines experienced an incident with one of its aircraft A321 during a scheduled flight from Mogadishu to Djibouti on 2nd February 2016.
---
Route Map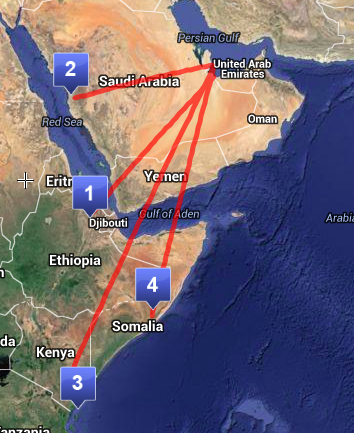 ---
Airline Fleet
Daallo Airlines has a fleet of Boeing 737 to operate its regional network.
---
Hub Airport
Djibouti–Ambouli International Airport
Djibouti–Ambouli International Airport is a joint civilian/military-use airport situated in the town of Ambouli, Djibouti. It serves the national capital, Djibouti City. The airport is located approximately 6 kilometres from the city centre. It occupies an area of 10 square kilometers. Beside the airport proper, this includes a V.I.P terminal for prime ministers and presidents. Another airline which operates out of the airport is Air Djibouti.
---
Alternative Airlines
---