Flights to Beijing Capital International Airport
Read on to discover more about Beijing's main international airport, including it's facilities and features, where you can fly to from there and with what airlines.
About Beijing Capital International Airport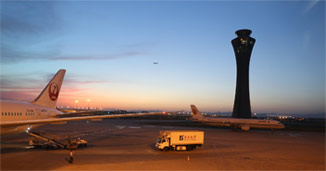 Beijing Capital International Airport (IATA: PEK) is an airport located about 30km outside of the Chinese city of Beijing. This airport is famous for its growth over the last 10 years with it rapidly growing in terms or passenger traffic. For example, it is now the busiest airport in Asia and the world's second busiest airport for passenger traffic. It is also busy with cargo traffic, as the 13th busiest airport in the world for cargo traffic.
The airport was first opened in March 1958 where it was just one small terminal building. A new terminal building opened in 1950, which was continued to be developed on until the mid 1990s.
---
Beijing Capital International Airport Location
The airport is located 20 miles northeast of the city centre of Beijing:
---
Facilities Avialable Before Your Flight
Beijing Airport is very advanced in terms of the facilities it provides. There is a domestic retail space measuring 16,200m2, a duty-free area of 12,600m2 and a 7,200m2 area for convenience services, such as internet services, banks and business centres. This makes for the perfect opportunity to get some duty-free bargains at airport shopping. There is also a huge food court called 'global kitchen', providing a range of dishes from 'grab and go' to fast food and sit-down restaurants.
Facilities Include:
Over 70 food stores, with options open 24 hours
Unlimited Free WiFi
Accessible facilities for disabled passengers
Nursing Room
Rest Zones
Business Services with workstations and internet access
Postal Services
Dressing Rooms
Children's Play Area
Free drinking water dispenser
Baggage Carts
Luggage Storage, Lockers and Wrapping
Free mobile charging lockers
ATMs
Currency Exchange
Indoor garden
Lounges Include:
BGS Premier Lounge: prepaid lounge pass with membership programs. Includes access to WiFi, Beverages (both alcoholic and non-alcoholic), TV and telephone.
Air China First & Business Class Lounge: Locations available in multiple terminals and destinations. Available facilities include showers, drinks, internet etc. Gain access through the lounge membership programs.
BCAT Hourly Hotel / Lounge: Located in Terminal 3E, this lounge provides nap rooms, conference rooms, beverages, snacks, TV, private rooms and showers. Pay upon entry or by obtaining a prepaid lounge pass.
Business Travelers Lounge: Located in Terminal 3E, passengers can enjoy air conditioning, with phone, TV and internet access. Passengers can also enjoy alcoholic and non-alcoholic beverages, conference facilities, showers and newspapers.
Book Lounge Passes for Beijing Capital International Airport
Did you know that you can buy lounge passes for Beijing Capital International Airport Airport with Alternative Airlines? You can purchase them for BGS Premier Lounge at Terminal 2, and BGS Premier Lounge at Terminal 3E.
---
Runways Your Flights may use at Beijing Capital International Airport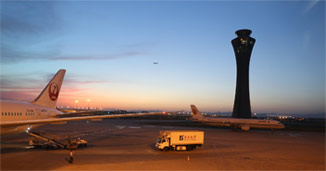 Beijing International Airport currently has 3 runways, the latest of the three opening up in October 2007.
| Direction | Length (m) | Length (ft) | Surface |
| --- | --- | --- | --- |
| 18L/36R | 3,810 | 12,500 | Asphalt |
| 18R/36L | 3,445 | 11,302 | Asphalt |
| 01/19 | 3,810 | 12,500 | Concrete |
---
Terminals to fly to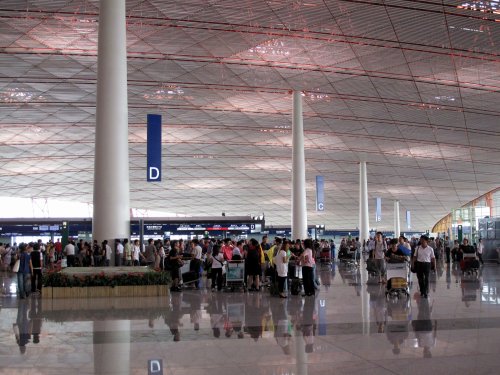 Terminal 1
Terminal 1 is the airport's oldest terminal which is still in operation, having opened in January 1980. The terminal currently has 16 gates for aeroplanes, and is the main base for Chinese domestic flights operated by the HNA Group such as Hainan Airlines, Beijing Capital Airlines, Tianjin Airlines and Grand China Air.
Terminal 2
Opened in 1999 to replace Terminal 1 whilst it underwent renovation, Terminal 2 is much bigger than Terminal 1 with a floor area of 336,000m2. This terminal has the facilities to handle the A280 and currently houses many airlines including Hainan Airlines, China Eastern Airlines and SriLankan Airlines.
Terminal 3
Terminal 3 is the newest of the three terminals, as construction began in 2004 and finished in February 2008 and it is also the largest terminal with a floor space measuring 1,713,000m2, making it the second-largest passenger terminal in the world.
Terminal 3 has a huge food hall with a 'global kitchen', a large retail area, banking and business centres with internet services and also an indoor garden in the style of imperial gardens.
---
Airlines That fly to Beijing Capital International Airport
The following table compiles all the airlines that currently fly passenger services from Beijing Airport:
| | | | |
| --- | --- | --- | --- |
| Aeroflot | Air Algérie | Air Astana | Air Canada |
| Air China | Air France | Air Koryo | Air Macau |
| AirAsia X | All Nippon Airways | American Airlines | Asiana Airlines |
| Austrian Airlines | Azerbaijan Airlines | Beijing Capital Airlines | British Airways |
| Cambodia Angkor Air | Cathay Dragon | Cathay Pacific | Cebu Pacific |
| China Airlines | China Eastern Airlines | China Southern Airlines | Chongqing Airlines |
| Delta Air Lines | Donghai Airlines | EgyptAir | El Al |
| Emirates | Ethiopian Airlines | EVA Air | Finnair |
| Garuda Indonesia | Grand China Air | Hainan Airlines | Hong Kong Airlines |
| Japan Airlines | Jeju Air | Jiangxi Air | Juneyao Airlines |
| KLM | Korean Air | Loong Air | LOT Polish Airlines |
| Lucky Air | Lufthansa | Mahan Air | Malaysia Airlines |
| MIAT Mongolian Airlines | NordStar Airlines | Pakistan International Airlines | Philippine Airlines |
| Qantas | Qatar Airways | S7 Airlines | Scandinavian Airlines |
| Shandong Airlines | Shanghai Airlines | Shenzhen Airlines | Sichuan Airlines |
| Singapore Airlines | SriLankan Airlines | Swiss International Air Lines | Thai AirAsia |
| Thai Airways | Tibet Airlines | Turkmenistan Airlines | Turkish Airlines |
| Ukraine International Airlines | United Airlines | Ural Airlines | Uzbekistan Airways |
| Vietnam Airlines | XiamenAir | | |
---
Top Destinations at Beijing Capital International Airport
The following table comprises some of the popular and most-serviced destinations from Beijing Airport:
| | | | |
| --- | --- | --- | --- |
| Bangkok | Busan | Chongqing | Dubai |
| Fuzhou | Harbin | Hefei | Hong Kong |
| Kuala Lumpur | Macau | Moscow | Shenzhen |
| Singapore | Tokyo Haneda | Toronto | Xiamen |
---
How to get to Beijing Capital International Airport
By Road
There are four tollways in which you can access the airport by road. Two of them are from the nearby highways, and the other two are directly linked from northeastern Beijing. There are many car parks within the airport which you can use to park your car at a cost.
By Public Transport
You can get to the airport by train via the Airport Express Line, which is part of the Beijing Subway system. Alternatively, there are over 15 bus routes from the city which stop at each of the airport's terminals.
By Rental Car
In China, passengers must obtain a driver's license from China before they are allowed to drive. Therefore, it is recommended to rent cars in China with a private driver service if you do not have this Chinese drivers licence.