Airlink Estonia (Saartelennuliinid) Reservations with Alternative Airlines
Make an Airlink Estonia (Saartelennuliinid) Booking and Find Some Amazing Deals
---
About Airlink Estonia (Saartelennuliinid)
Airlink Estonia, SLL or Saartelennuliinid are three different names for the Estonian domestic airline.
---
Airlink Estonia (Saartelennuliinid) Baggage Allowance
Carry-on Baggage
One item of carry-on baggage is permitted and may weigh up to 5 kg. The dimensions should not exceed 45 x 35 x 20 cm. In addition, passengers may carry one personal item such as handbag, umbrella and items purchased from the airport shops. Laptop computers, cameras, video cameras and other valuables should be taken to the aircraft cabin as hand baggage.
Checked Baggage
On Airlink Estonia flights, each Passenger is entitled to 15kg of checked baggage free of charge. You cannot have any one item of baggage weighing more than 32kg.
Additional Baggage
Excess baggage will cost €3 EUR for each additional kg one way.
Infant Baggage
For children up to 24 months old (without a right for a separate seat) flying with Airlink Estonia (Saartelennuliinid) the maximum weight for baggage is 10kg.
---
Airlink Estonia (Saartelennuliinid) Check-in Information
Airport check-in
In Tallinn, Kuressaare and Kärdla airports check-in opens one hour before the departure. In Tallinn and Kuressaare, check-in closes 30 minutes before departure. At Kärdla airport, check-in closes 20 minutes prior to departure.
---
Airlink Estonia (Saartelennuliinid) Flight schedule
Use the search bar above to find out if Airlink Estonia flies on your chosen day of departure, or go to the official Saartelennuliinid website.
---
Alternative Airlines to Airlink Estonia (Saartelennuliinid)
Please click on the logos below to find out more about airlines that fly similar routes to Saartelennuliinid:
---
Airlink Estonia (Saartelennuliinid) Route Map
---
Airlink Estonia Airport Hub
Tallinn Airport
Tallinn Airport is the largest international airport in Estonia and is a hub for many renowned airlines. The airport is situated on the shore of Lake Ulmiste. The airport has one runway. The future plans of Tallinn Airport include expanding the runway by 600–700 metres to serve regular long-haul flights, which open the doors for airlines like Saartelennuliinid. Other airlines that operate out of the airport include airBaltic, Nordica, NyxAir, Scandinavian Airlines and Turkish Airlines.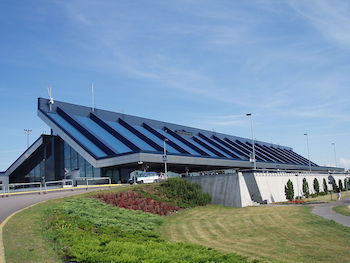 ---
Economy Class
There is no separate classes on Airlink Estonia flights, instead the seating is standard yet enjoyable. Staff will cater to passengers needs and wants throughout the flight.
Economy Class Seats
Seats are standard for airlines using the same aircraft, and passengers will have ample leg room and comfortable seats.
---