Search and Buy Air Excel Flights with Alternative Airlines
Make a Booking and Find Some Amazing Deals
---
About Air Excel
Air Excel is a Tanzanian airline, based in Arusha, Tanzania. The airline was founded in 1997, initially as one airline and today, as of January 2022, has expanded to a fleet of 9 aircraft, the majority of which are Cessna 208Bs.
Air Excel's Services
Air Excel specialises in private air-charter services within Tanzania and East Africa from Arusha.
The airline also offers scheduled services, between stunning locations, such as the Kopje strewn savannah plain of the Serengeti, to the beautiful turquoise seas and sandy beaches of Zanzibar. Scheduled routes include transfers to/from Arusha, to the Northern Parks circuit (Tarangire, Manyara, Serengeti), as well as to/from the major international airports of Kilimanjaro and Dar es Salaam.
---
Baggage Allowance
The permitted total baggage weight is 20kg (44 lbs). This includes all items you bring on board including personal items, carry-on baggage and checked baggage.
Carry-on Baggage Allowance
Air Excel permit one personal item on their flights. These could be items including the following:
A lady's handbag or purse and a reasonable amount of reading material for the flight.
A laptop computer or an iPad.
An overcoat, wrap or blanket.
A small camera, binoculars, iPod, Kindle or similar.
Checked Baggage
Air Excel checked luggage specifications are as follows:
1 Piece per person
Soft (all sides) luggage/duffel bags – with no rigid sides are strongly recommended. Avoid luggage with wheels if possible.
Maximum luggage weight is 20 kg (44 pounds) including all carry-on luggage.
Maximum luggage size is Height 25 cm x Width 30 cm x Length 62 cm (25" x 11" x 24").
Linear dimensions of the checked luggage not to exceed 45 linear inches / 114cms, (length + height + width)
Excess Baggage
Air Excel will charge for excess baggage at their discretion, after taking into consideration the aircraft being used and the number of passengers booked. When excess baggage is carried it will be charged at the prevailing rate.
---
Air Excel Check-In Information
Online Check-In
Air Excel are yet to offer online check-in for their flights.
All passengers must check in at the airport
Airport Check-In
You must check in 1 hour before the scheduled departure time if you're departing from Arusha, Dar es Salaam, Kilimanjaro, Kogatende, Manyara, Seronera and Zanzibar.
At Alternative Airlines, we recommend that you arrive at the airport check-in counter 2 hours before for domestic flights and 3 hours before the scheduled departure time for international flights.
You're also recommended to report to the check-in desks directly once you've arrived at the airport.
---
Class Fares
Standard Seating
The airline operates light aircraft. There is a limited number of standard (Economy) seats.
However, due to the size of their aircraft, all seats are window seats and you'll enjoy the stunning view during the flight.
If you're flying on the Cessna 208B aircraft, you'll enjoy luxury seating throughout your flight as it's fitted with 8 comfortable and larger seats.
---
Air Excel Destinations
Domestic Destinations
As of January 2022, the airline offers domestic scheduled services, and flies to the following destinations within Tanzania:
Arusha
Dar es Salaam
Dolly (Kili Golf)
Grumeti
Kilimanjaro
Kogatende
Kuro
Lamai
Lobo
Manyara
Ndutu
Sasakwa
Serengeti South
Seronera
Zanzibar
---
Route Map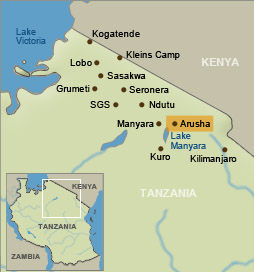 ---
Frequent Flyer Program
A frequent flyer programme isn't currently available for Air Excel.
---
Airline Alliance
Air Excel isn't a member of any airline alliances.
---
Fleet
The current fleet of Air Excel consists of the following aircraft:
---
Hub Airport
Arusha Airport
Arusha Airport is the airport which serves Arusha, in Tanzania. In 2015, it served over 140,000 passengers, but in the past has served nearly 190,000. It is currently served by 6 airlines; As Salaam Air, Auric Air, Coastal Aviation, Precision Air, Regional Air, Tropical Air and ZanAir.
---
Alternative Airlines to Air Excel
Please click on the logos below to find out more about airlines that fly similar routes to Air Excel:
---
FAQs
Do Air Excel have a seat cancellation policy?
Yes, there are several cancellation policies if you wish to cancel your Air Excel flight. If you cancel your Air Excel flight 7 days or more before your flight departure, you'll need to pay a fee of $10 USD per ticket. If you cancel between 4-7 days from your flight departure, you'll be charged $50 USD per ticket. If you cancel within 4 days of the scheduled flight departure time, you won't be eligible for a refund and may have to pay a higher cancellation fee.
To avoid disappointment, we recommend applying Cancellation Protection to your booking when you book Air Excel flights through Alternative Airlines. This way, you can be eligible for a full refund should you need to cancel your flight due to illness, death, home emergencies, etc.