Search and Buy Zhezair Flights with Alternative Airlines
Make a Zhezair Booking and Find Some Amazing Deals
---
About Zhezair
Zhezkazgan Air (branded as ZhezAir) is an airline based at Zhezkazgan Airport, which serves the city of Jezkazgan in the Republic of Kazakhstan. From Zhezkazgan Airport the airline operates both private charter and scheduled passenger flights to domestic destinations within the country.
Zhezkazgan Air currently operates scheduled passenger flights to Karagandy, using a Let L-410 aircraft, which has a capacity of 19 passengers in a single class cabin.
Looking to book flights within Kazakhstan?
If you're looking to fly domestically from Jezkazgan or any other city within Kazakhstan, then Alternative Airlines can help. We offer a greater number of flights with airlines around the world, including within Kazakhstan. You can book flights in English, with the support of our Customer Service team. To begin, simply use the search bar at the top of the page, by typing in you departure and arrival city or airport name.
---
Destinations
The airline operates scheduled passenger on a single route, between Jezkazgan (Zhezkazgan Airport) and Karagandy (Sary-Arka Airport).
| DESTINATION | AIRPORT | IATA |
| --- | --- | --- |
| Jezkazgan | Zhezkazgan Airport | DZN |
| Karagandy | Sary-Arka Airport | KGF |
To learn more about flying domestically in Kazakhstan please visit our 'Domestic Flights in Kazakhstan' page.
---
Baggage Allowance
Carry-On Baggage
The carry-on baggage allowance for each passenger will be outlined during the booking process.
Checked Baggage
Checked baggage is included in the ticket price. The allowance will be outlined during the booking process. In all instances, checked baggage cannot weigh over 32kg, due to international regulations, and must not exceed the permitted size allowance. Bags that do exceed the permitted allowance may be subject to additional fees at the airport.
---
Check-In Information
Check-In Online
Online check-in is not currently available.
Airport Check-In
Passengers are asked to arrive at the Zhezair check-in desks at Zhezkazgan Airport. It is recommended that passengers arrive as early as possible, usually about 2 hours before scheduled departure.
---
Frequent Flyer Program
The airline does not currently offer a frequent flyer program.
---
Airline Alliance
The airline is not currently part of an airline alliance program.
---
Fleet
The airline currently operates a Let L-410, which has a seating capacity of up to 19 passengers in a single class formation. Other aircraft in the airline's fleet includes: an Antonov An-2/An-3 and a Yakovlev Yak-40.
---
Hub Airport
Zhezkazgan Airport
Zhezkazgan Airport is an international airport serving the city of Zhezkazgan (formerly known as Dzhezkazgan), in the Karaganda Region of Kazakhstan. It has one asphalt and concrete runway, as well as four unpaved runways, and is mostly used for domestic/regional flights, as well as private operations and charters. The only other airlines to fly to the airport are: SCAT Airlines, which flies to Nur-Sultan and Almaty; and Qazaq Air, which flies to Nur-Sultan.
---
Pay The Way You Want
When you book your flights through Alternative Airlines, you can pay the way you want. Choose the currency that you'd prefer, whether that's U.S. Dollars, Euros, or even Kazakhstani Tenge. We also offer lots of flexible payment options, so that you can spread the cost of your flights over time.
---
Alternative Airlines
Domestic Airlines
The following airlines operate domestic flights within Kazakhstan: Qazaq Air, SCAT Airlines, and Air Astana.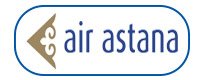 International Airlines
If you're looking to fly to Kazakhstan from an international destination, then Almaty International Airport is the largest international carrier. International airlines to fly to the airport include: Asiana Airlines, Pegasus Airlines, Wizz Air, Turkish Airlines, Lufthansa, and China Southern Airlines.