UVT Aero Reservations with Alternative Airlines
Make a UVT Aero Booking and Find Some Amazing Deals
---
About UVT Aero
Founded in 2015, UVT Aero is a Russian airline mainly offering passenger and charter services domestically within Russia, with one additional international service to Georgia. From its base at Kazan International Airport (KZN), the airline flies to over 10 destinations in total.
UVT Aero gained its Air Operator's Certificate in summer of 2015 and launched its first flights between Begulma and Moscow and Kazan and Moscow shortly thereafter.
UVT Aero's fleet is made up of entirely Bombardier aircraft, with a mix of CRJ200ER and CRJ200LR jets.
---
UVT Aero Baggage
Carry-on Baggage
Passengers are given on item of carry-on baggage that is included in the free baggage allowance on all UVT Aero flights. This carry-on baggage must not exceed 5kg in weight and must fit within the dimensions of 15 x 35 x 45 cm.
Checked Baggage
Passengers travelling on UVT Aero are given one item of checked baggage that is included with the free baggage allowance that comes with their UVT Aero flight ticket. This checked baggage must not exceed 20kg in weight and must fit within the dimensions of 50 x 50 x 103 cm.
---
UVT Aero Check-In Information
Online Check-In
Web check-in is available on all UVT Aero flights between 24—3 hours before your flight. To check-in for UVT Aero flight online, visit the UVT Aero online check-in page and enter the relevant details.
Airport Check-In
If passengers are unable to print out their boarding pass, airport check-in is available by visiting the UVT Aero check-in agents at the airport check-in desks. Airport check-in closes 50 minutes before scheduled flight departure time. Please allow plenty of time for check-in and security check.
---
Alternative Airlines to UVT Aero
Please click on the logos below to find out more about airlines that fly similar routes to UVT Aero:
---
UVT Aero Route Map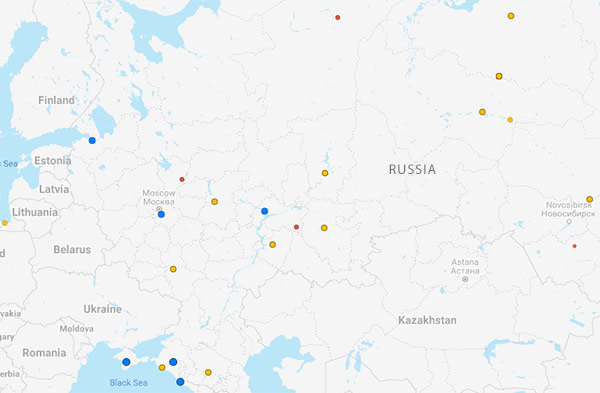 ---

UVT Aero Hub Airport
Kazan International Airport
Kazan International Airport in an airport located southeast of Kazan, Russia and is the hub airport for UVT Aero. The airport was built in 1979 under the name 'Kazan 2' as a secondary airport to 'Kazan 1'. After Kazan 1 was closed in 1984, Kazan 2 was renamed 'Kanzan Domestic Airport'. In 1986, Kazan Domestic Airport served its first ever international route and was renamed 'Kazan International Airport', which it is still known as today.
Other airlines that fly to Kazan International Airport include RusLine, Belavia and Somon Air.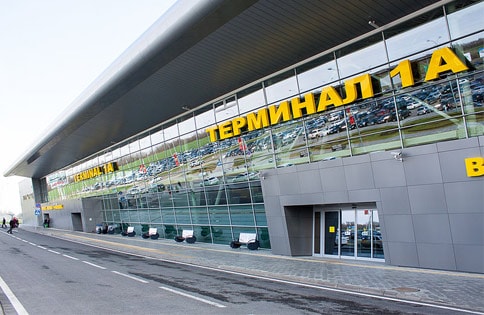 Photo credit: Andreyphotoair
---
Buy Discounted UVT Aero Tickets at Alternative Airlines
---
UVT Aero News
30th April 2018
UVT Aero fly between Perm and Kaliningrad from October this year
UVT Aero will fly between Perm Khrabrovo Airport and Khrabrovo Airport, Kaliningrad, twice a week from 27th October 2018. The airline will use one of its 50 passenger Bombardier CRJ200ER aircraft to operate the new service and will be one of the only airlines offering a direct link between the two Russian cities.
---