Airlines will always try to sit children with their parents (subject to check-in)
Some airlines will allow travel for unaccompanied minors. Please email us to check.
The fare is based on the child's age on the date of travel.
More detailed information can be found here Traveling with children
Most airlines will let infants travel with their parent(s) for free. However some airlines will charge up to 10% of the adult ticket price. Click on 'Price Breakdown' to find out more.
If you are pregnant, but due before the flight departure date, please contact us once your baby is born and has a name. We can then add him/her to your ticket.
Infants will not be given a seat. The airlines expect parents to travel with them on their lap.
Airlines regard infants as being under 24 months old.
The fare is based on the child's age on the date of travel.
More detailed information can be found here Traveling with children
Search & Book Southwest Red Eye Flights
Cancellation Protection
Protects
Trusted Choice
Rated 4.5 Stars. Based on 3,581 service ratings over the past year
Dedicated customer service team on hand to help
Secure payments
Cancellation Protection
Protects
Trusted Choice
Rated 4.5 Stars. Based on 3,581 service ratings over the past year
Dedicated customer service team on hand to help
Secure payments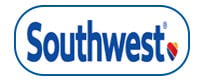 What are Red Eye Flights?
Red eye flights are flights departing late at night and arriving early in the morning the next day, usually lasting between 4-6 hours. Business travellers often use this method of travelling, aiming to travel overnight without missing a working day. The term 'red eye flight' comes from the red eyes passengers normally get when travelling late at night or early in the morning.
Unfortunately, Southwest doesn't currently offer red eye flights, however there are alternative airlines in the USA which do offer red eye flights.
The following airlines operate similar routes to Southwest Airlines, but also offer overnight flights.
---
Red Eye Flights
Tips
No one enjoys getting off the plane feeling restless and agitated - here are some tips and tricks for flying on a red eye flight to ensure you arrive at your destination refreshed and energised.
Comfortable Clothing
There's nothing worse than trying to get to sleep but having to shift around in your clothing to get comfortable, so we recommend wearing soft, loose clothing, such as a hoodie and sweatpants. Sweet dreams!
Accessories
Lights on a plane can be very distracting when you're trying to go to sleep - bring a sleep mask to help you fall asleep faster. The cabin can often get quite chilly too, which is why it's a good idea to bring a warm blanket and travel pillow with you to really get cosy.
Seating
If you want to ensure you have uninterrupted sleep, it's best to book a window seat - this will reduce the chances of other passengers potentially disturbing you if they need to use the toilets. To avoid being woken up by the sunrise, you'll also have control over the window shutters if you have a window seat.
---
Red Eye Flights with Southwest
FAQs
Can I book Southwest red eye flights?
At the moment, Southwest doesn't operate red eye flights. Flights with Southwest Airlines usually operate between 6am and 10pm. If you're looking to book red eye flights in the US, other options include Delta Air Lines, American Airlines and JetBlue.
Can I finance red eye flights?
Of course! If you need to spread the cost of your red eye flight over time, we offer over 40 different payment methods at checkout, including Klarna, PayPal Credit and Zip.
What time is a red eye flight?
Red eye flights usually take off late at night (from 10 pm to 1 am) and arrive bright and early in the morning of the next day (around 5 am to 7 am). With red eye flights, you're less likely to suffer from jet lag and won't lose time from travelling.