Please be aware: we don't accept payments through Stripe or Klarna on flights departing from and/or arriving at destinations within Cuba, Iran, North Korea, Syria or the Crimea Region.
Qeshm Air Reservations with Alternative Airlines
Make an Qeshm Air Booking and Find Some Amazing Deals
---
About
Qeshm Air is an Iranian airline headquartered in Tehran, Iran. The airline operates scheduled domestic and international passenger flights as well as charter flights. Founded in 1993, the airline flies to just over 40 destinations.
Unfortunately, Alternative Airlines is not able to ticket Qeshm Air. Please see below for airlines that fly similar routes.
---
Alternative Airlines to Qeshm Air
Please click on the logos below to find airlines that fly similar routes to Qeshm Air:
---
Fleet
Qeshm Air's current fleet includes Airbus A300-600R, Airbus A320-200, Avro RJ85, Avro RJ100, Fokker 50 and Fokker 100, with a total of 19 aircraft.
---
Destinations
Domestic Destinations
CITY
AIRPORT
IATA
Abadan
Abadan International Airport
ABD
Ahvaz
Ahvaz International Airport
AVZ
Ardabil
Ardabil Airport
ADU
Bandar Abbas
Bandar Abbas International Airport
BND
Bandar-e Mahshahr
Mahshahr Airport
MRX
Chabahar
Konarak Airport
ZBR
Isfahan
Isfahan International Airport
IFN
Khoy
Khoy Airport
KHY
Kerman
Kerman Airport
KER
Kish
Kish International Airport
KIH
Mashhad
Mashhad International Airport
MHD
Qeshm
Dayrestan Airport
GSM
Rasht
Rasht Airport
RAS
Sanandaj
Sanandaj Airport
SDG
Shiraz
Shiraz International Airport
SYZ
Tehran
Tehran Imam Khomeini International Airport
IKA
Mehrabad International Airport
THR
Yazd
Shahid Sadooghi Airport
AZD
International Destinations
COUNTRY
CITY
AIRPORT
IATA
Armenia
Yerevan
Zvartnots International Airport
EVN
Belarus
Minks
Minks National Airport
MSQ
Belgium
Brussels
Brussels International Airport
BRU
Bulgaria
Varna
Varna Airport
VAR
Cyprus
Larnaca
Larnaca International Airport
LCA
Georgia
Tbilisi
Tbilisi International Airport
TBS
Germany
Hamburg
Hamburg Airport
HAM
India
Delhi
Indira Gandhi International Airport
DEL
Iraq
Baghdad
Baghdad International Airport
BGW
Najaf
Al Najaf International Airport
NJF
Sulaimaniyah
Sulaimaniyah International Airport
ISU
Kuwait
Kuwait City
Kuwait International Airport
KWI
Oman
Muscat
Muscat International Airport
MCT
Salalah
Salalah International Airport
SLL
Romania
Bucharest
Henri Coandă International Airport
OTP
Russia
Moscow
Sheremetyevo International Airport
SVO
Saint Petersburg
Pulkovo Airport
LED
Sochi
Sochi International Airport
AER
Serbia
Belgrade
Belgrade Nikola Tesla Airport
BEG
Turkey
Denizli
Denizli Çardak Airport
DNZ
Isparta
Süleyman Demirel Airport
ISE
Istanbul
Istanbul Airport
ISL
Izmir
Izmir Adnan Menderes Airport
ADB
UAE
Dubai
Dubai International Airport
DXB
---
Baggage
Carry-on Baggage
Customers are permitted one piece of carry-on baggage with a maximum weight of 7kg and not exceeding 45 linear inches.
Checked Baggage
The Qeshm Air checked baggage allowance is 23kg for adults and must not exceed a linear dimension of 158cm.
---
Check-In
Online Check-In
Qeshm Air online check-in opens from 24 hours before departure and closes 2 hours before the scheduled flight departure.
Airport Check-In
Passengers can check-in at the airport of departure for their flight. Qeshm Air recommends that passengers arrive two hours prior to the departure time on international flights and 90 minutes before the flight departure time on domestic flights.
---
Economy Class
The Economy Class cabin offers a great-value service. Food and drink are served depending on the flight route.
Seats
The seating layout for Qeshm Air flights ranges from a 2 x 4 x 2 formation to a 3 x 3 formation, depending on the aircraft you'll be flying on.
---
In-Flight Entertainment
Qeshm Air doesn't yet provide in-flight entertainment so it's recommended you bring your own form of entertainment onboard.
---
WIFI
WiFi is available to use on Qeshm Air flights.
---
Food
Hot food, snacks and drinks are offered to passengers on all flights over one hour.
---
Airline Alliance
Qeshm Air isn't a member of an airline alliance at this time.
---
Hub Airport
Tehran Imam Khomeini International Airport
One of Qeshm Air's airport hubs is Tehran Imam Khomeini International Airport in Tehran. It is located 30km away from the city and serves around 8 million passengers per year. Some of the airlines that operate out of the airport include Alitalia, China Southern Airlines, Wings of Lebanon, Mahan Air, Taban Air and Turkish Airlines.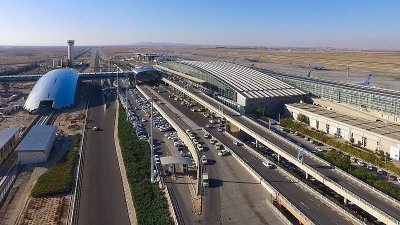 Photo credit: Imam Khomeini Airport City