Polynesian Airlines Tickets and Reservations with Alternative Airlines
Make a Booking and Find Some Amazing Deals
---
Update
Polynesian Airlines now operates as Samoa Airways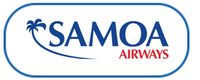 Polynesian Airlines is now known as Samoa Airways. Please note that you cannot purchase flights with Polynesian Airlines. Polynesian Airlines has been rebranded to Samoa Airways.
---
About
Polynesian Airlines was established in 1959 and began its operations across Samoa. 10 years later, the airline was operating daily flights to Pago Pago, Tonga and Fiji using its Douglas DC-3 aircraft. However, in 2005 the airlines' international jet flights were taken over by Polynesian Blue. Polynesian Blue, was a new airline established as a joint venture between the government of Samoa and Australian carrier Virgin Blue.
Polynesian Airlines resumed its international flights under 'Samoa Airways' after the Samoan government announced that it was closing Virgin Samoa due to competitiveness.
---
Destinations
Below is a list of the destinations that Polynesian Airlines flew to, some destinations have been terminated and some destinations are being run by Samoa Airways:
COUNTRY
CITY
AIRPORT
American Samoa
Fitiuta
Fitiuta Airport
Ofu
Ofu Airport
Pago Pago
Pago Pago International Airport
Australia
Brisbane
Brisbane Airport
Melbourne
Melbourne Airport
Sydney
Sydney Kingsford Smith Airport
Cook Islands
Rarotonga
Rarotonga International Airport
French Polynesia
Papeete
Fa'a'ā International Airport
Samoa
Apia
Fagali'i Airport
Apia
Faleolo International Airport
Savai'i
Maota Airport
New Zealand
Auckland
Auckland Airport
Wellington
Wellington International Airport
Niue
Alofi
Niue International Airport
Tonga
Nuku'alofa
Fua'amotu International Airport
United States
Honolulu
Honolulu International Airport
Los Angeles
Los Angeles International Airport
---
Baggage
Checked
When passengers were flying with Polynesian Airlines they could bring 2 bags up to 10kgs. The maximum dimensions of checked baggage couldn't exceed 157cm (length + width + length). This included wheels and handles.
Carry-On
On Polynesian Airlines flights, you were allowed to bring one piece of carry-on baggage as well as a personal item (personal items include a briefcase, tote bag, or a small backpack). Carry-on luggage couldn't exceed 114 cm in width, length and height.
---
In-Flight Meals
There were a number of snacks and drinks you could purchase on Polynesian Airlines flights. Depending on the flight journey time, passengers would receive a complimentary meal onboard.
---
WIFI
There was no WIFI available on flights on Polynesian Airlines flights. At this moment in time, Samoa Airways doesn't provide WIFI onboard too.
---
Check-In
Airport Check-In
For airport check-in, you were advised to arrive at least 2 hours before your flight scheduled time. There were a number of airport check-in counters passengers could use to check in.
Online Check-In
Online check-in was available from 24 hours to 2 hours prior to your flight departure time. You were able to print out your boarding pass or save your boarding pass onto your smartphone.
---
Fleet
Polynesian Airlines previously operated the aircraft below:
| AIRCRAFT TYPE | TOTAL |
| --- | --- |
| Boeing 727-200 | 1 |
| Boeing 737-200 | 1 |
| Boeing 737-300 | 1 |
| Boeing 737-300QC | 1 |
| Boeing 767-200ER | 1 |
| Boeing 767-300ER | 1 |
| Britten-Norman BN-2 Islander | 3 |
| de Havilland Canada 8-100 | 1 |
| Douglas C-47 Skytrain | 3 |
| Douglas C-54 Skymaster | 1 |
| GAF Nomad | 1 |
| Hawker Siddeley HS 748 | 2 |
| Percival Prince | 3 |
---
Hub Airport
Faleolo International Airport
Faleolo International Airport (APW) is an airport based in Apia, the capital of Samoa. The airport has one runway (9,843 ft x 148 ft). Previously the airport was not designed for aircraft larger than the Boeing 737, however, since the airport's expansion, most international airlines could now land at Faleolo International Airport.
Other airlines that fly from Faleolo International Airport include Air New Zealand, Fiji Airways, Fiji Link, Qantas, Samoa Airways, Talofa Airways and Virgin Australia.
---
Alternative Airlines to Polynesian Airlines
If you're looking to fly to similar routes to Polynesian Airlines, click on the logos below:
---
FAQs
Does Polynesian Airlines still exist?
Unfortunately, the airline name Polynesian Airlines doesn't exist anymore. Polynesian Airlines was rebranded to Samoa Airways in 2017 after Polynesian Blue and Virgin Samoa announced to close.
Can I buy Polynesian Airlines flight tickets?
Polynesian Airlines flight tickets have been discounted. Samoa Airways is previously known as Polynesian Airlines. Therefore, when looking for flights from Samoa, you'll want to search for Samoa Airways flights. Use the search form at the top of the page to begin your search for Samoa Airways flights today.
Where did Polynesian Airlines fly to?
Polynesian Airlines operated at Faleolo International Airport (APW). The airline operated short-haul flights within Samoa and American Samoa, and long haul-flight to destinations in Australia and New Zealand.