Search & Buy Peruvian Airlines Flights
Airlines will always try to sit children with their parents (subject to check-in)
Some airlines will allow travel for unaccompanied minors. Please email us to check.
The fare is based on the child's age on the date of travel.
More detailed information can be found here Traveling with children
Most airlines will let infants travel with their parent(s) for free. However some airlines will charge up to 10% of the adult ticket price. Click on 'Price Breakdown' to find out more.
If you are pregnant, but due before the flight departure date, please contact us once your baby is born and has a name. We can then add him/her to your ticket.
Infants will not be given a seat. The airlines expect parents to travel with them on their lap.
Airlines regard infants as being under 24 months old.
The fare is based on the child's age on the date of travel.
More detailed information can be found here Traveling with children
Buy
Peruvian Airlines

Flights
Peruvian Airlines Reservations with Alternative Airlines
Make a Peruvian Airlines Booking and Find Some Amazing Deals
---
About Peruvian Airlines
Peruvian Airlines was founded in 2007 and began operations in October 2008. Year on year the airline has grown and is now offering more services. Peruvian Airlines flies to many destinations across Peru including Arequipa, Cuzco, Iquitos, Lima, Piura, Tacna, Pucallpa, Tarapoto and La Paz. The airlines has aspirations to fly to international destinations such as Iquique, La Paz, Guayaquil, Caracas and La Habana although their has been no confirmed information regarding these services.
---
Peruvian Airlines Fleet
As of July 2016, Peruvian Airlines operates using a total fleet of 10 aircraft on a Boeing only fleet. Their current fleet consists of Boeing 737's, more specifically the 200, 300, 400 and 500 series. The maximum capacity on any on aircraft is 176 seats. It is also believed that Peruvian Airlines are to retire their 200 series aircraft and replace them using 300, 400 and 500 series aircraft.
---
Peruvian Airlines Baggage
Carry-on Baggage
Peruvian Airlines passengers are permitted a carry-on baggage allowance of 8kg.
Checked Baggage
All passengers that travel with Peruvian Airlines are entitled up to two pieces of checked baggage with a total weight of 20kg. Please note that Peruvian Airlines has a strict hand luggage allowance on flights to Cusco of 5kg. This policy applies to passengers traveling on Y Class.
---
Class Information
Peruvian Airlines offers an efficient class with a guaranteed great service. The airline has recently upgraded its Boeing fleet to allow a better in-flight service and comfort within the cabins.
---
Book Peruvian Airlines Flights in English
Use Alternative Airlines to book your Peruvian Airlines flights in English. You can easily make your Peruvian Airlines reservation in English and also speak with our expert customer service team regarding any queries you may have about your booking.
---
Peruvian Airlines Check-in
Online Check-in
Once your online check-in for your Peruvian Airlines flight has been completed, the flight cannot be canceled. Online check-in is available from 48 to three hours before your Peruvian Airlines flight. Online check-in is not available for passengers traveling with infants, unaccompanied minors or those in need of special assistance.
---
Alternative Airlines to Peruvian Airlines
Please click on the logos below to find out more about airlines that fly similar routes to Peruvian Airlines:
---
Peruvian Airlines Frequent Flyer Programme
PERUVIAN PASS is the frequent passenger program of Peruvian Air Line S.A. created to reward the loyalty of passengers with multiple benefits. Each time that you travel, you can add kilometres, and accumulate them in your frequent flyer account.These kilometres will enable him to obtain Award Tickets free of charge on any of our routes. The PERUVIAN PASS card is the operative instrument of the program which identifies the account holder and enables him to participate in the program. The first name and surname of the holder are stamped on the card, as well as the personal number which identifies his account.
The objective of the PERUVIAN PASS program is to offer a permanent promotion based on the obtaining of kilometres by the account holder (according to the conditions and procedures detailed below), which serve to be exchanged for air tickets on the routes operated by Peruvian and for the reservations available. Equally, all of the additional benefits which the airline obtains in establishments which affiliate with the program subject to the conditions, procedures and limitations detailed in the conditions of use.
---
Book Peruvian Airlines Flights in English
Enjoy a stress-free booking process with Alternative Airlines. We offer our customers the opportunity to book their Peruvian Airlines flights in English. We want you to have the best experience possible while booking with us, that's why we also have a specialist customer service team to answer any of your queries relating to your flight booking.
---
Peruvian Airlines Popular Routes
Lima

Cusco
Arequipa

Lima
Tacna

Lima
Iquitos

Lima
Piura

Lima
Lima

Tarapoto
---
Peruvian Airlines Route Map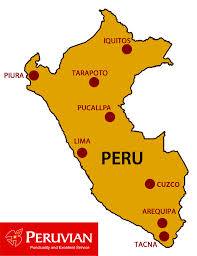 ---
Peruvian Airlines Hub Airport
Jorge Chavez International Airport
Jorge Chávez International Airport, known as Aeropuerto Internacional Jorge Chávez in Spanish, is Peru's main international and domestic airport. It is located in Callao, 11 kilometres from the Historic Centre of Lima and 17 km from Miraflores. Callao is the port city now fully integrated with Lima, the nation's capital. In 2008, the airport handled 8,288,506 passengers and 98,733 aircraft movements. Airlines that fly from and to Jorge Chávez International Airport include Avianca, KLM , JetSMART, Iberia, Avior Airlines and TAM airlines.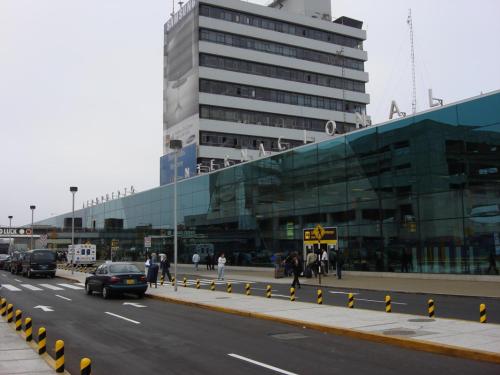 Photo credit: Rarrunat
---
Peruvian Airlines News
15th May 2018
Peruvian Airlines and Star Perú form alliance
Peruvian Airlines and Star Perù have signed a code-share agreement that will allow each airline to sell the others flights in an attempt to better compete with other airlines in the country. The new agreement will provide Peruvian Airlines airlines with a wider variety of flights, better services, and more economic fares for their passengers. Put together, both airlines currently account for 26% of national air traffic in Peru.
General Manager of Peruvian Airlines, Albero López Bustillo, stated that the code-share will give the public a much greater alternative for their flights, as apposed to the lesser choice of options that the airlines curently provide singularly.
6th April 2018
Copa Airlines, LC Perú and Peruvian undergo a code-share agreement
Copa Airlines airline will operate under the code-sharing system with the national carrier LC Peru and Peruvian airlines starting from June of this year, said José Agüero, general manager of the Panamanian company.An agreement was signed at the beginning of last year in order to boost the traffic of their flight to Chiclayo and connect Peruvians with more remote regions. In this regard, the executive said that this initiative is in the implementation phase. So far, they have moved a little faster with LC Peru, with those already in the testing phase.
"It is a process of some complexity, with an 'upgrade' in the system of them, so that everything can be interconnected and so travelers can buy their tickets at once," said Aguero, in statements to the newspaper El Comercio . In a second phase, they will work with travel agencies. Copa is determined to generate more traffic towards its Chiclayo-Panama route and connect it with the other destinations that cover the LC Peru and Peruvian nationals in the country, through a single purchase.
For the time being, Copa Airlines will focus on consolidating the routes where it is operating. Agüero said that the possibility of incorporating new routes is not on the radar, but he does consider evaluating a new frequency from Chiclayo to Panama. The changes have already attracted travelers directly to the northern cities. According to Agüero, many of the tourists who visit Peru for the second time travel to the north of the country. At the end of 2018, Copa Airlines aims to transport more than 500,00 passengers.
---