Buy
Peruvian Airlines

Flights

Search and Buy Peruvian Airlines Flights Online with Alternative Airlines
Flights to and from Lima
Make a Peruvian Airlines reservation and find some amazing deals with discounted Peruvian Airlines tickets at Alternative Airlines
---
About Peruvian Airlines
Peruvian Airlines is a relatively new airline to the market, only founded in 2007 Peruvian Airlines began operations in October 2008. Year on year the airline is growing and is offering more services.
Peruvian Airlines flies to many destinations across Peru including: Arequipa, Cuzco, Iquitos, Lima, Piura, Tacna, Pucallpa, Tarapoto and La Paz.
Peruvian Airlines has aspirations to fly to international destinations such as Iquique, La Paz, Guayaquil, Caracas and La Habana although their has been no confirmed information regarding these services.

Peruvian Airlines as of July 2016 operate using a total fleet of 10 aircraft on a Boeing only fleet. Their current fleet consists of Boeing 737's, more specifically the 200, 300, 400 and 500 series. The maximum capacity on any on aircraft is 176 seats. It is also believed that Peruvian Airlines are to retire their 200 series aircraft and replace them using 300, 400 and 500 series aircraft.
---
Frequent Flyer Program
PERUVIAN PASS is the frequent passenger program of Peruvian Air Line S.A. created to reward the loyalty of passengers with multiple benefits. Each time that you travel, you can add kilometres, and accumulate them in your frequent flyer account.These kilometres will enable him to obtain Award Tickets free of charge on any of our routes.
The PERUVIAN PASS card is the operative instrument of the program which identifies the account holder and enables him to participate in the program. The first name and surname of the holder are stamped on the card, as well as the personal number which identifies his account.
The objective of the PERUVIAN PASS program is to offer a permanent promotion based on the obtaining of kilometres by the account holder (according to the conditions and procedures detailed below), which serve to be exchanged for air tickets on the routes operated by Peruvian and for the reservations available.
Equally, all of the additional benefits which the airline obtains in establishments which affiliate with the program subject to the conditions, procedures and limitations detailed in the conditions of use.
---
News
15th May 2018
Peruvian Airlines and Star Perú form alliance
Peruvian Airlines and Star Perù have signed a code-share agreement that will allow each airline to sell the others flights in an attempt to better compete with other airlines in the country. The new agreement will provide Peruvian Airlines airlines with a wider variety of flights, better services, and more economic fares for their passengers. Put together, both airlines currently account for 26% of national air traffic in Peru.
General Manager of Peruvian Airlines, Albero López Bustillo, stated that the code-share will give the public a much greater alternative for their flights, as apposed to the lesser choice of options that the airlines curently provide singularly.
6th April 2018
Copa Airlines, LC Perú and Peruvian undergo a code-share agreement
Copa Airlines airline will operate under the code-sharing system with the national carrier LC Peru and Peruvian airlines starting from June of this year, said José Agüero, general manager of the Panamanian company.An agreement was signed at the beginning of last year in order to boost the traffic of their flight to Chiclayo and connect Peruvians with more remote regions. In this regard, the executive said that this initiative is in the implementation phase. So far, they have moved a little faster with LC Peru, with those already in the testing phase.
"It is a process of some complexity, with an 'upgrade' in the system of them, so that everything can be interconnected and so travelers can buy their tickets at once," said Aguero, in statements to the newspaper El Comercio . In a second phase, they will work with travel agencies. Copa is determined to generate more traffic towards its Chiclayo-Panama route and connect it with the other destinations that cover the LC Peru and Peruvian nationals in the country, through a single purchase.
For the time being, Copa Airlines will focus on consolidating the routes where it is operating. Agüero said that the possibility of incorporating new routes is not on the radar, but he does consider evaluating a new frequency from Chiclayo to Panama. The changes have already attracted travelers directly to the northern cities. According to Agüero, many of the tourists who visit Peru for the second time travel to the north of the country. At the end of 2018, Copa Airlines aims to transport more than 500,00 passengers.
6th October 2017
Peruvian Airlines and LC Peru team up with Copa Airlines
Codeshare agreement to allow Copa passengers to connect with LC Peru and Peruvian Copa Airlines has signed a codeshare agreement with Peruvian Airlines and LC Peru to offer lower fares and better domestic connections for international flights.
The Panamanian airline offers international flights to Lima and Chiclayo via their hub in Panama City, where it provides connections with major airports in North America and Europe. Copa expects to bring more customers into their direct flights to Chiclayo with the new agreement, which is the first to focus on secondary cities in Peru. The initiative will allow the airline to offer better domestic connections and expand to other Peruvian cities in the near future.
The airline is doubling down efforts to avoid the fate of their direct flight to Iquitos—which never gained enough traction to become economically viable and was eventually suspended. Codeshare flights under this agreement will be offered by Copa and only available for purchase through their commercial channels.
"Twenty years ago, our services were seen as a luxury for a privileged few. Nowadays, commercial flights are a mass transportation industry that requires an evermore efficient and customized service," Copa Airlines CEO Pedro Hebron told El Comercio, pointing out the pressure Latin American airlines are experiencing to step up their competitiveness, both in service and airfares.
The international flight market in Peru is growing; according to a report by the General Directorate of Civil Aeronautics (DGAC), the number of international passengers has increased 13.6% between January and July compared to the same period in 2016, for a total of 5,830,185 passengers going in or out of the country. In the same period, Peruvian Airlines and LC Peru transported 23.9% of all domestic passengers while Copa flew 9.4% of all international passengers.
This alliance could help the three parties increase their slice of the cake in an emerging market dominated by LAN Peru and Taca Peru, which provided their services to 69.4% of domestic and 40.2% of all international passengers over the same period.
August 2016
Chief Executive Office Alberto Lopez Bustillo dispelled any rumours of plans to sell Peruvian Airlines having received offer from three firms, both local and international. It is believed however that Peruvian Airlines are studying the possibility of opening new passenger and cargo routes to Ecuador and Cuba in 2017 though their launch dependent on requirements that need to be fulfilled.
---
Destinations
| | |
| --- | --- |
| Arequipa | Rodríguez Ballón International Airport |
| Cuzco | Alejandro Velasco Astete International Airport |
| Iquitos | Crnl. FAP Francisco Secada Vignetta International Airport |
| Jauja | Francisco Carle Airport |
| Lima | Jorge Chávez International Airport |
| Piura | Cap. FAP Guillermo Concha Iberico International Airport |
| Tacna | Crnl. FAP Carlos Ciriani Santa Rosa International Airport |
| Pucallpa | FAP Captain David Abenzur Rengifo International Airport |
| Tarapoto | Cad. FAP Guillermo del Castillo Paredes Airport |
| La Paz | El Alto International Airport |
---
Baggage
| | | |
| --- | --- | --- |
| | | All passengers that travel with Peruvian Airlines are entitled up to two pieces for a total of 20KG and hand luggage should not be more than 8KG. Please note that Peruvian Airlines have strict hand luggage allowance on flights to Cusco of 5kg .This policy applies to passengers travelling on Y Class. |
| | | |
| | | Peruvian Airlines also offers Web check-in. Passengers who want to earn miles/kilometres when they travel with Peruvian Airlines can register for PERUVIAN PASS, the frequent passenger program of Peruvian, with rewards and benefits. Each time you choose to travel with Peruvian you can collect kilometres and add them in your frequent flyer account. |
| | | |
| | | On-board service varies depending on the destination, duration,and time of your flight.Peruvian Airlines offers snack and beverage on flights for Economy Class ticket holders. |
---
Route Map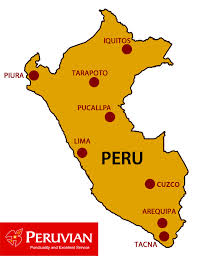 Popular Routes
Lima

Cusco
Arequipa

Lima
Tacna

Lima
Iquitos

Lima
Piura

Lima
Lima

Tarapoto

---
The Fleet
Boeing 737-200
Boeing 737-400
---
Jorge Chavez International Airport
HUB Airport
Jorge Chávez International Airport known as Aeropuerto Internacional Jorge Chávez in Spanish, is Peru's main international and domestic airport. It is located in Callao, 11 kilometers from the Historic Centre of Lima and 17 km from Miraflores. Callao is the port city now fully integrated with Lima, the nation's capital. In 2008, the airport handled 8,288,506 passengers and 98,733 aircraft movements.Airlines that fly from and to Jorge Chávez International Airport include Avianca, KLM , Iberia and TAM airlines.

---
---
Search and Buy Peruvian Airlines Flights
Make a Peruvian Airlines reservation and find some amazing deals with discounted Peruvian Airlines tickets at Alternative Airlines. Peruvian Airlines flies to many destinations worldwide, offering a cost effective and safe service to all its passengers. Let Alternative Airlines help find you cheap Peruvian Airlines tickets and make international and domestic flight reservations on Peruvian Airlines today.
Browse the most popular Peruvian Airlines flight routes to cities worldwide. Alternative Airlines can help you make reservations on Peruvian Airlines for international flights to lots of destinations. Use the following list of routes to help you plan your next flight. Book Peruvian Airlines flights on Alternative Airlines to save big! Alternative Airlines is an online travel agency, specialising in booking lesser known airlines and remote destinations.
---
About Alternative Airlines
Alternative Airlines is an online flight search complete with customer service specialising in booking flights on lesser known airlines and to remote destinations. We offer you a wider choice of airlines supported by a team of customer service and travel specialists for help and advice on your travel plans. We specialise in finding the best available fares on the widest range of airlines and making them available to you online, with prices in the currency of your choice.
Alternative Airlines handles all your travel arrangements and payments, complete with ticketed confirmation. We do not direct you to other websites or service providers. We help you through the process. This is what makes us Alternative Airlines.Check out our reviews: Alternative Airlines - Feefo Reviews
Browse for flights, find some amazing deals, make a reservation and pay in the currency of your choice today with Alternative Airlines. Let Alternative Airlines help find you the best prices and make international and domestic flight reservations with us today.
Join the Alternative Airlines Members Club and get £100.00 back on your 5th booking with Alternative Airlines. You will have insight to many benefits and exclusive deals on over 650 airlines. Click on the Members section on the Alternative Airlines website for more information and join today. We are open every day from 8am until 8pm (UK local time).
Peruvian Airlines is a thoroughly modern Latin American carrier based in Lima, the capital city of Peru. The airline originally operated only domestic services from Jorge Chávez International Airport in Lima to • Arequipa • Cuzco • Iquitos • Piura • Tacna • Pucallpa • Tarapoto however late in 2014 its first international service from Lima via Cusco to La Paz in Bolivia was launched. ________________________________________ Peruvian Airlines was originally founded 2007, but didn't start operating flights until October 29, 2009. Two years later in 2011, a majority stake was purchased by Irish company Aergo, which is a long-established aircraft leasing company based in Dublin and part of the US-based global investment firm CarVal Currently, Peruvian Airlines use a fleet of eleven passenger aircraft that includes four Boeing 737-200Advs, three Boeing 737-300s, two Boeing 737-300(QC)s, one Boeing 737-400, one Boeing 737-500 on 39 daily fights. Peruvian Airlines is a great way to get around Peru to see the many tourist sites of this remarkable country. We would always advise using the world famous Peruvian Railways to see the beautiful Andean scenary, but if you're on a holiday within a limited time scale flying is the best option and Peruvian Airlines gets you to places you really must see.
Latest News:
Peruvian Airlines Brings DC-8 Freighter Operations to an End.
Peruvian Airlines Brings DC-8 Freighter Operations to an End.
---
READ MORE ABOUT PERUVIAN AIRLINES
How to pay
You can pay for your flights with Peruvian Airlines in the currency and payment method of your choice when booking through Alternative Airlines.
We accept PayPal making flight purchases with Peruvian Airlines easy and more secure for customers. PayPal is one of the leading forms of online payment, with more than 169 million accounts worldwide.