People's Flight Reservations with Alternative Airlines
Make a People's Booking and Find Some Amazing Deals
---
About
People's, formerly People's Viennaline, is an Austrian airline that operates scheduled passenger flights between its base at St. Gallen-Altenrhein Airport and Vienna International Airport and also offers seasonal flight and charter flights to destinations elsewhere in Europe.
Although the company was found in 2010, the airline didn't operate its inaugural flight until 2011. Initially, the airline offered just one service from St.Gallen-Alternhein Airport (ACH) but throughout the years, the airline's flight network has grown significantly and it now operates to over 15 different destinations on a seasonal basis.
The airline is known for being the airline to offer a service which flew between St.Gallen Altenrhein Airport (ACH) and Friedrichshafen Airport (FDH). This flight had a journey time of just eight minutes and was the shortest international route ever flown at the time. However, the airline decided to discontinue the service in 2017 due to the negative impact that it would have on the environment if it continued to fly the route.
People's originally launched under the name 'People's Viennaline', but changed its name when it rebranded in 2018.
---
Fleet
People's uses Embraer 170 aircraft. The airline has multiple Embraer 170s within its fleet but is also in the process of phasing out its fleet to include just one plane.
---
Destinations
COUNTRY
CITY
AIRPORT
IATA
Austria
Vienna
Vienna International Airport
VIE
Croatia
Pula
Pula Airport *
PUY
Greece
Cephalonia
Cephalonia International Airport *
EFL
Preveza
Aktion National Airport *
PVK
Italy
Cagliari
Cagliari Elmas Airport **
CAG
Olbia
Costa Smeralda Airport **
OLB
Naples
Naples International Airport *
NAP
Spain
Palma de Mallorca
Palma de Mallorca Airport *
PMI
Ibiza
Ibiza Airport *
IBZ
Menorca
Menorca Airport **
MAH
Switzerland
St. Gallen
St. Gallen-Altenrhein Airport
ACH
* seasonal
** seasonal charter
---
Route Map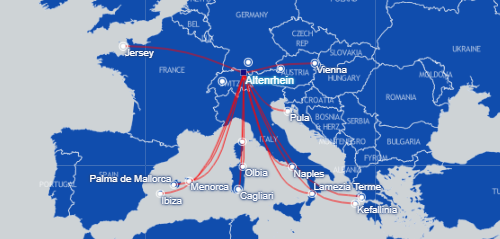 ---
Baggage
Carry-on Baggage
Passengers are allowed one free item of carry-on baggage. The bag must not exceed 8kg in weight and must not be larger than the dimensions of 55 cm x 40 cm x 23 cm.
Checked Baggage
Passengers with a regular fare ticket are entitled to one item of checked baggage. The bag must not exceed the weight of 20 kg. Passengers flying with a premium fare ticket are entitled to one item of checked baggage. The bag must not exceed the weight of 30kg.
Excess Baggage
Passengers can purchase additional baggage if the baggage allowance included with their original fare is not enough. Passengers can purchase an additional 20kg of weight. Please note that the airline doesn't accept a single piece of baggage over the weight of 32kg.
---
Check-In
Online Check-In
Passengers can check-in for their People's flights online by visiting the People's online check-in page. Online check-in is open from 23 hours up until one hour before scheduled flight departure time.
Airport Check-In
Passengers can check-in at the airport by visiting one of the airport check-in desks at the airport of departure. Check-in must be completed at the airport at least 60 minutes before scheduled flight departure time.
---
Economy Class
Economy Class is the only cabin class. The seats and level of service are identical the same for each passenger onboard the flight.
Economy Class Facilities
Passengers flying in Economy Class will be able to check-in for their flight online to avoid queues at the airport. In addition, passengers can order from a selection of snacks and drinks inflight and will be given a copy of the airline's inflight magazine to enjoy during the flight.
Economy Class Seats
Seats are spacious with sufficient legroom. The Economy Class cabin is laid out in a 2 x 2 formation, so every passenger is seated either by the aisle or the window.
---
Premium Economy
The airline doesn't have a Premium Economy class.
---
Business Class
The airline doesn't have a Business Class cabin.
---
First Class
The airline doesn't have a First Class cabin.
---
In-Flight Entertainment
There's no in-flight entertainment on People's flights.
---
WIFI
There's no WIFI on People's flights.
---
Food
Meal Options
The airline offers regional Viennese snacks on board its flights. Morning flights may include snacks such as muesli or a croissant. An evening snack may include items such as appetisers or nuts.
Special Dietary Requirements
Passengers travelling who have special dietary requirements can pre-order a special meal or snack. The airline must be informed about special meals at least 48 hours before departure. The 3 types of special food available are:
Vegetarian(Strict) snack
Lacto-ovo vegetarian snack
Drinks & Alcohol
The airline offers its passengers a drink service free of charge. This includes alcoholic beverages, such as mulled wine during advent. There is also a selection of wine available to choose from on board.
---
Frequent Flyer
People's doesn't have a frequent flyer program that rewards its regular passengers for flying on the airline.
---
Airline Alliance
People's isn't a member of any airline alliance.
---
Hub Airport
St.Gallen–Altenrhein Airport
St.Gallen–Altenrhein Airport (ACH) is an airport in Altenrhein, Switzerland. The airline is small, with People's currently being the only airline that flies to/from the airport.
Despite being an Austrian airline, People's uses St.Gallen–Altenrhein as a hub.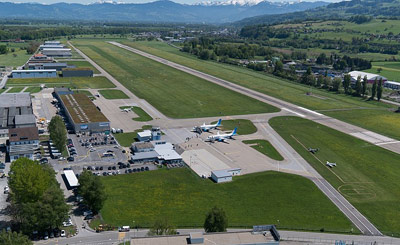 ---
Alternative Airlines to People's
Please click on the logos below to find out more about airlines that fly similar routes: