Book NextJet Flights with Alternative Airlines
Make a NextJet reservation and find deals at Alternative Airlines
NextJet rebranded and now operates as Air Scandic. Search and find similar routes with Air Scandic.
---
Alternative Airlines to Nextjet
---
About
NextJet was a provincial airline in Sweden with its main operating base at Stockholm Arlanda airport. NextJet was a small independent airline operating to seven airports in Scandinavia: Stockholm, Hagfors, Sveg, Torsby, Orebro and Mora in Sweden along with Copenhagen in Denmark.
NextJet had codeshare agreements with SAS, interline agreements with KLM, Finnair, Air France, Qatar and Wideroe. In June 2016, NextJet ceased the route between Halmstad and Arlanda.
---
Destinations
NextJet flew to the following destinations: Kokkola, Mariehamn, Oulu, Turku, Trømso, Arvidsjaur, Gallivare, Goteborg, Hemavan, Jonkoping, Karlstad, Kramfors, Luleå, Stockholm, Sundsvall, Visby, Ornskoldsvik, Vilhelmina and many others.
NextJet served most of its domestic destinations from Stockholm-Arlanda Airport, before rebranding to Air Scndic.
As of summer 2010 they also served a lot of domestic destinations from Stockholm-Bromma Airport on behalf of Sverigeflyg and to Helsinki-Vantaa Airport from Mariehamn Airport on the behalf of Air Åland. Many of the domestic routes operated by NextJet were subsidised by the Swedish government.
One of the airline's investors is former member of ABBA, Björn Ulvaeus. It also operates taxi and executive charter flights with two business jet aircraft. NextJet has 14 aircrafts and 330 employees and serve 18 destinations in Scandinavia.
---
Fleet
NextJet's fleet consists of BAe ATP, Saab 340A, Saab 340B. Flights were operated by a 19-seater Beech 1900D aeroplane and NextJet also operated an air-taxi and charter flight using a Cessna 560XL which justifies the "Jet" part of NextJet.
Bae ATP
Saab 340A
Saab 340B
---
Baggage
All NextJet's tickets allowed one piece of checked in baggage, maximum 23 kilos, and 1 carry on luggage. The allowance for carry on luggage was 5kg and a maximum size of 45 x 35 x 20cm. Business Class tickets allowed another piece of checked in baggage.
Everyone that travelled with checked in baggage needed to show an id-card. If passengers were travelling with carry on luggage they could travel without an id-card.
---
Route Map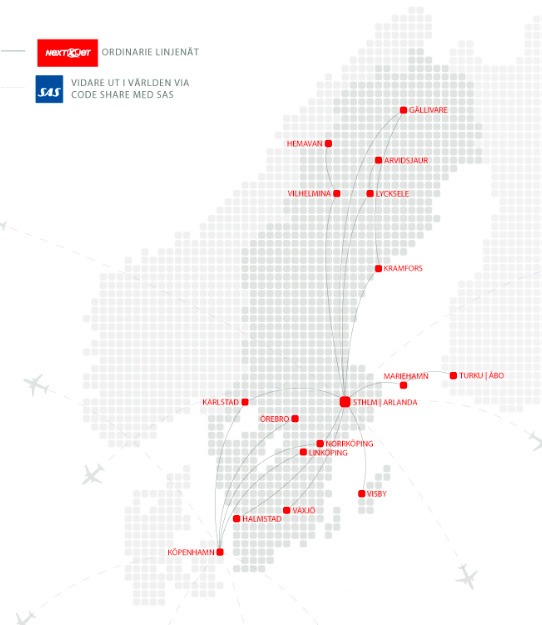 ---
Popular Routes
Stockholm Arlanda

Arrival Airport
Stockholm Arlanda

Arvidsjaur
Stockholm Arlanda

Turku
Stockholm Arlanda

Copenhagen
Stockholm Arlanda

Visby
Stockholm Arlanda

Halmstadt
---
Hub Airport
Stockholm Arlanda Airport
Stockholm Arlanda Airport, is the largest and international airport in Sweden and it is a popular getaway for people who want to travel on small and large parts of Sweden. Airlines that fly from and to Stockholm Arlanda Airport include Air France, Air China, Air Berlin, Aeroflot, Aegean, Norwegian Airlines and Scandinavian Airlines.