Libyan Airines is the Government owned National Carrier of Libya and sits alongside sister airline Afriqiyah under the stewardship of the Libyan African Aviation Holding Company
Flights to Libya with Libyan Airlines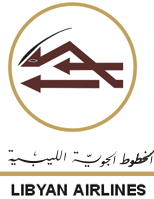 Libyan Airlines is based in the country capital Tripoli and has been operating scheduled flights for over 45 years. The current network of Libyan Airlines includes non-European international destination destinations such as: Algiers, Alexandria, Cairo, Casablanca, Sfax, Tunis, Amman, Jeddah, Damascus and Dubai. Within Europe, Libyan Airlines have flights to: Athens, Milan, Rome Malta, Madrid, Istanbul, Ankarar. Kiev plus London (Heathrow) and Manchester in the UK.
Flights within Libya with Libyan Airlines
Domestic flights within Libya include services to: Beida – La Abraq Airport Benghazi – Benina International Airport Hub Ghadames – Ghadames Airport Ghat – Ghat Airport Houn – Houn Airport Kufra – Kufra Airport Misratah – Misratah Airport Sebha – Sebha Airport Sirte – Gardabya Airport Tobruk – Tobruk Airport and its main hub at Tripoli – Tripoli International Airport Libyan Airlines operate a mixed fleet of Jet and turboprop aircraft with large purchase orders placed with both Boeing and Airbus for brand new aircraft to arrive in the near future.