Guyana Airways Reservations with Alternative Airlines
Make a Guyana Airways Booking and Find Some Amazing Deals
---
About Guyana Airways
Guyana Airways was the national airline of Guyana until 2001. The airline was founded in 2001 and flew to a number of destinations throughout the Caribbean, United States and Canada. Guyana Airways had its headquarters in Georgetown Guyana. The airline went bust in 2001 after experiencing financial difficulties.
---
Guyana Airways Fleet
The Guyana Airlines fleet consisted of Tupolevs and Boeings. At the time of its insolvency, the airline's fleet included Boeing 757s and one Airbus A.300B4-622R aircraft.
---
Guyana Airways Hub Airport
Cheddi Jagan International Airport
Guyana Airway's was located at Cheddi Jagan International airport, which is the main airport of Guyana. It is the main airport serving the city of Georgetown, the capital of Guyana. Other airlines which operate out of the airport include American Airlines, Caribbean Airlines, Copa Airlines, Fly Jamaica Airlines and Surinam Airways.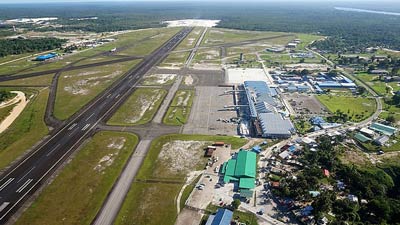 Photo credit: David Granjer
---
Alternative Airlines to Guyana Airways
Please click on the logos below to learn more about airlines that fly similar routes to Guyana Airways:
---