Airlines will always try to sit children with their parents (subject to check-in)
Some airlines will allow travel for unaccompanied minors. Please email us to check.
The fare is based on the child's age on the date of travel.
More detailed information can be found here Traveling with children
Most airlines will let infants travel with their parent(s) for free. However some airlines will charge up to 10% of the adult ticket price. Click on 'Price Breakdown' to find out more.
If you are pregnant, but due before the flight departure date, please contact us once your baby is born and has a name. We can then add him/her to your ticket.
Infants will not be given a seat. The airlines expect parents to travel with them on their lap.
Airlines regard infants as being under 24 months old.
The fare is based on the child's age on the date of travel.
More detailed information can be found here Traveling with children
Domestic Flights within Peru
Cancellation Protection
Protects
Trusted Choice
65,000 happy customers
Rated 4.5 Stars. Based on 3,581 service ratings over the past year
Dedicated customer service team on hand to help
Secure payments
Cancellation Protection
Protects
Trusted Choice
65,000 happy customers
Rated 4.5 Stars. Based on 3,581 service ratings over the past year
Dedicated customer service team on hand to help
Secure payments


Domestic Flights in Peru
Find domestic flights in Peru by searching in the search bar above, or you can learn more about Peru domestic flights including where to go and the best airlines for domestic flights. If you are looking for domestic flights in other countries you should visit this page.
What is a
domestic flight?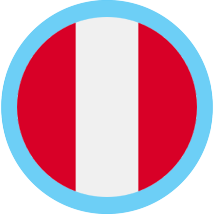 A domestic flight is also known as an internal flight, is a flight that flies to and from destinations within Peru. For example, this can be when you depart from Lima and lands at another location in Peru, for instance, Arequipa. As the flight doesn't leave the country, the flight will be therefore labelled as a domestic flight because the two locations are within the same country.
Use our search bar above to search for affordable domestic flights we have on offer and you could also use our multi-city flight planner to search for flights with visit lots of spots to different cities in one country. In addition to this, you may like to fly from one city to another without any stopovers and therefore may want to check out our direct flight guide. Read our blog on the 'Cheapest countries in South America' to find Peru to be one of them.
Why book domestic flights in

Peru?
Peru is famous for its stunning vast scenic landscapes and wildlife preserves, including the famous Machu Picchu, the Inca ruins and is home to the largest flying bird in the world, 'The Giant Andean Condor'. Whichever city you fly out to in Peru you will most definitely find some of the most amazing you've ever seen. The country is also well known for its coffee production as well as precious gems and metals.
Peru is the third-largest country in South America with a population of almost 32 million and the countries measures around 496,224 sq mi. Domestic flights are an efficient way of getting around this large country. Many travellers like to fly domestically within Peru as this saves them a lot of time and air travel being a much quicker way of transportation. Passengers choose to fly many Peruvian airlines including the ones listed out below.
The airlines' below are Peru's airlines which operate domestic flights within the country:
Avianca Peru
Peru's Domestic Flights
FAQs
Do I need to carry a passport for domestic flights in Peru?
This ultimately depends on the airline you are flying with. A form of identification or Peruvian ID (DNI) card is sufficient enough to fly within Peru. To be fully sure it is always good to find out, so either contact us or the airline you are flying with to see their policy.
What is the baggage allowance on Peru domestic flights?
The baggage allowance is not the same and is different from airline to airline. Make sure to review your baggage allowance with the airline you will be flying with or you can normally find this on your e-ticket. It's also key to check the total dimension restrictions of baggage so that you are not being charged for excess baggage amount at the airport check-in.
What time do I need to check-in at the airport for domestic flights in Peru?
Check-in times are all different and depend upon the airline you are flying with and also the airport you are flying from. For domestic flights, the check-in time is usually a little later than it is for international flights and this is because of travellers usually requiring less time to go through the immigration and border controls at the airport.
Do I require a visa to visit Peru?
People that reside in most American and Western European countries do not need a visa to visit Peru. Residents of Bolivia, Chile and Ecuador don't require passports or visa to enter certain regions of Peru. Contact the Peruvian diplomatic representative in your own country for more information. Tourists can stay a maximum 90 days however they can apply for extensions with the immigration authority. All travellers must take with them a valid passport or a safe-conduct given by the Peruvian immigration authority.
Can I purchase domestic flights in Peru online?
You certainly can and can purchase domestic flights in Peru online with us at Alternative Airlines. Once you've searched for flights and chosen your two Peruvian locations destinations, you will then be shown all available flights from various different airlines and find the most suitable airline for yourself.