Airlines will always try to sit children with their parents (subject to check-in)
Some airlines will allow travel for unaccompanied minors. Please email us to check.
The fare is based on the child's age on the date of travel.
More detailed information can be found here Traveling with children
Most airlines will let infants travel with their parent(s) for free. However some airlines will charge up to 10% of the adult ticket price. Click on 'Price Breakdown' to find out more.
If you are pregnant, but due before the flight departure date, please contact us once your baby is born and has a name. We can then add him/her to your ticket.
Infants will not be given a seat. The airlines expect parents to travel with them on their lap.
Airlines regard infants as being under 24 months old.
The fare is based on the child's age on the date of travel.
More detailed information can be found here Traveling with children
Combi Aircraft
Cancellation Protection
Protects
Trusted Choice
65,000 happy customers
Rated 4.5 Stars. Based on 3,581 service ratings over the past year
Dedicated customer service team on hand to help
Secure payments
Cancellation Protection
Protects
Trusted Choice
65,000 happy customers
Rated 4.5 Stars. Based on 3,581 service ratings over the past year
Dedicated customer service team on hand to help
Secure payments


Combi Planes
Find out information on combi aircraft, which airlines currently use combi aircraft and which airlines have used them in the past.
What is a Combi Aircraft?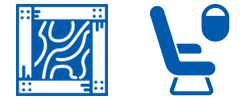 A combi aircraft is a plane that has the capability to carry both passengers and cargo, either in separate flights or simultaneously. This is achieved by either having a divide in the cabin that allows passengers in one section and cargo in another or by having removable seats that can transform the plane between from passenger to cargo.
A combi aircraft is recognisable from the outside by its large aircraft doors, which exist to facilitate the passenger-cargo transformation.
Combi aircraft were particularly popular around the 1970s on routes where there weren't enough passengers flying to fill the aircraft. To make the service financially viable, in addition to passengers, airlines would use the aircraft to carry cargo. However, as the demand for passenger flights has grown, combi aircraft have become less of a necessity. While there are still some airlines that use existing combi aircraft, there are currently none in production.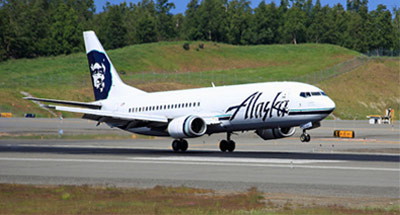 Photo Credit: Frank Kovalchek
List of

combi aircraft

models
Over the years, combi aircraft have been created by many different aircraft manufacturers, including Boeing, McDonnell Douglas, de Havilland and ATR. Airbus has never produced any combi aircraft
Boeing
B707-320C
B727-100C
B727-200
B737-200C
B737-400C
B737-700C
B747-200M
B747-300M
B747-400M
B757-200
de Havilland
de Havilland Canada DHC-7 (Dash 7)
de Havilland Canada DHC-8 (Dash *)
Douglas
McDonnell Douglas
Convair
ATR
Fairchild
Hawker Siddeley
Lockheed
Airlines that currently use
Combi aircraft
Below is a list of airlines that are currently using combi aircraft
Alaska Airlines
Alaska Airlines has long used combi aircraft on flights and is currently the only domestic airline in the US that operates combi flights. Due to Alaska's location, size, climate and the fact that it's so different to everywhere else in the US, a cargo section on the plane has always been a great been of great benefit to them.
Most recently, Alaska Airlines is using the Boeing 737-400 combi, which has the capacity to carry 72 passengers. Passengers board and disembark from the back of the plane, which is where they're seated from row 17 onwards. The front of the plane is reserved for cargo-only.
Canadian North
Canadian North, an airline that focuses on the northwest territories of Canada is a great example of an airline that still uses combi aircraft to make up for the lack of demand for passenger flights on certain routes.
Canadian North uses both Boeing 737-300 and Boeing 737-200 to operate its flights. These aircraft are customisable, depending on how many passengers are booked and how much cargo needs to be transported.
The Boeing 737-200 can operate using the following formations:
76 seats/ 2 cargo pallets
60 seats/ 3 cargo pallets
34 seats/ 4 cargo pallets
24 seats/ 5 cargo pallets
6 seats/ 6 cargo pallets
The Boeing 737-300 can operate using the following formations:
120 seats/ 0 cargo pallets
80 seats/ 3 cargo pallets
First Air
Much like Canadian North, First Air uses combi aircraft on less-popular routes in the north of Canada. The airline operates combi services with the Boeing 737 400 combi, which has four pallets of cargo in the front and 72 seats for passengers in the back.
KLM
KLM has been using combi aircraft since 1975 when it took in an order of Boeing 747-200 combi planes. KLM found great use in the combi plane and — by the end of the decade — updated its fleet with Boeing 747-400s, which is the same aircraft that it uses for combi flights today.
The combi aircraft fly from KLM's hub airport, Amsterdam Schiphol, to various destinations across the world, including to the US, India, Kenya and China.
KLM's combi aircraft are unique in the fact that they have Economy Class, Premium Economy and Business Class seats within the passenger section of the cabin. The aircraft has two decks — the upper deck is exclusively Business Class, whereas the lower deck is a mix of Business Class, Premium Economy, Economy Class and cargo, which is located at the rear of the plane. The aircraft has the capacity to carry up to 268 passengers and 7 pallets.
Airlines that have previously used
Combi aircraft
Air Canada
Air France
Air Gabon
Air India
Air Marshall
Islands
Air North
Air Rhodesia
Air Vietnam
Alitalia
Avianca
Braniff
International
CAAC Airlines
Cameroon
Airlines
China Airlines
Continental
Micronesia
Eagle Air
El Al
Garuda
Indonesia
Iberia
Icelandair
Iraqi Airways
KLM
LAN Chile
Lufthansa
MarkAir
Northwest
Airlines
Pakistan International
Airlines
Qantas
Royal Brunei
Airlines
Royal Jordanian
Airlines
Sabena
South African
Airways
Swissair
UTA
Varig