Aliblue Malta Tickets and Reservations with Alternative Airlines
Book Your Aliblue Malta Flight Tickets and Find Some Amazing Deals
---
About Aliblue
Aliblue was founded in 2016 and is a virtual carrier that manages commercial operations in the field of reservations, ticketing and travel packages.
The company offers flights to Crotone, Trapani and Salerno.
All services are operated by AliBlue's partner, Mediterranean Aviation Company (Medavia), with 50-seat Dash 8-300 aircraft.
---
Baggage Allowance
Carry-On Baggage
On flights operated by Aliblue, passengers can carry up to 5kg of hand luggage.
Checked Baggage
Every passenger is entitled to 15kg of hold luggage.
---
Class Fares
Economy Class
The airline offers a full service, with free baggage allowance and on-board catering included.
---
Fleet
50-seat dash 8-300 aircraft
---
Hub Airport
Malta International Airport
Malta International Airport is the only airport in Malta and serves all the Maltese Islands. The airport is located on island of Malta, southwest of the Maltese capital of Valletta. The airport is a hub for Air Malta. Other airlines that fly to the airport include Aegean Airlines, AirBaltic, Air Serbia, British Airways, Emirates, and EasyJet.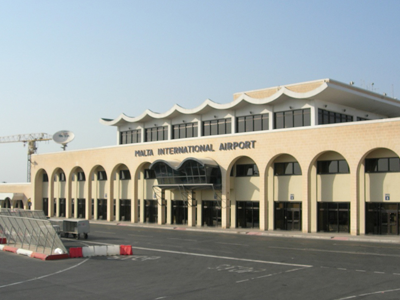 ---
Alternative Airlines
For flights too/from the city of Crotone, Italy, you can fly with Air Kroton.
The following airlines also fly across the Mediteranean: