Air Arabia Jordan Reservations with Alternative Airlines
Make an Air Arabia Jordan Booking and Find Some Amazing Deals
---
Update
Air Arabia Jordan ceased operations in 2018. See our list of alternative airlines to discover airlines flying similar routes.
---
About Air Arabia Jordan
Air Arabia Jordan is a subsidiary of the airline, Air Arabia, based in Jordan.
The low-cost carrier is a joint venture between the RUM Group in Jordan and Air Arabia and will be the first low-cost airline based in Jordan. Air Arabia Jordan was announced in 2015 after Air Arabia announced the acquisition of a 49% stake in Jordanian operator Petra Airlines.
In January 2015, the principal shareholder of Petra Airlines, the RUM Group, retained a 51% stake in the airline, which was rebranded as Air Arabia Jordan in early 2015.
Air Arabia Jordan ended scheduled service in November 2017 and moved to charter operations.
The airline ceased operations completely in April 2018
Other active subsidiaries of Air Arabia include Air Arabia Egypt and Air Arabia Maroc.
---
Alternative Airlines
---
Class Fares
Air Arabia Jordan has ceased operations. However, the airline was a subsidiary of Air Arabia, which is currently in operation with 53 Airbus A320. This is the world's best selling jetliner, fitted with world-class comfort seats, and one of the most spacious economy cabin seat pitch of 32 inches. Check out our page for Air Arabia to find out more!
---
Air Arabia's Jordan Destinations
Air Arabia Jordan flew between the following destinations:
Sharm el-Sheikh, Egypt
Tbilisi, Georgia
Amman, Jordan
Kuwait City, Kuwait
Dammam, Saudi Arabia
Jeddah, Saudi Arabia
Riyadh, Saudi Arabia
Istanbul, Turkey
---
About Air Arabia Jordan Baggage
Checked Baggage
Air Arabia Jordan's baggage allowance offers travellers the opportunity to only pay for the checked baggage that they need, choosing between 20kg, 30kg, or 40kg in weight. The maximum luggage allowance for one item is 32kg in weight, with total dimensions of 160cm.
Carry-on Baggage
Air Arabia Jordan's hand luggage allowance per customer is 10lg in weight, and the item must not exceed the dimensions of 55cm x 40cm x 20cm (or 22in x 16in x 8in).
Infant travellers under 2 years old are entitled to one standard sized bag for the items they may need during the flight.
---
Air Arabia Jordan Hub Airport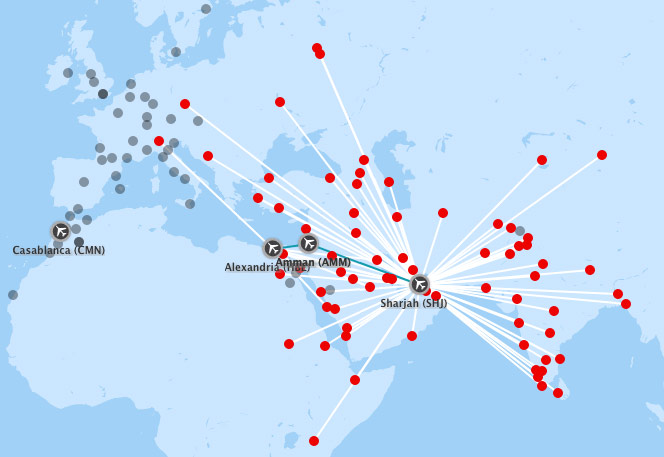 ---
Air Arabia Jordan Hub Airport
Air Arabia Jordan's hub airport is Queen Alia International Airport in Ammam, Jordan.
Built in 19823, Queen Alia International Airport (QAIA) is Jordan's main airport and is named after Queen Alia. The new airport terminal was launched in March of 2013, following an overnight operational transfer.
---

Air Arabia Jordan Fleet
Airbus A20-200