Scat Airlines Reservations with Alternative Airlines
Make a Scat Airlines Booking and Find Some Amazing Deals
---
About
SCAT Airlines is based in Shymkent Airport and operates services to all major cities of Kazakhstan and to neighbouring countries. Destinations include: Oskemen, Taraz, Almaty, Aktobe, Uzbekistan, Moscow, Sochi and Kiev, with focus cities at Oral Ak Zhol Airport, Aqtau Airport, Astana International Airport, Atyrau Airport, Kyzylorda Airport and Almaty International Airport. In November 2016, SCAT Airlines signed an agreement with Onur Air. This allows Russian passengers to travel to:
Antalya, Bodrum, Paris, Wien, Amsterdam, Frankfurt, Dusseldorf, Stuttgart, Berlin, Adana, Dalaman, Izmir, Odessa, Nalchik, and many other cities. SCAT Airlines set to benefit as Kazakhstan negotiated with several foreign airlines to launch new routes during Expo 2017 exhibition in Astana. Austrian, Czech airlines will resume flights to Kazakhstan, Air China will fly from China, according to the vice minister. On December 12, Kazakhstan plans to meet with aviation authorities of Iran and China and request additional slots for Kazakh Air Astana and Scat airlines in order to increase international flights from Almaty to Chinese Xian and Iranian Tehran.
The airline's fleet consists of predominantly owned western aircraft, operating more than 80 domestic and international air routes, annually offering up to ten new destinations, with the passenger traffic increased on average by 40%.
---
Baggage
SCAT Airlines has increased their baggage allowance for adults and children from 25 kg to 30kg plus 5 kg (hand baggage) for all travellers to and from Istanbul. For adults and minors with tickets the weight of free luggage per individual is 20 kg including 5 kg of carry-on.
Each kilogram of weight in excess must be additionally paid for. SCAT Airlines allows 1 carry-on item on board, provided however that its size does not exceed 55 х 40 х 20cm and it weighs no more than 5 kg.
---
Check-in
Online Check-In
Online check-in for Scat Airlines opens 24 hours before the scheduled flight departure. Please print your boarding pass and arrive at the airport at least 30 minutes before check-in.
Airport Check-In
Passengers checking luggage at the airport should arrive at least 40 minutes before their flight departure.
---
Destinations
Domestic Destinations
The airline flies to the following destinations within Kazakhstan
| | | | |
| --- | --- | --- | --- |
| Aktau | Aktobe | Almaty | Astana |
| Atyrau | Karagandy | Kokshetau | Kostanay |
| Kyzylorda | Oral | Oskemen | Petropavl |
| Semey | Shymkent | Taldykorgan | Taraz |
| Urdzhar | Usharal | Zhezkazgan | |
To learn more about flying domestically in Kazakhstan please visit our 'Domestic Flights in Kazakhstan' page.
International Destinations
Central Asia
Tajikistan, Dushanbe
Uzbekistan, Tashkent
East Asia
China, Sanya
China, Xi'an
Thailand, Phuket
Thailand, Pattaya
India, Goa
Armenia, Yerevan
Azerbaijan, Baku
Georgia, Batumi
Georga, Kutaisi
Georgia, Tbilisi
Turkey, Istanbul
Turkey, Antalya
United Arab Emirates, Sharjah
Europe
Czech Republic, Prague
Lithuania, Vilnius
Ukraine, Kiev
Russia, Astrakhan
Russia, Chelyabinsk
Russia, Kazan
Russia, Krasnodar
Russia, Moscow
Russia, Mineralnye Vody
Russia, Makhachkala
Russia, Sochi
Russia, Tomsk
Russia, Voronezh
Russia, Kiev
---
Popular Routes
Astana

Almaty
Yerevan

Aktau
Astana

Phuket
Moscow

Aktau
Shimkent

Aktau
Kostanal

Almaty
---
Fleet
The Scat airlines fleet includes Bombardier CRJ200, Boeing 757-200, Boeing 737-70, Boeing 737-500 and Boeing 737-300.
---
Hub Airport
Almaty International Airport
Almaty International Airport is the largest international airport in Kazakhstan. It is located about northeast of Almaty, the country's largest city and commercial capital. Airlines that fly from and to Almaty International Airport include Asiana Airlines, Aeroflot, KLM, Pegasus, Turkish Airlines and Bek Air.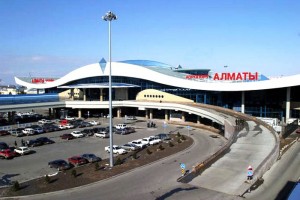 ---
Alternative Airlines
Please click on the logos below to find out about airlines that fly similar routes: