Germania Flug Tickets and Reservations with Alternative Airlines
Germania Flug has rebranded to chair. All flights remain the same. Click on the log below to search for flights on chair.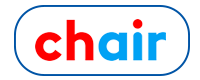 ---
About
Germania Flug is a Swiss leisure airline headquartered in Greater Zurich, based at Zurich Airport. The airline was founded in August 2014 in cooperation with the German airline Germania, and sports the same design. Their aim is to operate leisure charter flights under the brand, HolidayJet. Following Germania Flug's launch of operations on 26 March 2015, for the summer 2015 and winter 2015/2016, Germania Flug operated from Zürich to 17 leisure destinations in Europe and North Africa.
However, from November 2015 Germania Flug stopped its collaboration with HolidayJet and operates solely under its own brand name since. In summer 2016, Germania Flug operated scheduled flights around Europe, Turkey, Lebanon and North Africa. In addition to this, Pristina, the capital of Kosovo, and Skopje, the capital of Macedonia, are served on behalf of virtual airline Air Prishtina.
---
Baggage
Carry-on Baggage
Adults and children: (from the age of 2): max. 20 kg
Small children: (under the age of 2): max. 10 kg
Checked Baggage
Maximum weight: 6kg
Maximimum size: 55 cm length x 40 cm width x 20 cm height
---
Check- In
Online Check-In
Currently, online check-in is not available.
Airport Check-In
The only way to check-in is at the airport. Check-in desks open 2.5 hours before departure.
---
Economy Class
Economy Class is the airline's only cabin class and offers a warm and attentive service.
Economy Class Facilities
The airline offers free snacks and soft drink on all of its flights. On short-haul flights, each passenger is given a butterbretzel. On medium-haul and long-haul flights, passengers are given a free hot meal, with a soft drink and a tea or coffee.
What are Economy Class Seats Like?
Economy Class seats are set out in a 3 x 3 formation. Each seat gives around 30 inches of pitch and generous width.
---
Destinations
As of June 2019, Germania Flug operates flights to 18 destinations under its own brand name
Burgas,
Bulgaria
Zadar,
Croatia
Larnaca,
Cyprus
Hurghada,
Egypt
Marsa Alam,
Egypt
Sharm El Sheikh,
Egypt
Heraklion,
Greece
Kos,
Heraklion
Rhodes,
Heraklion
Beirut,
Lebanon
Gran Canaria,
Spain
Palma de Mallorca,
Spain
Zürich,
Switzerland
Antalya,
Turkey
Not Seasonal
Kosovo
Pristina
Macedonia
Skopje
Morocco
Agadir
Lebanon
Beirut
Israel
Tel Aviv
Egypt
Hurghada
Marsa Alam
Sharm El Sheikh
---
Fleet
As of April 2019, the fleet consists of:
And an order of three Airbus A320neo, to be delivered in 2020
---
Alternative Airlines
---
News
June 12th 2019
Germania Flug Rebrands As Chair Airlines
Now, Germania Flug is Chair Airlines. The rebranding marks the relaunch of the carrier under a new name.
The name Chair Airlines comes from the literal seat you sit on during flight. In addition, the quirkiness might play out well with millennials who are an increasingly difficult group to get flying with loyalty. Overall, it seems the renaming is a way for the airline to set itself apart and as something memorable.