Search and Buy Airseven Flights with Alternative Airlines
Make a Booking and Find Some Amazing Deals
---
About Airseven
Airseven is a virtual airline established in 2020 and hoping to start operating in late 2020. The airline also has plans to launch charter and ACMI operations in May 2021. Two Boeing 737-400 would be in operations and it would be operated by Copenhagen AirTaxi. The airline is owned by Primo Tours Gruppen, a Danish tour operator, who would also be the first customer for the airline.
---
Destinations
Airseven isn't planning to operate any scheduled services to any destinations. Charter and ACMI destinations would be decided by the third party who demanded the service.
---
Baggage Allowance
Carry-On Baggage
Carry-on baggage allowance has yet to be announced. No prohibited items are allowed onboard. Any prohibited items found by airport security staff would be confiscated.
Checked Baggage
Checked baggage allowance has yet to be announced by the airline. However, as a general rule, baggage over 32kg would not be accepted by the airline due to international health and safety regulations.
---
Check-In Information
Check-In Online
Online check-in isn't currently available on the airline website.
Airport Check-In
Airport check-in information and requirements have yet to be realised by the airline. Passengers should refer to the airline website once flights are available to book online. At Alternative Airlines, we recommend passengers to arrive two hours before the scheduled departure time to avoid any unexpected delays en route to the airport. Passengers late for check-in may lose the ticket.
---
Frequent Flyer Program
As of November 2020, frequent flyer programme isn't available.
---
Airline Alliance
Airseven isn't part of any airline alliances.
---
Airline's Fleet
Airseven is aiming to launch the airline with a fleet of two Boeing 737-400. The 737s are previously owned by many airlines including Blue Air, Lufthansa, Air Italy and more. These aircraft has a total seats of 168.
---
Hub Airport
Copenhagen Roskilde Airport
Copenhagen Roskilde Airport (RKE) is located 7km from Roskilde. The airport opened in 1973 and operated by Københavns Lufthavne A/S. In 2019, there were over 17 thousand passengers who flew to the airport, two runways and one passenger terminal are servicing these passengers. Other airlines that fly to the airport include Copenhagen AirTaxi and Starling Air.
---
Alternative Airlines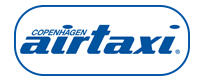 ---