Airlines will always try to sit children with their parents (subject to check-in)
Some airlines will allow travel for unaccompanied minors. Please email us to check.
The fare is based on the child's age on the date of travel.
More detailed information can be found here Traveling with children
Most airlines will let infants travel with their parent(s) for free. However some airlines will charge up to 10% of the adult ticket price. Click on 'Price Breakdown' to find out more.
If you are pregnant, but due before the flight departure date, please contact us once your baby is born and has a name. We can then add him/her to your ticket.
Infants will not be given a seat. The airlines expect parents to travel with them on their lap.
Airlines regard infants as being under 24 months old.
The fare is based on the child's age on the date of travel.
More detailed information can be found here Traveling with children
Airlines Fare Rules
Cancellation Protection
Protects
Trusted Choice
65,000 happy customers
Rated 4.5 Stars. Based on 3,581 service ratings over the past year
Dedicated customer service team on hand to help
Secure payments
Cancellation Protection
Protects
Trusted Choice
65,000 happy customers
Rated 4.5 Stars. Based on 3,581 service ratings over the past year
Dedicated customer service team on hand to help
Secure payments


Airline Fare Rules
Read our guide for those on airline fare rules. This guide is complete with FAQ's, different types of fares and different types of airlines fares.
What is a
Fare Rule?

The rules and restriction of any booking rely upon the fare type that the reservation has been made under. These rules and its relevant conditions for a certain fare type are called Fare Rules. Generally, the lower the fare, the more restrictions a fare has, for instance, non-refundable status, 21-day advance purchase, or Saturday night stay.
What is a Regular Fare?
Regular Fare is standard or normal fares that airlines offer. With this fare in most cases, you'll be able to change the departure date without a penalty charge. There is also a possibility of changing the route. Return of the ticket is also undertaken without a penalty fee.
What is a Lite Fare?
This is carry-on hand luggage only fare. You may want to travel light with this cabin baggage only fare.
What is a Flexible Fare?
Flexible fare means the date in which you want to travel is flexible and therefore can be delayed or moved to another date without any further charges. This is a good choice for busy business travellers who want flexibility and comfort in their travel. Check out our guide on Flexible Flights for more information.
What is a Family Fare?
This is a special transportation rate offered by airline carriers on certain less busy days whereby a wife or children each pay half fare when accompanying a full-fare passenger. Check out our guide on Family Flights for more information.
What is a Return Fare?
A return or round-trip fare is the sum of money it costs to travel to the one place and back again.
What is a Group Fare?
A group fare is a fare which you can book for 10 or more passengers and find some amazing flight deals. For more information on Group Bookings and how you can do it check out our guide here.
How to find Airlines Fare Rules
To find airline fare rules for your flights at Alternative Airlines is really easy. Just follow these five simple steps.
STEP
1
Fill out the Alternative Airlines search form:
1. Select a return, one way or multi-city/open jaw search
2. Enter the airports you want to fly between
3. Enter the dates you want to fly on
4. Select the number of travellers and preferred cabin class
5. Click 'search flights'

STEP
2
All flights available will be displayed in relation to your search. Click on the 'information' icon for each flight coloured in light blue on the right of the screen.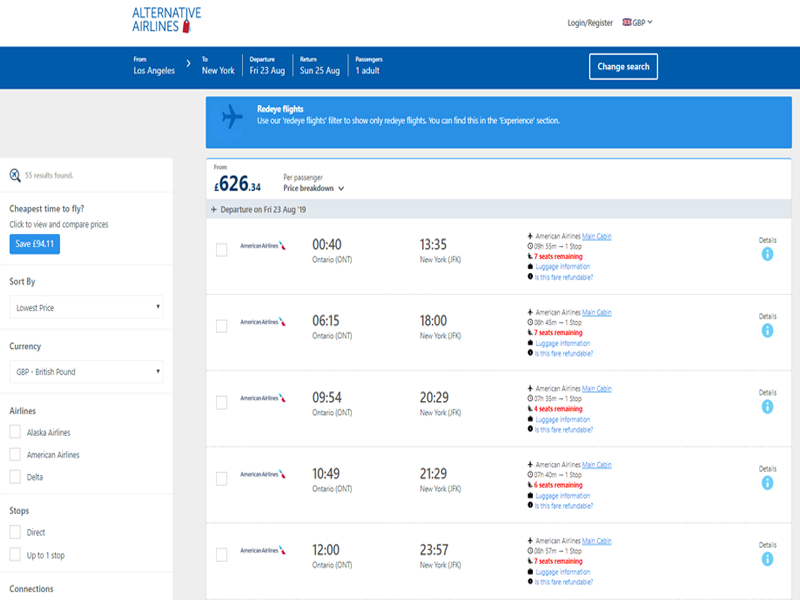 STEP
3
Once in the 'Flight details' subpage, click on 'Fare Rules' where you'll be able to see the mini fare rules.
STEP
4
To find the extended version of your airline fare rule you need to select the flight and click the 'Confirm the Selection'.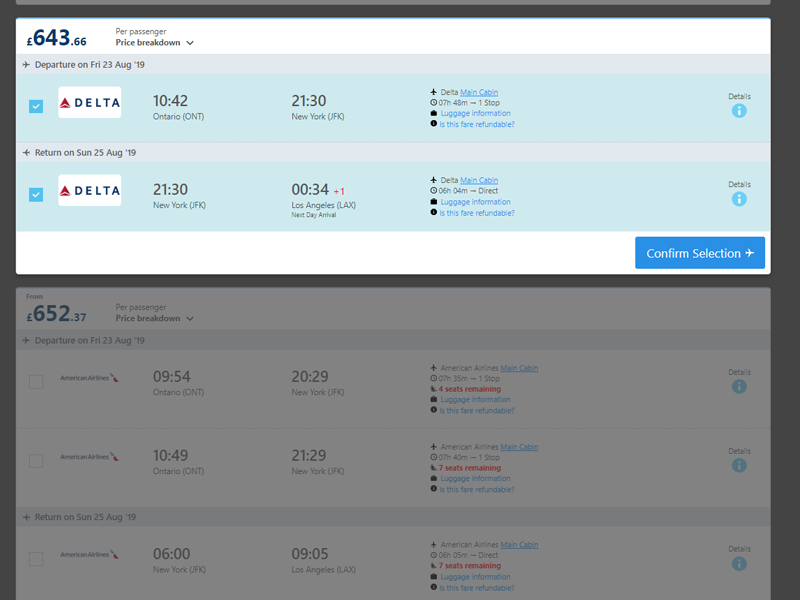 STEP
5
And there you are! You now have the extended version of the airline fare rules.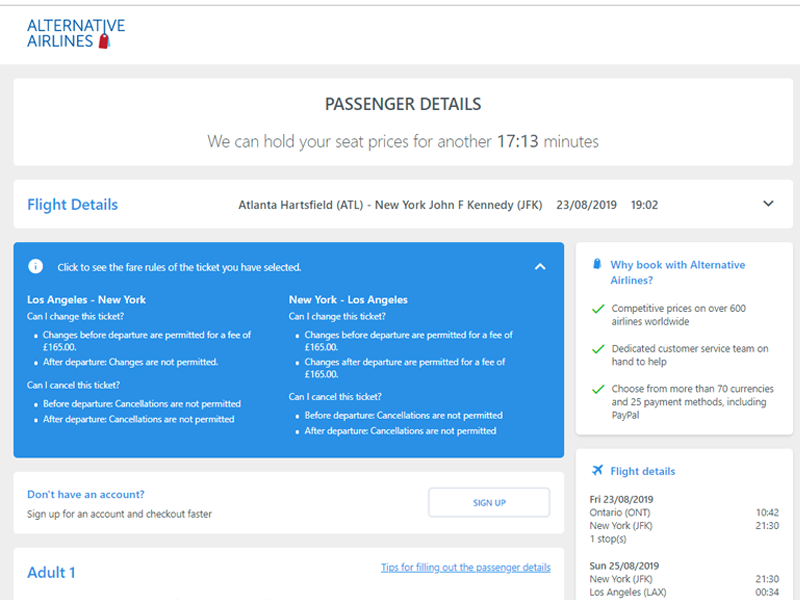 Airline Fare Rules
FAQs
Can I cancel my ticket?
This is difficult to answer as each ticket has different fare rules. This questions ultimately depends on the airline fare rules which you can find for your ticket by following the above steps.
I'm travelling with a group of friends, can I receive a discount?
Yes, you may find that booking when booking as a group you'll receive a group discount instead of paying the full price ticket. This is also the same for family bookings as some airlines will offer discounted fares for children and/or infants. For more information on Fare Families check out our guide here.
How can I find the best fare?
You can find the best fare by reading our 'Best Fare Finder' guide. This is for travellers more interested in finding a cheaper ticket than the exact date or time.