Air Marshall Islands is a domestic airline based in Majuro operating flights to many airports within the Marshall Islands group.
Air Marshall Islands flights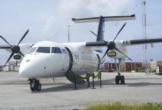 The airline was established in 1980 as Airline of the Marshall Islands with two small Nomad aircraft and just a few inter island destinations. The name Air Marshall Islands was adopted in 1989 and is wholly owned by the Government of the Marshall Islands.
The airline's main base is at Majuro and operates flights to Bikini Atoll, Enewatak, Jeh, Kwajalein, Rongelap and Woja. Flights are regular if not frequent with most flights operating on a weekly basis. Given that most travellers will visit this area for one or two weeks this frequency seems ideal.
Bombardier Dash 8 Q100 and Dornier 228-212 aircraft operate all routes, with a configuration of 34 and 19 seats, respectively.
Air Marshall Islands flight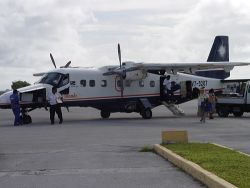 The climate of the Marshall Islands is hot and humid and attracts folks who prefer to spend their leisure time either in or under the water. So, whether it be gently sauntering along the white sand edged atolls, fishing or diving amongst superb coral life the Marshalls won't let you down.
Travelling around the islands is comfortable and easy with Air Marshall, they have regular flights with modern aircraft connecting many of the islands and atolls of the South Pacific. Some flights are so short that this lovely airline has been described as a "puddle jumper". Wonderful...