Search and Buy Air India Regional Flights with Alternative Airlines
Make a Booking and Find Some Amazing Deals
Air India Regional has rebranded to Alliance Air. Use our search form or click on the logo below to search for flights on Alliance Air.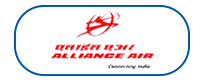 ---
About
Air India Regional was the old name for the current regional Indian airline, Alliance Air. The airline ran under the Air India Regional name from 2007–2017. Before it rebranded in 2017, Air India Regional operated domestic flights within India, flying 170 weekly flights across 34 destinations.
The airline was founded as Alliance Air in 1996. It was originally a subsidiary of Indian Airlines. However, when Indian Airlines and Air India merged into one airline in 2007, the airline was renamed Air India Regional as the feeling was that the airline would benefit from the association with the Air India brand.
Air India Regional flew to destinations all across India but had hubs in Bangalore, Delhi, Hyderabad, Kolkata and Mumbai. Its main hub was considered to be in Mumbai at Chhatrapati Shivaji Maharaj International Airport (BOM) but it flew regular flights from each airport mentioned.
---
Destinations
The airline flew to many destinations across India, including Bangalore, Delhi, Jammu, Kullu, Mumbai, Hyderabad, Kolkata, Ranchi, Tezpur and more. The airline flew to 34 different destinations at the time that it stopped flying as Air India Regional.
REGION
CITY
IATA
Andhra Pradesh
Vijayawada
Vijayawada Airport
Visakhapatnam
Visakhapatnam Airport
Assam
Guwahati
Lokpriya Gopinath Bordoloi International Airport
North Lakhimpur
Lilabari Airport
Tezpur
Tezpur Airport
Chhattisgarh
Raipur
Swami Vivekananda Airport
Daman and Diu
Diu
Diu Airport
Delhi
Delhi
Indira Gandhi International Airport
Gujarat
Bhavnagar
Bhavnagar Airport
Bhuj
Bhuj Airport
Rajkot
Rajkot Airport
Himachal Pradesh
Dharamsala
Dharamsala airport
Kullu
Bhuntar Airport
Jammu and Kashmir
Jammu
Jammu Airport
Jharkhand
Ranchi
Birsa Munda Airport
Karnataka
Bangalore
Kempegowda International Airport
Hubli
Hubli Airport
Kerala
Kochi
Cochin International Airport
Lakshadweep
Agatti Island
Agatti Airport
Madhya Pradesh
Bhopal
Raja Bhoj Airport
Gwalior
Rajmata Vijaya Raje Scindia Airport
Jabalpur
Jabalpur Airport
Maharashtra
Mumbai
Chhatrapati Shivaji International Airport
Pune
Pune Airport
Meghalaya
Shillong
Shillong Airport
Punjab
Bathinda
Bathinda Airport
Rajasthan
Jaipur
Jaipur International Airport
Telangana
Hyderabad
Rajiv Gandhi International Airport
Uttar Pradesh
Allahabad
Allahabad Airport
Gorakhpur
Gorakhpur Airport
Kanpur
Kanpur Airport
Uttarakhand
Dehradun
Jolly Grant Airport
Pantnagar
Pantnagar Airport
West Bengal
Kolkata
Netaji Subhas Chandra Bose International Airport
---
Baggage
Carry-On Baggage
Passengers were given a free carry-on baggage allowance that allowed them to bring one carry-on bag on the flight, included within the price of their ticket. The carry-on bag could not weigh more than 5 kg, nor could exceed the dimensions of 40cm (16") x 30cm (12") x 15cm (6").
In addition to their carry-on bag, passengers could bring one personal item on the plane with them. A personal item is any item such as a handbag, small backpack or any other item of a similar size.
Checked Baggage
Passengers were given a free checked baggage allowance of either 15 or 10 kg. The baggage allowance differed depending on which route the passenger was flying. Although, most routes gave 15 kg as opposed to 10 kg.
---
Economy Class
Air India Regional flew with an Economy Class cabin and no other cabins.
Seats
Seats were set out in a 2 x 2 formation on all flights. This guaranteed that passengers would be sat next to either a window or aisle.
---
Food and Drink
The airline didn't provide any complimentary food or drink. However, passengers could pre-order an in-flight meal to enjoy during the flight.
In-flight meals were usually an Asian Vegetarian Meal, although, there were many different vegetarian meal types on offer.
Passengers could also buy light snacks and drinks once in-flight. Or, of course, bring their own food and drink onto the flight, as long as it was allowed to pass through airport security.
---
Check-In Information
Online
The airline didn't offer online check-in
Airport
To check-in for flights, passengers had to check-in at the airport. Airport check-in could be completed by visiting one of the check-in desks at the airport of departure with the relevant travel documents.
---
Frequent Flyer
Flying Returns
Air India Regional used the same frequent flyer program (FFP) as its parent airline, Air India. This FFP was called 'Flying Returns'.
Members of Flying Returns could earn miles on any Air India, Air India Regional or Star Alliance flight and use those miles to buy future flights on any of those airlines too. Passengers could also earn miles on any of Air India's codeshare flights.
Miles/points didn't have to be spent on airline tickets, passengers were able to spend points on goods and services from Air India's non-airline partners, which included partners in hospitality, fashion and more.
---
Airline Alliance
Star Alliance
Air India Regional was an affiliate member of the Star Alliance airline alliance due to its association with Air India. This allowed passengers to enjoy various benefits, as well as greater connectivity throughout the world through the worldwide partner airline on the Star Alliance airline alliance.
The airline became a member of Star Alliance as soon as Indian Airlines and Air India merged and remains a member under the Alliance Air name and brand today.
---
Fleet
At the time that it stopped being known as Air India Regional, the airline had a fleet made up ATR aircraft. The airline had 10 planes altogether, made up of two ATR 42-300s and 8 ATR 72-600s.
---
Hub Airport
Mumbai Chhatrapati S Maharaj International Airport
Mumbai Chhatrapati S Maharaj International Airport (BOM) is an international airport in Mumbai, India and was the hub airport for Air India Regional. The airline used Mumbai as its primary hub for the entire time that it flew, although, it did have secondary hubs in several other destinations across India, including Bangalore, Delhi, Hyderabad and Kolkata. Mumbai airport is one of the busiest airports in terms of passenger traffic. After the airline changed its name back to Alliance Air, the airline continued to use Mumbai airport as its hub and still does today.
Other airlines that currently use Mumbai Chhatrapati S Maharaj International as a hub include Air India and Vistara. Other airlines that use the airport include Air Arabia, Bangkok Airways, Cathay Pacific, Delta, flydubai, IndiGo, Korean Air, Oman Air, Star Air, Yemenia and many more.
---
Alternative Airlines to Air India Regional