Bolivia is a beautiful country undergoing a major political renaissance. Aerosur is one of the country's leading airlines and the perfect way to travel into and throughout this enchanting land - and we are pleased to report that normal operations have resumed, following the sudden and unexpected cessation of operations in April 2012.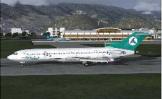 Aerosur of Bolivia
NEWS ITEM: Effective August 2008 Aerosur operates direct flights from Santa Cruz to Madrid with great connections to London. Check the "look and book" section for details.
Aerosur flies domestically to all the major Bolivian cities (La Paz, Cochabamba, Sucre, Puerto Suarez, Trinidad, Tarija, Uyuni, and Rurrenabaque). Direct International services operate between Asuncion, Buenos Aires, Sao Paulo, Lima, Madrid and Santa Cruz. From the US there is a thrice-weekly flight departing Miami utilising an arrangement with Ryan International. The airline operates a fleet of reliable Boeing 727 and 737 aircraft. There are plans in place to extend the route network to include direct regular services to Washington, Havana, Caracas, Mexico City and Santiago.
With the tag-line of Bolivia's leading airline Aerosur have targeted 2008 as a year for route expansion.
Aerosur flights from Madrid to Bolivia
NEWS UPDATE: Aerosur adds 747 and 767 to fleet and confirms 6 new destinations. Full details can be found by opening the related link below If you're visiting South America - you've got to experience Bolivia. Butch Cassidy and the Sundance kid did and now the discerning traveller prefers the charm of unspoilt Bolivia to the (over ?) developed joys of Machu Picchu.

Aerosur is a great way to get around a country of mountains, rainforests and salt flats, all of which are must-sees. Check out the service to/from Madrid - depending on the season it operates up to six times per week.