Workations and Bleisure Flights
Discover all the ways that Alternative Airlines can make it easier for you to book your workation or bleisure trip.
What is a workation?
A workation is one of the latest travel trends. It's a vacation during which you'll continue to work your day job, but remotely, while at your holiday destination. This gives you the flexibility to continue working, without having to take leave from work, while also being able to explore and enjoy your chosen location — whether it's a new city, sunny exort, or beautiful beach. You're effectively taking a break from your workplace, just not the work itself. Workations might be short or medium term, ranging from a few days to a few weeks, or long-term, which means relocating to a new destination for a few months, or even a year or two.
What is 'bleisure travel'?
Bleisure is a different concept and refers to the practice of combining professional business obligations with leisure when abroad. An example would be a business trip to New York, whereby you might extend the trip by a day or two to have time to explore the city's top sites.
---
How to book bleisure and workation trips
Here at Alternative Airlines, flexibility is our middle name. Not only do we offer a greater number of flights with airlines around the world, we're focused on meeting all the needs of our customers.
Discover all the ways that Alternative Airlines can help you book your workation:
1. Book multi-city flights
A workation doesn't need to be limited to just one resort or city. If you're planning on taking your trip to Italy, for example, why not spend a week in Rome and a week in Milan, or even hop across to Barcelona, in Spain? To help, Alternative Airlines has a handy multi-city flight booking tool, which makes it easy to book flights if you're planning on flying to multiple destinations. Simply select 'Multi-city' on the search bar at the top of the page, or take a look at our guide to find out more.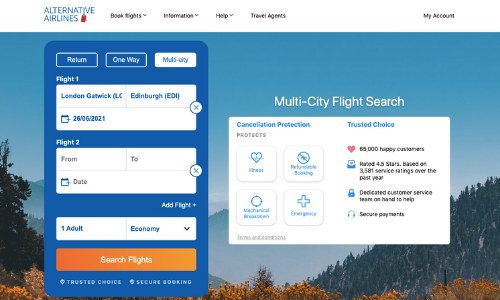 2. Not sure when you'll be returning? Book a 'flexi' flight
One of the best things about remote working is the flexibility that it can offer. For many, this alters the way that travel has to happen. Rather than booking a week off from work and jetting off from Saturday to Saturday, you can take your work with you, and potentially extend your trip, or keep moving on to a new destination. You may even become a digital nomad, taking work with you as you explore one place before moving on to the next.
Did you know that Alternative Airlines makes it easy for you to book 'flexi flights', which are tickets that allow you to make changes to the date and time of your flights after they have been booked. This way, you can extend or shorten your trip, without any additional fees.
3. Pay the way you want
Greater flexibility in the way you travel is great, but made even better thanks to the flexible payment options that Alternative Airlines provides. Remote working gives you the freedom to be spontaneous, and head off to an exciting city or sunny resort, without exhausting your annual leave. To help you with your last-minute vacations, Alternative Airlines offers lots of flexible payment options, so that you split the cost of your flights over time.
Choose from Sezzle, Afterpay, Quadpay, Klarna, Affirm, as well as many other payment plan options depending on where you reside.
---
FAQs
What does a workation mean?
With more and more people working remotely (especially since 2020, when doing so became a necessity for many amidst the global Coronavirus pandemic) workations have grown massively in popularity. A workation is a relatively new concept and comprises two concepts — work and vacation. Effectively, a workation is the practice of 'working away from work'.
What is a 'digital nomad'?
A digital nomad is someone who works remotely, and moves to different locations on a regular basis. A digital nomad can potentially work from anywhere thay WI-FI is available, whether that's a hotel room, coffee shop, or co-working space. The term reflects a new trend in travel, thanks to an increase in digital technology and remote-working jobs.
Where are the best locations for a workation?
A workation can take place anywhere around the world. If you live in the U.S., you may decide to temporarily relocate to a new city in another State, whether that's New York, Los Angeles, or Chicago, or head to the East Coast. Mexico is also a popular workation location for U.S. travellers. Or, go further afield, and head to Singapore or Hong Kong (don't forget the time zone difference though!).
If you live in Europe, why not take work with you and hop between some of the most historic, cultrual, and buzzing cities across Europe.
If you're looking for some destination inspiration, the following guides are packed full with top tips and location ideas:
The cheapest islands in the Caribbean
The best wine regions around the world
The best water parks around the world
Is it easy to book workation flights?
If you book through Alternative Airlines, you'll find it easy to book your workation flights. Whether you're looking for flexible tickets or payment options, we have lots of options to suit everyone's needs. This guide details all the ways we can help, including offering flight finance plans, and making it easy to book multi-city flights. If you have any questions, our expert customer service team is always on-hand.