Cheap Silverstone Air Tickets and Reservations with Alternative Airlines
Book Flight Tickets and Find Some Amazing Deals
---
Alternative Airlines to Silverstone Air
Looking for flights in Kenya? Silverstone Air has currently suspended passenger services. Please click on the logos below to find out more about airlines that fly similar routes within Kenya:
---
2020 Update
In December 2019 Silverstone Air suspended scheduled passenger services, which has remained the case through to the beginning of 2020. As of February, it has yet to be confirmed whether the airline will resume passenger services. Please see our news section below for more information.
---
About
Silverstone Air Services was founded in 2013 and is a private Kenyan airline, providing commercial flights to a number of destinations across Kenya. Silverstone Air operates daily scheduled flights to Mombasa, Ukunda, Malindi, Lamu, and Kisumu. The airline operates flights from its hub at Kenya's Nairobi Wilson Airport (WIL). Most domestic flights within Kenya depart from Wilson Airport.
As well as scheduled services, the airline also operates private charter, commercial cargo, and evacuation, humanitarian and relief services.
Silverstone Air is dedicated to providing an experience that exceeds each passenger's expectations, as well as providing value for money.
Top Tip: Did you know, when you book Silverstone Air tickets through Alternative Airlines, you can pay for your tickets using M-Pesa (as well as over 160 other currencies)?
---
Destinations
Domestic
The airline provides scheduled services to seven (7) destinations from its hub at Wilson Airport:
| CITY | AIRPORT |
| --- | --- |
| Eldoret | Eldoret International Airport |
| Kisumu | Kisumu International Airport |
| Lamu | Lamu Airport |
| Lodwar | Lodwar Airport |
| Malindi | Malindi Airport |
| Mombasa | Mombasa International Airport |
| Nairobi | Wilson Airport |
| Ukunda | Ukrunda Airport |
*Nairobi–Lodwar route temporarily suspended from November 2019 - see News below for more information.
---
Fleet
Currently, the airline's fleet consists of the following aircraft: Fokker F50 / F60, and De Havilland Canada DHC-8 Dash 8.
---
Baggage
Checked Baggage
Each passenger is permitted one piece of free checked (hold) baggage. The maximum permitted weight for baggage is 20 kilos, but be aware that this includes carry-on (hand) baggage.
Excess luggage will be charged at the rate of Ksh 200 (1.93USD) per kg.
Carry-On Baggage
Each passenger is entitled to one piece of carry-on baggage, with a max weight of 7 kg.
Please note that the airline states that the 20 kilos max weight for baggage includes both checked and carry-on baggage.
The airline may specify the maximum dimensions of your carry-on baggage once you have purchased your ticket. Otherwise, baggage which you carry onto the aircraft must fit under the seat in front of you or in an enclosed storage compartment in the cabin of the aircraft.
Top Tip: When you make your booking through Alternative Airlines, it is easy to add extra baggage to your reservation (but only on eligible flights, as on some flights baggage allowance per passenger is limited - this will be confirmed during the booking process).
---
Check-In
Check-in at the Airport
Check-in opens 1 hour prior to flight departure time. The airport check-in counter closes 45 minutes to scheduled departure time.
Check-in Online
Online check-in is not currently available for Silverstone Air.
---
Cabin Classes
Silverstone Air offers one cabin class: Standard Economy. The seating is akin to what you might expect from a low-cost economy cabin class. Depending on the aircraft, there is a maximum of 50 seats.
In-Flight Meals
Despite the short flight times, a complimentary refreshment service is provided to all passengers. This includes a beverage and snack (biscuits). There are no Special Meal options are meals are not served - the snacks will not be suitable for those with special dietary needs. Passengers are welcome to bring their own snack onboard the plane, within their carry-on allowance.
In-Flight Entertainment
There is no in-flight entertainment system available. Passengers are encouraged to download any entertainment onto personal devices before the flight.
Is Wi-Fi available?
WiFi is not currently available on Silverstone Air flights.
What are the seats like?
Seats are configured in a 2-2 formation. Passengers can sit comfortably in padded seats, which have headrests and armrests for your convenience. There is under-seat storage, overhead storage compartments, and fold-down trays.
Can I pre-book my Silverstone Air seat?
At the moment, the airline does not pre-allocate seats. Seat allocation will be arranged during the boarding process.
---
Visit the Maasai Mara
Check out our full guide to flying to the Masai Mara for more travel information!
The Masai Mara (or Maasai Mara, or just Mara) is a stunning preserved savannah wilderness in Kenya, known for its vast grassy plains and gentle rolling hills. The area has a rich cultural heritage and is famed for being an incredible destination for safaris.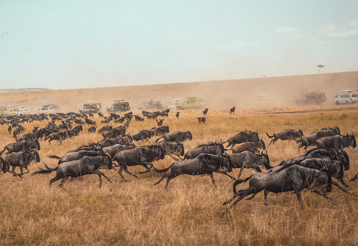 It is easy to visit the Masai Mara, which is about 270km/167mi northwest of the city of Nairobi, close to the country's border with Tanzania. The drive has a reputation for being in poor condition; the easiest way to get to the Maasai Mara is definitely by air.
Fly to the Maasai Mara Reserve
Most international flights to Kenya arrive at Jomo Kenyatta International Airport (NBO), the main airport serving Nairobi, the country's capital. Flights to the Masai Mara depart from Wilson Airport, which is just a short drive (30 mins approx) from NBO airport. From Wilson Airport, flights will head to one of a small number of airstrips within the Maasai Mara park. Silverstone Air is one of just a few airlines that provide scheduled passenger flights to the Maasai Mara reserve. The other airlines include:
---
Hub Airport
Wilson Airport
The airline is based at Wilson Airport (WIL). WIL is an airport in Nairobi, Kenya. From the airport, a small number of airlines operate flights to many domestic and regional airports within Kenya.
The three other airlines that operate from Wilson Airport include Airkenya Express, Safarilink, Fly Tristar. It's also a secondary hub for Blue Sky Aviation.
Top Tip: Nairobi's primary airport is Jomo Kenyatta International Airport (NBO). As well as domestic flights, the majority of international flights to Kenya will land and depart from Jomo Kenyatta International Airport.
---
Additional Services
Flying with Children
The child fare is 75% of the adult fare (plus tax). The child fare only applies to children between the age of 2yrs and 12years. Identification (Birth Certificates/ Notification cards/ School ID/ Passports) will be required as identification.
---
Airline Alliance
Silverstone Air is not currently part of an airline alliance.
---
Frequent Flyer Program
Silverstone Air does not currently offer a frequent flyer program.
---
FAQs
Do I need a passport to fly with Silverstone Air?
The airline only operates domestic flights, meaning all flights depart and land within Kenya. Flights do not leave the country. All passengers are required to comply with the government of Kenya's travel requirements, and must present valid entry or exit documents. It is recommended that you travel with a passport.
Can I change my Silverstone Air ticket?
All Silverstone Air tickets are non-refundable and non-transferable. As stated in the airline's terms and conditions, Silverstone Air charges an amendment fee for any ticket changes, including name amendments or route amendments. If you have made your booking through Alternative Airlines, you can contact our customer service team to discuss making an amendment to your booking. Be aware that any amendments must be made prior to 12 hours before scheduled departure.
---
News
6th November 2019
Silverstone Air temporarily suspends passenger operations
Silverstone Air has temporarily suspended passenger operations. The Kenya Civil Aviation Authority(KCAA) temporarily suspended the airline from using its Dash 8 series for passenger operations, following a series of mishaps. Shortly after, the airline suspended all scheduled passenger services.
Some of Silverstone's remaining fleet has been wet-leased out to domestic Somali carriers Salaam Air Express, SomAir, and Maandeeq Air.