Airlines will always try to sit children with their parents (subject to check-in)
Some airlines will allow travel for unaccompanied minors. Please email us to check.
The fare is based on the child's age on the date of travel.
More detailed information can be found here Traveling with children
Most airlines will let infants travel with their parent(s) for free. However some airlines will charge up to 10% of the adult ticket price. Click on 'Price Breakdown' to find out more.
If you are pregnant, but due before the flight departure date, please contact us once your baby is born and has a name. We can then add him/her to your ticket.
Infants will not be given a seat. The airlines expect parents to travel with them on their lap.
Airlines regard infants as being under 24 months old.
The fare is based on the child's age on the date of travel.
More detailed information can be found here Traveling with children
What to do if your Flight is Delayed
Cancellation Protection
Protects
Trusted Choice
65,000 happy customers
Rated 4.5 Stars. Based on 3,581 service ratings over the past year
Dedicated customer service team on hand to help
Secure payments
Cancellation Protection
Protects
Trusted Choice
65,000 happy customers
Rated 4.5 Stars. Based on 3,581 service ratings over the past year
Dedicated customer service team on hand to help
Secure payments
What to do if your flight
is delayed?
Flight delays are, sadly, inevitable. Perhaps the worst part about flight delays is their unpredictability. Airlines want to take off as much as passengers, but there are many reasons why your flight might be delayed. Airlines do not guarantee their schedules.
However, knowing what steps to take if your flight is delayed can make all the difference. There are also precautions you can take to try and avoid flight delays.
Keep reading to discover what to do if your flight is delayed, as well as our top tips to avoiding delays!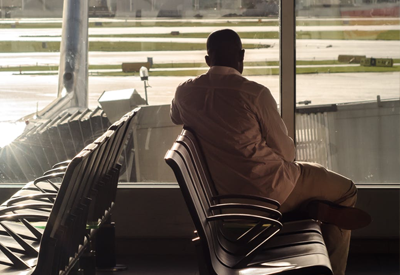 Steps to take to avoid
flight delays
When booking:
Understand your rights, it's one of the most important things you can do to protect yourself against flight delays. We recommend that you find out what your chosen airline entitles you to in the case of a delay before booking. Below our step-by-step guide is an overview to help you understand your rights based on the airline you are flying with and how to make a claim.
Understand your travel insurance. The majority of policies will cover departure delay but it is important to check your policy wording carefully before you purchase, as the level of cover will differ greatly between insurers.
Before booking, consider when you fly. The general rule is the earlier the better, so as to avoid the build up of delays which can occur later in the day. This is particularly true to larger hub airports. This is also true for notoriously busy periods such as school holidays or public holidays.
Before travelling to the airport:
If a flight status changes when the flight is scheduled to fly within 7 days, an airline will provide information to passengers. Airline's will update passengers on a flight's status up to 30 minutes after the airline becomes aware of the change. As a minimum, this information will be provided on the airline's website. We recommend following the airline on social media and downloading the airline's app so that you are aware of any changes before heading to the airport.
At the airport:
If you arrive at the airport to find out your flight has been delayed, the best thing to do is speak to agents. Agents will offer advice from the airline. During bigger delays, airline agents can get swamped, and it is worth joining your airline's telephone queue as well, and seek advice from whoever you get to first. Social media is another good go-to.
Book your flights with
Alternative Airlines
Alternative Airlines' customer service team will keep you updated if there are any changes made to your flight schedule, as soon as this information is announced by the airline. Our expert team are here to help! Find out more about booking flights with Alternative Airlines here
Flight Delays:
your rights
For flights scheduled to depart from, arrive to, or fly within the United States:
In the United States, there is not the same umbrella regulation to protect passengers as there is in the European Union: airlines are not required to compensate passengers when flights are delayed or cancelled. The U.S. law only requires airlines to compensate customers when passengers are involuntarily denied boarding, known as being 'bumped', from a flight that has been oversold.
Each U.S based airline will have its own policies regarding what it will offer delayed passengers. Each airline has its own policies about what it will do for delayed passengers waiting at the airport, there are no federal requirements. These policies can be found in an airline's customer agreement, known as a contract of carriage.
You can follow these links to discover the delay and compensation rules under the Contract of Carriage for these major US airlines: United Airlines, Delta Airlines, Southwest Airlines, American Airlines, Alaska Airlines, Allegiant Air, Frontier Airlines, Hawaiian Airlines, JetBlue.
It is important to note that the rules on compensation are set by the United States' Department of Transportation, and applies to flights that operate to, from, or within the US. There can be exceptions: if the U.S. based carrier you are flying is flying from Europe, you follow European Union rules. For example, if your flight from Paris to New York is delayed for more than three hours, you could be entitled to compensation.
The Department of Transportation has, however, laid our laws regarding tarmac delays, a specific type of delay that sees passengers stuck on a plane before departing or after landing. Find out more here.
For flights scheduled to depart from, arrive to, or fly within the European Union:
Under EU law, the European Union Legislation 261 to be precise, passengers are protected by rules and a compensation structure, and have significant rights on flights to, from or within the European Union - a full country list can be found here. To be covered by this law, your flight must meet either of the following criteria:
1. Flights departing from an EU airport and operated by any airline
2. Flights arriving at an EU airport and operated by an EU airline
It is important to note that if you book with one airline but fly with another, known as a 'codeshare flight', then it is the nationality of the airline operating the flight that counts. For example, if you have booked a flight from New York to London through British airways, but the operating carrier is American Airlines, you will not be covered by EU regulations, even if there is a BA flight number on your e-ticket.
Your rights:
The Civil Aviation Authority(CAA) states that if you are travelling with an EU airline you will be entitled to compensation from the airline following a delay of three hours or more. The amount will differ depending on the length of flight (in kilometres).
This does not apply to delays caused by 'exceptional circumstances', defined by the CAA as 'an occurrence outside of the airline control and despite the airline taking reasonable measures, would still delay the flight'. Examples include adverse weather or strikes.
If your flight is delayed, you are also entitled to care and assistance. This includes: food and drink, appropriate to the time of day (usually vouchers); a means of communication (such as refunding the cost of your calls); accommodation, if you're delayed overnight (usually a nearby hotel); and transport to and from the accommodation (or your home).
The airline should arrange the above for you; however, sometimes this is not possible, especially during major disruption. If this happens, you have the right to organise reasonable care for yourself, and then claim the cost back later. Retain all receipts and do not spend more than what is reasonable.
If you need to make a claim, follow the instructions set out by the Civil Aviation Authority.
The 5 hour rule
Once your flight has been delayed for more than five hours, you are entitled to a refund if you no longer wish to travel. You should also receive a refund for any unused parts of your booking (for instance, the return flight), and a flight back to your departure airport if you've already completed part of your journey.
Flight Delay
FAQ's
What happens if you miss a connecting flight because of a delay?
For flights to/from/within the EU:
Within the EU, if a missed connection causes you to arrive at your destination more than 3 hours after your scheduled arrival time, you are entitled to the same reimbursement. The delay must be the airline's fault (not an exceptional circumstance) and the tickets must have been booked under the same reservation number - this is known as flying on a 'through ticket'.
For flights to/from/within the US:
If a delay on the tarmac causes you to miss a connection, which results in you arriving at your destination more than 3 hours after your original arrival time, you are entitled to compensation, as stated in the US Department of Transportation's guidelines. Find out more by visiting our tarmac delay page. However, for non-tarmac caused delays, the compensation rules are set by each airline. You'll need to read through the Contract of Carriage for your airline to find out more.
What is the chance of a flight delay?
Flight delays are a regular occurrence and, although hard to predict, should be expected. According to data published by the U.S. Department of Transportation, over 20 percent of all flights arrive late. Some of the causes of flight delays or cancellation include: Congestion in air traffic, bad weather, late arrival of the aircraft to be used for the flight from a previous flight, re-fuelling, and maintenance delays with the aircraft.