Which airlines fly within Poland?
The following is a list of the airlines that currently operate domestic flights within Poland — a popular country for tourism in Central Europe.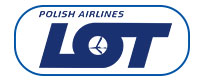 LOT Polish Airlines is the national carrier of Poland, based at Warsaw Chopin Airport. From Warsaw, the airline flies to major cities within Poland. Kraków is a focus city, with multiple daily flights. Other destinations include Lublin, Wrocław, Szczecin, Bydgoszcz, and Katowice. LOT is the only airline to operate domestic flights; flights are available with other airlines, but will involve a connection which is usually outside Poland.
The airline operates the following route network within Poland:
From Krakow: Gdańsk, Warsaw, Katowice
From Katowice: Warsaw
From Gdańsk: Warsaw, Krakow, Wrocław
From Wrocław: Gdańsk, Warsaw
From Poznań: Warsaw
From Szczecin: Warsaw
From Warsaw: Bydgoszcz, Gdańsk, Katowice, Krakow, Lodz, Poznań, Rzeszów, Szczecin, Wrocław, Zielona Góra