Airlines will always try to sit children with their parents (subject to check-in)
Some airlines will allow travel for unaccompanied minors. Please email us to check.
The fare is based on the child's age on the date of travel.
More detailed information can be found here Traveling with children
Most airlines will let infants travel with their parent(s) for free. However some airlines will charge up to 10% of the adult ticket price. Click on 'Price Breakdown' to find out more.
If you are pregnant, but due before the flight departure date, please contact us once your baby is born and has a name. We can then add him/her to your ticket.
Infants will not be given a seat. The airlines expect parents to travel with them on their lap.
Airlines regard infants as being under 24 months old.
The fare is based on the child's age on the date of travel.
More detailed information can be found here Traveling with children
Cheap Domestic Flights within Italy
Cancellation Protection
Protects
Trusted Choice
65,000 happy customers
Rated 4.5 Stars. Based on 3,581 service ratings over the past year
Dedicated customer service team on hand to help
Secure payments
Cancellation Protection
Protects
Trusted Choice
65,000 happy customers
Rated 4.5 Stars. Based on 3,581 service ratings over the past year
Dedicated customer service team on hand to help
Secure payments
Looking for domestic flights within Italy? Use our search form above to search for flights between any Italian destinations.
What are domestic flights?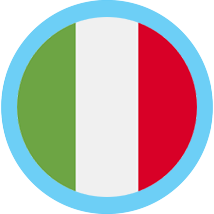 A domestic flight within Italy is any flight that departs from a destination within Italy and arrives at another destination, still within Italy. For example, a popular domestic flight within Italy might be a flight that departs from Milan (MXP) in the north of Italy and arrives in the Sicilian city of Catania (CTA), down in the boot of Italy. This particular route is flown several times a day by multiple different airlines.
Domestic flights within Italy are always short-haul, with even the longest flight times not lasting than one hour and 45 minutes. Most of the internal flights in Italy are operated by Italian airlines. However, there are some low-cost European airlines that fly domestic Italian routes, such as easyJet and Ryanair.
Key

Domestic Airlines

within Italy
For more information on each individual airline, click the airline name to visit each airline page.
Alitalia CityLiner
Alitalia CityLiner is the regional subsidiary of Italy's national carrier, Alitalia. As you'd expect, the airline has an extensive domestic route network, flying to more than 20 domestic destinations overall. The airline's hub is in Rome (FCO), with a second base at Milan (LIN). It offers flights all over the country, including to destinations such as Bologna, Genova, Pescara, Trieste and Venice.
Mainline Alitalia does offer some domestic flights itself, usually on routes between bigger cities, such as Rome and Milan. However, the service on Alitalia and Alitalia CityLiner remain the same and the planes use the same branding, so unless you check, you won't be able to tell whether your domestic flight within Italy is operated Alitalia or Alitalia CityLiner.
Domestic flight check-in times
Online: Online check-in is open from 24 hours up until 45 minutes before scheduled flight departure time.
Airport: Airpo4t check-in closes 35 minutes before scheduled flight departure time.
easyJet
Low-cost European airline easyJet has bases in Milan (MXP), Naples and Venice (VCE) and flies domestically to destinations all over Italy, including Rome, Lamezia Terme, Catania, Palermo, Venice, Turin, Olbia and Cagliari. Overall, easyJet flies to more than 15 destinations. However, domestic flights aren't available between all of these destinations and the majority of them will require you to fly from one of its main bases.
Domestic flight check-in times
Online: Online check-in is open from two days up until two hours before scheduled flight departure time.
Airport: Airport check-in closes 40 minutes before scheduled flight departure time.
Ryanair
Ryanair is a low-cost airline that has numerous bases all over Europe. It has multiple bases in Italy altogether and offers domestic flights between most of them. These include Bari, Bergamo, Bologna, Cagliari, Catania, Lamezia Terme, Milan (MXP), Naples, Palermo, Pescara, Pisa and Rome (FCO & CIA).
Ryanair is unique in that offers flights from all three of Milan's airport — Linate, Malpensa and Bergamo and both of Rome's airports — Fiumicino and Ciampino.
Domestic flight check-in times
Online: Online check-in is available from 48 hours up until two hours before scheduled flight departure time.
Airport: Airport check-in closes 40 minutes before scheduled flight departure time.
Airports

within Italy
REGION
CITY
AIRPORT
Abruzzo
L'Aquila
L'Aquila–Preturo Airport
Pescara
Abruzzo Airport (Pescara Airport)
Asta Valley
Aosta
Aosta 'Corrado Gex' Airport
Apulia
Bari
Bari-Palese 'Karol Wojtyla' Airport
Brindisi / Salento
Brindisi-Casale 'Orazio Pierozzi' Airport (Salento Airport)
Foggia
Foggia 'Gino Lisa' Airport
Lecce
Lecce Galatina Airport
Taranto
Taranto-Grottaglie 'Marcello Arlotta' Airport
Calabria
Crotone
Crotone 'Sant'Anna' Airport
Lamezia Terme, Catanzaro
Lamezia Terme Airport
Reggio Calabria
Reggio Calabria 'Tito Minniti' Airport
Campania
Naples
Naples-Capodichino 'Ugo Niutta' Airport
Salerno
Salerno Costa d'Amalfi Airport
Emilia-Romagna
Bologna
Bologna-Borgo Panigale 'Guglielmo Marconi' Airport
Forlì
Forlì 'Luigi Ridolfi' Airport
Parma
Parma 'Giuseppe Verdi' Airport
Ravenna
Ravenna 'Gastone Novelli' Airport
Rimini
Rimini-Miramare 'Federico Fellini' Airport
Friuli-Venezia Giulia
Aviano, Pordenone
Aviano Air Base ('Maurizio Pagliano & Luigi Gori')
Campoformido, Udine
Udine-Campoformido Airport (military until 2008)
Ronchi dei Legionari / Trieste
Friuli-Venezia Giulia 'Pietro Savorgnan di Brazzà' Airport (Trieste Ronchi dei Legionari Airport)
Lazio
Rome
Rome-Fiumicino 'Leonardo da Vinci' Airport
Rome
Rome Ciampino 'Giovan Battista Pastine' Airport
Liguria
Albenga, Savona
Villanova d'Albenga 'Clemente Panero' Airport
Genoa (Genova) / Sestri Ponente
Genoa 'Cristoforo Colombo' Airport
Lombardy (Lombardia)
Bergamo
Bergamo-Orio al Serio 'Il Caravaggio' Airport
Brescia
Brescia-Montichiari 'Gabriele D'Annunzio' Airport
Milan
Milan-Malpensa Airport
Milan
Milan-Linate 'Enrico Forlanini' Airport
Marche
Ancona
Ancona-Falconara 'Raffaello Sanzio' Airport
Piedmont (Piemonte)
Cuneo
Cuneo-Levaldigi 'Turin Olympics' Airport
Turin (Torino)
Turin-Caselle 'Sandro Pertini' Airport
Sardinia (Sardegna)
Alghero
Alghero-Fertilia 'Riviera del Corallo' Airport
Cagliari
Cagliari-Elmas 'Mario Mameli' Airport
Decimomannu, Cagliari
Decimomannu Air Base ('G. Farina')
Olbia
Olbia - Costa Smeralda Airport
Oristano
Oristano-Fenosu Airport
Tortolì / Arbatax, Nuoro
Tortolì-Arbatax Airport
Sicily (Sicilia)
Catania
Catania-Fontanarossa 'Vincenzo Bellini' Airport
Comiso
Comiso 'Vincenzo Magliocco' Airport
Lampedusa
Lampedusa Airport
Palermo
Palermo-Punta Raisi 'Falcone & Borsellino' Airport
Pantelleria, Trapani
Pantelleria Airport (public/military)
Sigonella
Naval Air Station Sigonella (military)
Trapani
Trapani-Birgi 'Vincenzo Florio' Airport
Trentino-Alto Adige/Südtirol
Bolzano
Bolzano-Dolomiti 'Francesco Baracca' Airport
Tuscany (Toscana)
Florence (Firenze)
Florence-Peretola 'Amerigo Vespucci' Airport
Grosseto
Aeroporto della Maremma 'Corrado Baccarini' Airport (public/military)
Lucca
Lucca-Tassignano 'Enrico Squaglia' Airport
Marina di Campo, Elba
Marina di Campo 'Teseo Tesei' Airport
Pisa
Pisa-San Giusto 'Galileo Galilei' Airport (public/military)
Siena
Siena–Ampugnano Airport
Umbria
Perugia
Perugia-Sant'Egidio 'Adamo Giuglietti' Airport
Veneto
Belluno
Belluno 'Arturo dell'Oro' Airport
Treviso
Treviso-Sant'Angelo 'Antonio Canova' Airport
Venice (Venezia)
Venice Marco Polo Airport
Verona
Verona-Villafranca 'Valerio Catullo' Airport
Vicenza
Vicenza 'Tommaso Dal Molin' Airport (public/military)
Why book domestic flights?
Beautiful iconic cities, culinary delights and a detailed history — Italy is one of the most popular European countries to visit.
However, without air travel, travelling around Italy can be very time-consuming. As an example, driving from Milan, at the top of Italy, to Lamezia Terme, at the boot (bottom) of Italy can take 11+ hours by road or multiple train journies. Whereas a flight will take just one hour and 45 minutes.
If you want to get the most out of your Italian trip and explore as much as the country as possible, domestic flights are undoubtedly the best way to travel.
FAQs
Do I need a passport for italian domestic flights?
No, you don't need a passport for domestic flights within Italy. While it's advisable to have your passport on you while travelling on domestic flights within Italy, it's not essential. Airlines will accept most forms of government-issued photo ID, as long as it has not expired.
How early do I need to arrive in domestic flights?
For domestic flights in Italy, airport check-in closes 40 minutes before scheduled flight departure time at earliest. Therefore, it's recommended that you arrive at the airport at least 90 minutes before your flight is scheduled to depart to allow time for check-in, baggage drop and to pass through security.
What is the baggage allowance for domestic flights in Italy?
Baggage allowance for domestic flights in Italy will differ from airline to airline. However, checked baggage is almost never included within the price of your ticket and will usually cost an extra fee.
Excluding Ryanair, most airlines will give passengers free carry-on baggage. This baggage will usually have a maximum weight limit of between 5–10 kg.
Can I buy domestic flights within Italy online?
Yes, you can buy domestic flights within Italy online at Alternative Airlines. We offer flights from all airlines that fly domestic routes within Italy.