Cheap Flights in June 2023
Buy cheap flights in June 2023 with Alternative Airlines. When planning your book trip with us, you get a choice from over 600 global airlines, more than 40 payment methods and find great prices on every flight.
We make it really easy to find the cheapest flights on our site as quickly as possible so that you don't have to look through lots of different flight options to get the best deal.
---
Buy Cheap Flights in June 2023 with Alternative Airlines
June is a popular time to travel, and can be somewhat busy but not as peak as July. Therefore you can find good deals on flights before the peak hits. This ultimately depends on where you are flying to and from of course.
On the flip side, some countries, such as the UK, have Spring bank holiday or other holidays that might bump up the price.
Luckily, we can help you. Our flight search makes it really simple and quick to find the cheapest and most convenient flights in just a few click of the buttons. So, whether your booking during peak or off-peak times, you'll have the confidence that your finding the best flight deals for the month
---
Tips for Booking Cheap Flights in June 2023
Use our calendar
Not worried about when you fly in June? If you know that you want to fly at some point in June but don't mind exactly when, our calendar is really useful for finding cheap flights.
The calendar is colour-coded, with the cheapest days in green, the most expensive days in red and everything mid-ranged in yellow.
Find the lowest price
Once you've decided where and when you want to fly, the easiest way to find the cheapest flights for your search is to use the 'sort by' drop down and order the results by the lowest price.
This puts the very cheapest flight at the top of your search, with each flight gradually increasing in price as your scroll down — simple!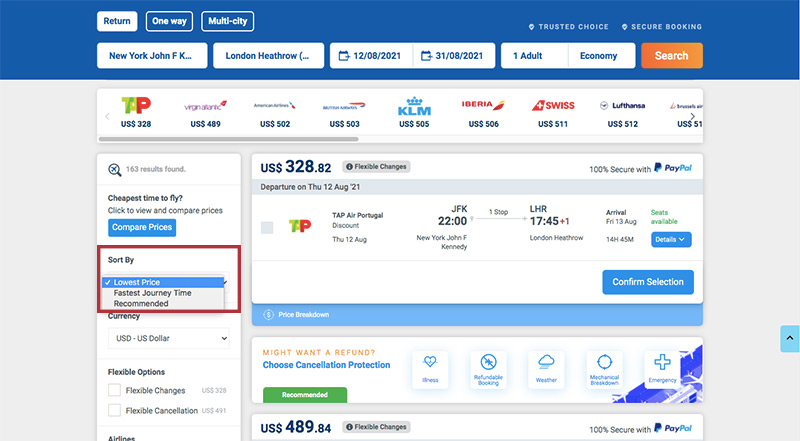 Find the airline with the cheapest flights
If you have a favourite airline, you can quickly and easily search for the cheapest flights for that airline by clicking on one of the airline logos on the banner at the top of the flight search results. This is also a great way to quickly see which airline offers the cheapest flights.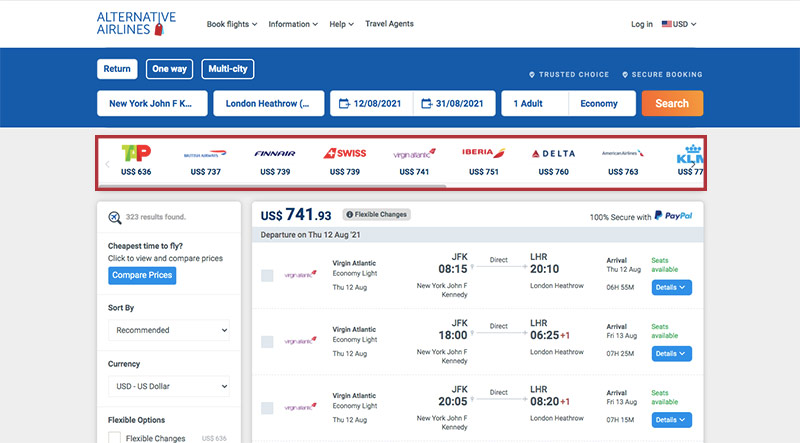 Pay with Buy Now, Pay Later or financing
While buy now, pay later or financing your flight doesn't actually make the total cost that you pay any cheaper, it can make the flight easier to pay off, plus can actually save you money by allowing you to lock in today's prices.
If you like the price of a flight today but don't have enough money to pay it off until later on, buy now pay later of financing allows you to secure your flight and pay it back on a flexible plan that is suited to you!

---
How to Find and Book Cheap Flights for June 2023
Want to know exactly how to find cheap flights for June at Alternative Airlines. Follow these 3 simple steps...
STEP 1
Decide when and where you want to fly and click 'search flights'. At this point, you can use your colour-coded calendar to find the cheapest flights (remember — all dates with the cheapest flights are in green!).
STEP 2
On the next page, we'll display all flights for your chosen search. From here, you can use our filters to view all flight options by lowest price or view the lowest prices from each airline.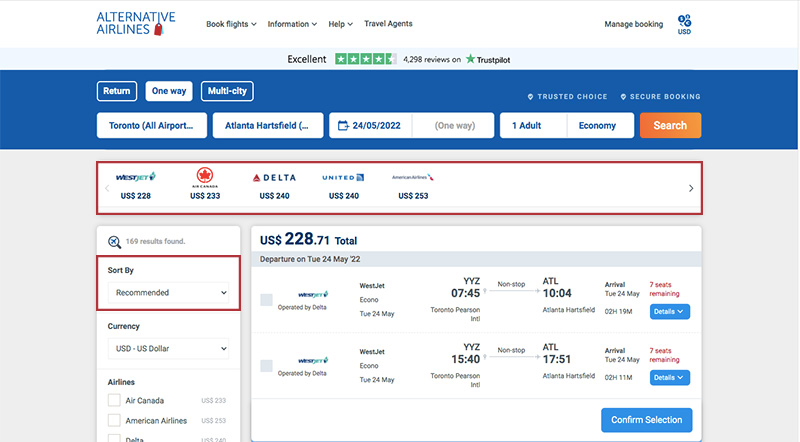 STEP 3
Once you've chosen your flight, you just need to enter some details for each passenger on the flight and select your payment method.
Here, you can select a buy now, pay later option to spread the cost of your flight over time and make it easier to pay off!