Tips for booking cheap flights because of coronavirus
Before you jump on a flight that is cheap due to corona, there are a few things that you should consider to make sure that you're buying the right flight.
Consider why you're flying
The first place to start is to consider why you're travelling. Are you flying for a specific reason and you need to fly right now? If you are, fine. But, if you're just looking to book a vacation abroad for a chance to get away, you might be better off booking your flights for later in the year. Taking a vacation abroad later in the year, when more people have been vaccinated is a much safer option, both in terms of keeping you safe from coronavirus and increasing the chances of your flight not being cancelled due to travel bans and restrictions.
Consider where you're flying
The other thing to consider is where you're flying. Although taking a vacation abroad can be risky unless it's booked for later in the year, if you live in a country where the coronavirus infection rate is low and there aren't any restrictions from allowing you to travel for leisure, booking a domestic vacation could be a good option if you don't want to wait.
Look for flexible flights
While you might be able to find a bargain on a flight due to coronavirus, there's still a risk that your flight might be cancelled. The future surrounding corona is uncertain, but, if there's one thing that we can predict, it's that things can change quickly.
So, even if you've booked a flight to a destination that has a low coronavirus infection rate and where there are no travel bans and restrictions, that can change between the day that you book your flight and the day that your flight is scheduled.
That's why it might be useful to book a flight that has a flexible cancellation policy so that if you do need to cancel your flight, you're able to get a refund. Ordinarily, most airline tickets are non-refundable by default. However, since COVID-19, many airlines have introduced flexible flight change and cancellation policies so that you can book your flights with the confidence that if you need to cancel, you can get your money back.
At Alternative Airlines, we make it super-easy to find flexible flights and show you which airlines that are waiving their cancellation and change fees due to COVID-19. You can use our flexible changes and cancellation filter to quickly and easily find these flights, as shown in the image below.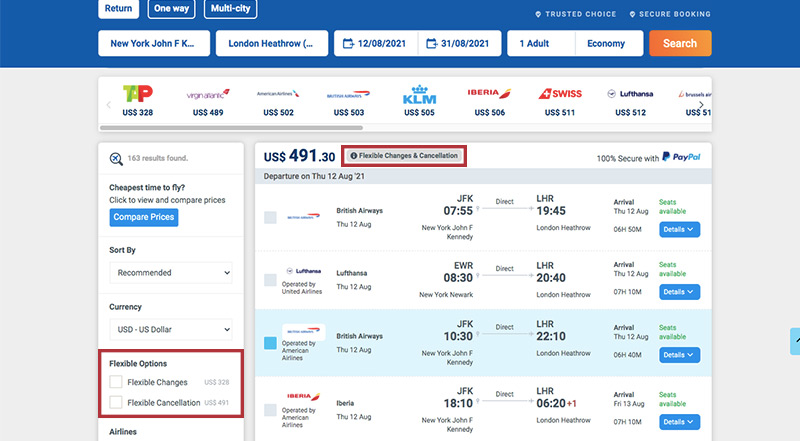 Use our 'lowest price' filter
We also have another filter that makes it simple to find cheap flights due to coronavirus is our 'cheapest flight filter'. The cheapest flight filter allows you to sort the flight results with the cheapest options at the top of the results so that you don't have to waste time looking around for a bargain.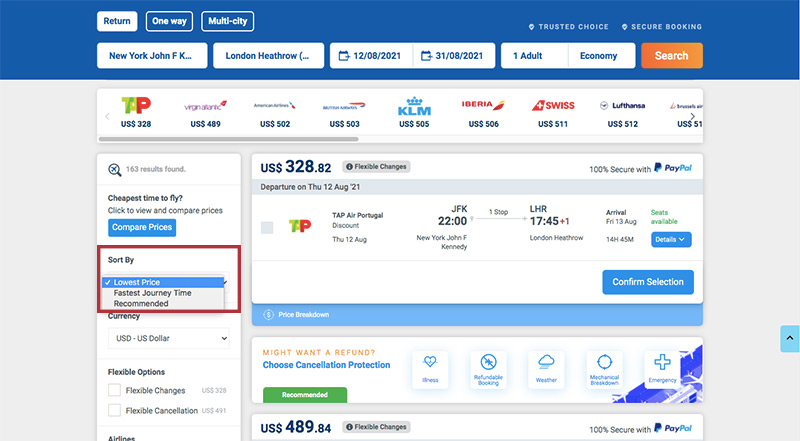 Use our 'cheapest flight calendar'
Another way that we help you find the cheapest flights is our 'cheapest flight calendar'. When selecting that dates that you want to fly on, our calendar will highlight the cheapest dates to fly on in green. If you're not bothered about which days you want to fly on, this is a great way to find the absolute cheapest flights out there.