Air Borealis Reservations with Alternative Airlines
Make an Air Borealis Booking and Find Some Amazing Deals
---
About Air Borealis
Air Borealis is an airline based in Goose Bay, Canada. The airline was founded through an agreement between the Innu and Innuit of Labrador and Pal Airlines. The airline offers flights around destinations in Labrador and Quebec Lower North. The combined service and route networks of Air Borealis and PAL Airlines means greater options for the people of Labrador.
---
Air Borealis Fleet
The Air Borealis fleet includes one Twin Otter aircraft.
---
Air Borealis Baggage
Carry-on Baggage
Air Borealis cannot accept carry-on baggage due to limited space within the aircraft. Passengers are able to carry personal items for no additional cost. The item must be safely secured to the passenger during the flight. Personal items onboard your Air Borealis flight must not exceed 10in x 12in x 8in.
Checked Baggage
Air Borealis passengers are permitted 50lbs of free checked baggage.
---
Air Borealis Check-In Information
Online Check-In
Find online check-in for your Air Borealis flight here. Online check-in opens 24 hours prior scheduled departure and closes two hours prior. Please be aware that Air Borealis online check-in is not available for passengers traveling with infants.
---

Air Borealis Hub Airport
CFB Goose Bay
Air Borealis is based at CFB Goose Bay, a Canadian military base in the Happy Valley-Goose Bay municipality in the province of Newfoundland and Labrador. Another airline that operates out of the airport is Air Canada Express.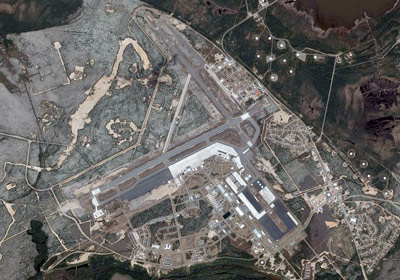 ---