Airlines will always try to sit children with their parents (subject to check-in)
Some airlines will allow travel for unaccompanied minors. Please email us to check.
The fare is based on the child's age on the date of travel.
More detailed information can be found here Traveling with children
Most airlines will let infants travel with their parent(s) for free. However some airlines will charge up to 10% of the adult ticket price. Click on 'Price Breakdown' to find out more.
If you are pregnant, but due before the flight departure date, please contact us once your baby is born and has a name. We can then add him/her to your ticket.
Infants will not be given a seat. The airlines expect parents to travel with them on their lap.
Airlines regard infants as being under 24 months old.
The fare is based on the child's age on the date of travel.
More detailed information can be found here Traveling with children
Guide to Safely Storing you Payment Details
Cancellation Protection
Protects
Trusted Choice
65,000 happy customers
Rated 4.5 Stars. Based on 3,581 service ratings over the past year
Dedicated customer service team on hand to help
Secure payments
Cancellation Protection
Protects
Trusted Choice
65,000 happy customers
Rated 4.5 Stars. Based on 3,581 service ratings over the past year
Dedicated customer service team on hand to help
Secure payments


Saving your payment information on Alternative Airlines' checkout
You can now securely store your cards with Alternative Airlines to speed up the booking process. Read on to find out more, including how to do it and how it is safe.
How does saving your card details work?
If you are a repeat customer, when you make a flight booking with Alternative Airlines and are paying with Visa, Mastercard or AMEX (GBP), you will now have the option to save your card details so that you can make faster payments in the future.
Who can use this feature?
In order to make this feature as secure as possible, it is currently only available for repeat customers who have made 3 or more bookings with us in the previous 3 months, plus one outside this three-month period. This makes this feature particularly good for our Travel Agent customers.
Are my card details safe?
Alternative Airlines keep saved payment details 100% secure because of their partnership with Braintree, a PayPal service, who provide the payment platform. Via their 'Braintree Vault' feature, customer and payment data is encrypted securely, so that your data is always safe and secure.
Guide to saving your card details on Alternative Airlines
STEP
1
Once you have selected your flights, you will be directed to the passenger details page. To be able to save your payments, you'll need to be logged in to your account section. For more information on how to sign up or log in, check out our guide to your Account here.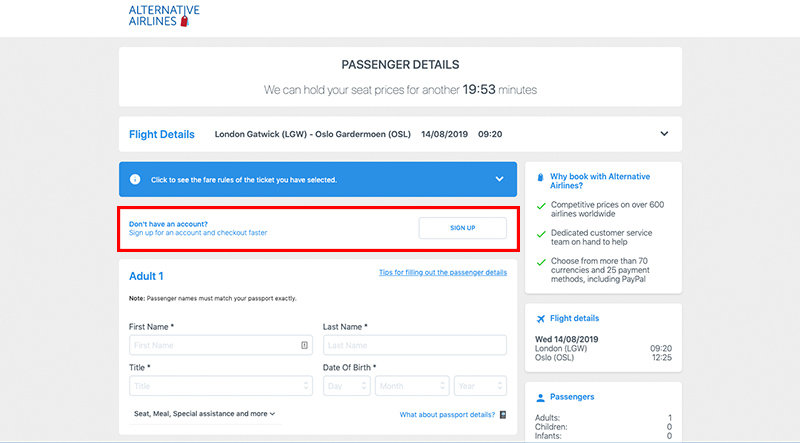 STEP
2
You will know when you have successfully been logged in to your account, because it will look like this. If you have saved traveller details to your account already, you will also be able to easily pre-fill the passenger details via the dropdown 'Select a passenger'.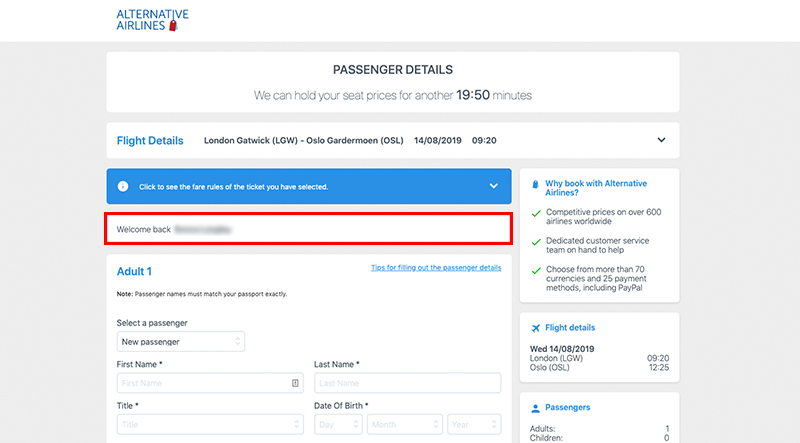 STEP
3
Once all of the passenger details have been completed, you will need to select your payment method. Currently, the only payment methods that you will be able to save with Alternative Airlines is Visa, Mastercard or AMEX (when paying in GBP).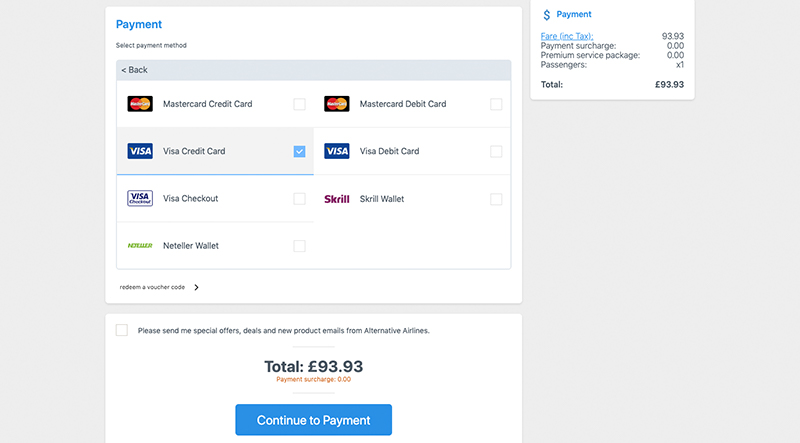 STEP
4
If you wish to save your card details, fill them in as normal with the payment method, your card number, expirary date and CVV. You can then tick the check box for wanting to save your card details, so that you will be able to retrieve them at a later date for your next booking.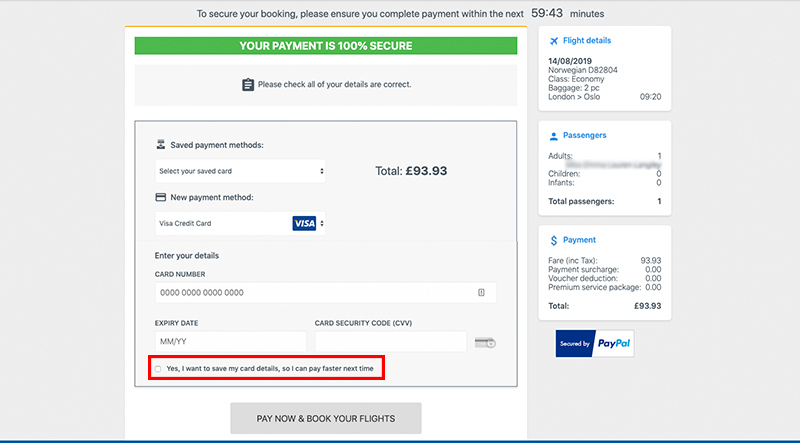 STEP
5
If you have previously saved your card details, you will have to follow the same steps as above, but instead of filling out your details, you can simply select your pre-saved card details from the dropdown box. For extra levels of security, you will have to re-enter your 3-digit CVV code.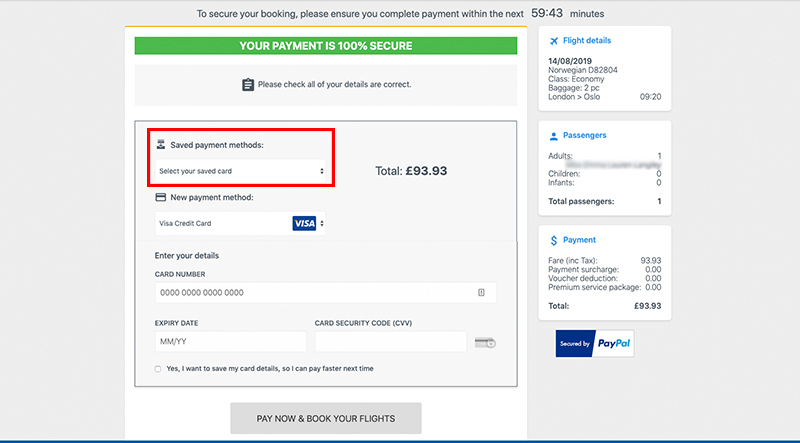 What are the benefits
of saving your card details?
Easy
Saving your payment details makes your checkout experience so much easier. You simply select your payment card from the dropdown options and all you need to remember is your 3-digit CVV card. If you can remember that then you don't even need to have your card with you - meaning you can book flights from anywhere!
Safe and Secure
Because of the level of security that your card details are stored and encrypted under, you don't need to worry about saving card details. All our payments are 100% safe, and because Braintree (who provide this vault to store your cards in) are a PayPal service, there's additional reassurance that you are dealing with a safe and trusted site.
Quick
It's so much quicker to select pre-filled passenger details and card details. That's why signing up to My Account makes your flight booking smooth, seamless and ultimately quicker!
Great for businesses and Travel Agents
If you have a business card or are a Travel Agent who is booking flights, you will benefit from not needing the company card in front of you and instead just needing to remember the CVV code.
Stops errors
Cards have a lot of digits on them so it's likely that once in a while you may enter them in wrong. If you enter it right the first time then you won't have to worry about getting it right every time as they will all be there for you. If you enter your details wrong the first time you are saving it, not to worry as your card will only be saved if the card details are correct and the payment is successful.