Fly Baghdad Reservations with Alternative Airlines
Make a Fly Baghdad Booking and Find Some Amazing Deals
---
About Fly Baghdad
Headquartered inBaghdad, Iraq, Fly Baghdad is a private airline which restarted operations in February 2017. It is the first low-cost airline in Iraq. The airline gained an entirely new management team when it was relaunched in 2017, they hope to promote better services at reasonable prices.
---
Fly Baghdad Fleet
The FlyBaghdad fleet includes two Boeing 737-700 and one Bombardier CRJ200ER aircraft.
---
Fly Baghdad Destinations
Fly Baghdad currently flies to the following destinations:
Baghdad International Airport Base,Baghdad, Iraq
Erbil International Airport, Erbil, Iraq
Sulaimaniyah International Airport, Sulaymaniyah, Iraq
Queen Alia International Airport, Aman, Jordan
Rafic Hariri International Airport, Beirut, Lebanon
Esenboğa International Airport, Ankara , Turkey
---
Fly Baghdad Baggage Allowances
Carry-On Baggage Allowance
The Fly Baghdad carry-on baggage free baggage allowance is a maximum weight of 5kg for domestic flights, and 7kg for international flights.
Checked Baggage Allowance
Fly Baghdad checked baggage is to be booked online at time of booking, or can be booked by contacting the airline's customer service team. The current checked luggage allowance is 15kg for domestic flights, and 25kg for international flights. Overweight baggage will be considered as excess baggage, and charged at the airline's excess baggage rates.
---
Economy Class
Economy Class is the only cabin that the airline offers. The airline offers a simple service at a low-price, with flight attendants on-hand to help with any requests o
Economy Class Facilities
Food and drink are available to order from the airline's in-flight menu.
There's no in-flight entertainment system but passengers can enjoy material from the airline's in-flight magazine, which can be found in the back pocket of the seat in front.
Economy Class Seats
Seats are out in either a 3 x 3 or 2 x 2 formation, with each seat giving sufficient legroom and space for each passenger.
---

Fly Baghdad Hub Airport
Baghdad International Airport
FlyBaghdad is based atBaghdad International Airport which is the largest international airport in Iraq. It is based just outside the country's capital. The airport was opened in 1982 and there are currently plans to expand the airport in order to double its capacity to 15 million passengers a year.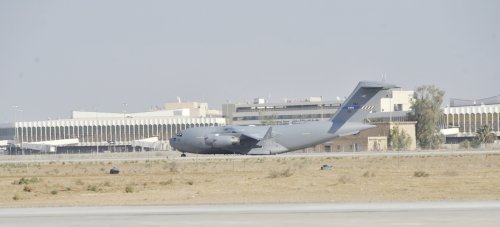 ---